Tasty Travelers
07 Sep 2019
The Port City's most Mouthwatering Meals-on-Wheels

By FANNY SLATER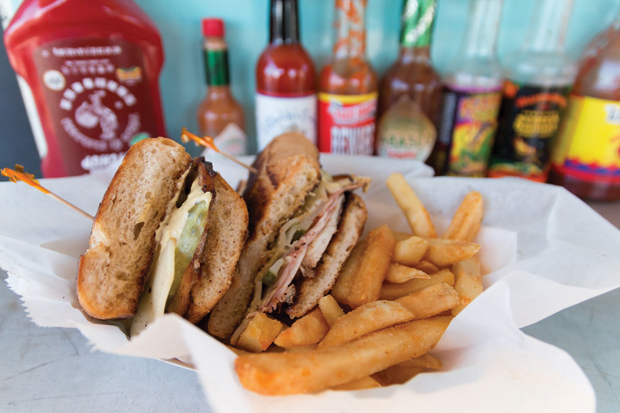 Some days, you just don't want to leave the brewery to grab a bite.

But since many of Wilmington's hop-heavy hubs don't house kitchens—patrons have to turn elsewhere to get their fill of good grub. Enter: food trucks. From authentic al pastor tacos to New England lobster rolls to beignets and beyond, the Port City is packed with innovative mobile eateries setting up shop at businesses all over town.

Buckle up and dive mouth-first into our list of local trucks, and track down all of these tasty travelers via social media.


Momma Rocks Cakes Deserts
910-524-0967, facebook.com/MommaRocksDesserts

Chef Michelle "Momma" Rock knows a thing or two about rolling out legit New Orleans fare. From bangin' beignets (deep-fried, powdered sugar-dusted pastries) to authentic King Cakes for Mardi Gras, Momma puts all kinds of Louisiana love into her baked goods. Many wheel-bound eateries do their prep in a separate commissary space, while Momma Rocks truck is equipped with a full kitchen. Don't miss the sinfully scrumptious sugar cookies, cupcakes, and meticulously hand-decorated wedding cakes.


T'Geaux Boys
910-524-0967, facebook.com/TGeauxBoys

Also from the beignet-beckoning brain of Michelle Rock comes T'Geaux Boys. With recipes that span several generations, her Cajun-inspired chow includes everything from mouthwatering Po'boys made on airy, Leidenheimer French bread (shipped straight from the motherland) to N'Awlins Red Beans-n-Rice. Don't forget the Zapp's kettle-style chips (spicy Cajun crawtator flavor never disappoints). You can spot T'Geaux Boys' Creole creations at outdoor concert pavilions like Greenfield Lake Amphitheater and local breweries like Broomtail and Good Hops.


A&M's Red Food Truck
814-418-6568, facebook.com/aandmsrft

Step right up to some seriously good sliders at A&M's Red Food Truck. This distinctively crimson-colored cart is notorious for dishing out a plethora of perfect provisions from tacos to tots to two-bite burgers. All ingredients are available in slider or taco form, and—while a nostalgic item like the All-American with LTO and pickles is a recognizable choice—creative combos like the The Cali—grilled pollock with house pineapple slaw and guacamole are equally as adored. The non-meat-eaters in your group will go gaga for The Veg (a homemade vegan patty featuring feta, lettuce, and tomato).


Cheese Smith Food Truck
910-231-0808, cheesesmithco.com

This glorious grilled cheese truck's board is bursting with imaginative, scratchmade combinations of spicy, tangy, sweet, and creamy. And in my opinion, the Buffalo Baby is the game-changer of the bunch—buttery Havarti, tender buffalo braised chicken, homemade buttermilk ranch, and quick pickled carrot and celery slaw. Each of Molly and Brendan Curnyn's epic, artisanal grilled cheeses is made from scratch (and magic) and the seasonal selections rotate on a weekly basis. Save room for sides like nutty garlic parmesan fries and sweet watermelon with tart citrus salt.


Poor Piggy's BBQ & Catering
910-632-4229, poorpiggys.com

Silly name, seriously good hushpupies. The smoke game is strong with this BBQ buggy. Serving up some of the finest North Carolina-style southern food around, Poor Piggy's is notorious for their oh-so-tender brisket plates, fall-apart pork sandwiches, and indulgent mac and cheese. With three trucks in the area, you're guaranteed to get your Cowboy Fry fix (fries, cheese, bacon, crispy fried onions, and brisket) whenever the mood strikes. From downtown summer concerts to block parties to breweries, Poor Piggy's is always a reliable source for soothing your barbeque blues.


Port City Que
910-833-2381, portcityque.com

When restaurant owners pour their hearts into the food, you can taste it, and Port City Que food truck founders Dale and Kelly Smith are a prime example of just that. They treat their cuisine with care—smoking and slow-cooking every one of their meats over hickory and oak wood for first-class flavor you can only get from doing things right. Port City Que's inventive menu is a mixture of time-honored traditions like ribs and BBQ plates, but notable noshes like the Waffle Bowl—a malty, crispy vessel carrying layers of pulled pork, mac and cheese, slaw, and tangy sauce—are also top hits.


Bill's Front Porch Food Truck
910-762-6333, seeyouatbills.com/food-truck

If you thought that Market Street was the only place to munch on Bill's famed fried chicken, you'd be mistaken. Launched last year, Bill's Brew Food Truck has been pounding the pavement with its signature southern flavors and pleasing hungry patrons all over town. While the menu is more limited than the restaurant, it still features a familiar lineup of house specials (dependent on the set-up location) like the exquisitely crunchy fried chicken plate and handmade veggie burger. Catch them often at local craft brew hot spots like Waterline and Wilmington Brewing Company.


WilmyWoodie
910-821-9005, wilmywoodie.com

Wilmywoodie owners (and pizza enthusiasts) Kevin and Erin Langston weren't messing around when they decided to open Wilmington's first wood-fired pizza truck. Wilmywoodie's custom-built oven was driven straight to the Port City via Napa last year, and hasn't stopped cranking out crispy, cheesy concoctions since. The couple slings perfectly charred pies in their thousand-degree masterpiece that transforms dough from raw to righteous in one-minute flat. Fan favorites like The Rhonda (garlic-marinara, feta, and black olives) stick around, but keep an eye out for new 'za that swoops in on a regular basis.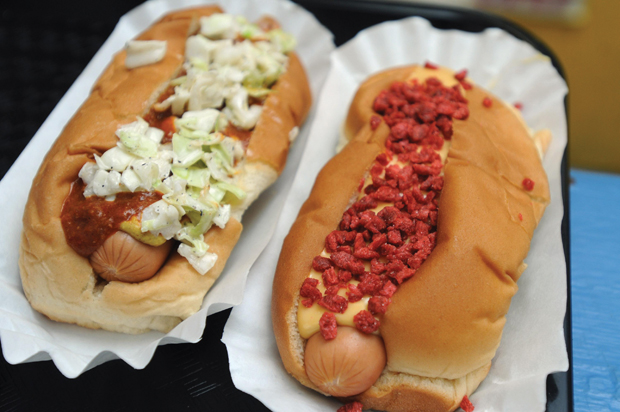 Soulful Twist
910-604-4193, facebook.com/Soulful-Twist

Known for their unique spin on southern comfort, Soulful Twist is a one-stop shop for reasonably priced, tasty truck grub served with love. Chef and owner Pat Green (formerly of downtown waterfront landmark Elijah's) is a legit master of Low Country cuisine who whips up everything from chargrilled burgers to fried seafood baskets to tacos and succulent bacon-wrapped shrimp. Don't miss the collard and ham handheld (sandwiched between two golden, buttery corn cakes).


Catch the Food Truck
910-799-3847, catchthefoodtruck.com

In Wilmington, the name Keith Rhodes is synonymous with the word seafood. So when the eminent hometown chef took his signature coastal style to the streets, wide-eyed locals were dying to "Catch" the food truck. The Asian-fusion, seafood-driven food mirrors the menu at Rhodes' premier brick-and-mortar spot (Catch), but in a more portable format. Regulars rave over the tacos and no picnic table is complete without an order of crispy, parmesan-dusted Brussel sprouts. If you're feeling brave, belly up to the Buttermilk-Fried-400-Degree Chicken and find the nearest ice-cold IPA.


2 Bro's Coastal Cuisine
910-279-4946, facebook.com/2broscc

As one of the OG food trucks in the area, 2 Bro's is a pro at pulling up to bottle shops and breweries and prepping stellar eats without batting an eye. The Cuban (smoky ham, dill pickles, and tangy horseradish Dijon) always gets the gold, but the lineup is predominantly peppered with southern influence. Items like the Cajun Shrimp Wrap with pepper Jack and remoulade are a must for faithful fans. For a Low Country take on a Chinese app, the Piggy Rolls with pulled pork and collards are a crunchy treat.


Trolly Stop
910-599-6666, facebook.com/TrollyStopFoodTruck

Hot dogs are notorious for being one of America's first street foods—and Trolly Stop takes that responsibility very seriously. The friendly chain has been providing the Port City with fluffy handhelds since 1976, so one bite typically transports customers right back to their childhood. The mobile cart carries all the staples like the Surfer with deli mustard, melted cheese, and "baco bits." Find them slinging (regular and veggie) dogs with all the fixin's for Monday movie nights at Flying Machine Brewing Co.


P.T.'s Olde Fashioned Grille Food Truck
910-899-8825, ptsgrille.com/food-truck

You don't have to show up at one of P.T.'s seven locations to wrap your hands around their chargrilled goodies. Wilmington's most bodacious burger and hand-cut fries are also on-the-go. Outfitted with a fully functional kitchen, PT's food trailer flips those famous old school burgers and smoky chicken sandwiches like it's nobody's business. Used for parties, corporate gatherings, private events, and office lunches—this bright yellow rig is often scooting around town serving up cookout classics with a side of smiles and fresh-squeezed lemonade.


Taqueria Bella Rosa
910-769-2464, facebook.com/labellaairosamexicanrestaurant

Sometimes, nothing else satisfies like a stack of tacos, and Taqueria Bella Rosa is the epitome of Mexican food-on-the-move. Branded for their scratchmade, elevated ingredients—from handmade tortillas to bold, authentic fillings—this taco truck has something for everyone. Adventurous eaters delight in seasoned beef tripe and cabeza (roasted beef head), while more cautious customers stick to smothered sopes with steak or chicken. My go-to? Thanks for asking. The crushable quesadilla exploding with juicy carnitas and cheese.


Joe Loves Lobster Rolls
910-845-3355, joeloveslobsterrolls.com

One sweet, succulent morsel of Tony Herndon's award-winning lobster roll, and you'll be whisked out of Wilmington and resurface in Maine. Although the Joe Loves truck is widely praised for its liberal heaps of knuckle and claw meat piled onto buttery top-split buns, there's much more to love. The retro trailer also doles out a decadently loaded lobster grilled cheese on Italian bread. If wild game is your game, pop into Tony's restaurant (housed in Boiling Springs) for buttermilk gator bites and a melt-in-your-mouth Wagyu burger.


Little Chef Food Truck & Catering
910-271-5565, thelittlechef-nc.com

Don't let the fact that the food comes through a window fool you. Little Chef's thoughtful culinary handiwork is as good as what you'd find in any upscale restaurant. With a fierce commitment to using fresh, local ingredients and sustainably-sourced meat wherever possible, Chef Deb Arche continues to wow customers with her imaginative eats. The menu—a compilation of Cuban, Asian, and Italian soul food—boasts memorable munchies like braised chicken tacos and a Brazilian steak sandwich.


Pepe's Taco Truck
910-471-6249, facebook.com/PepesTacos910

This quirky walk-up keeps it simple and hits the spot every time with their golden quesadillas griddled to perfection and toasty tacos brimming with fresh meat, crunchy onions, and grassy cilantro. Pepe's is a mega no-brainer for bomb Mexican. Don't walk away without splashing your cachete tacos (pork cheek, trust me) with a generous squeeze of spicy house sauce. Pepe's posts up at various brew hubs around town—and you can always count on them at Flytrap for your Friday fix.