2018 Guildmaster Award Winners
07 Jul 2018
Presented by GuildQuality, an Atlanta-based third-party customer satisfaction software surveying company, the Guildmaster Awards celebrate service excellence. Only companies that rated 90 percent or higher in customer satisfaction were eligible for the awards. The Wilmington award-winners stood out among the top 10 percent, for delivering unsurpassed service excellence.

Four Wilmington builders were recognized for consistently delivering superior customer care: Firetti Builders, Logan Homes, PBC Design + Build and Kent Homes.

By DEAN BLAINE » Photos by KELLY STARBUCK PHOTOGRAPHY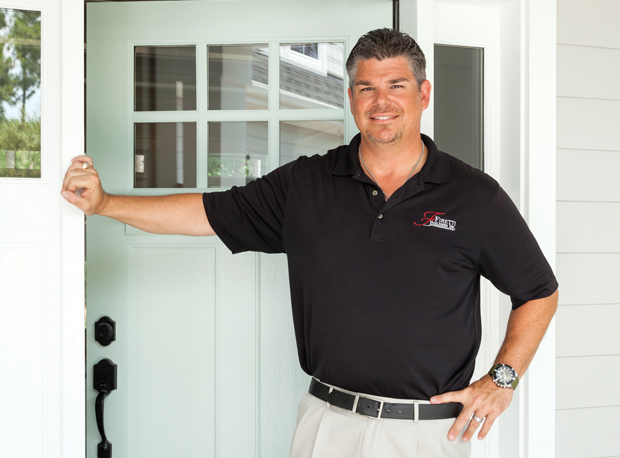 Firetti Builders
firettibuilders.com

Southport-based Firetti Builders scored 100 percent in customer satisfaction in the GuildQuality survey of more than 600 builders nationwide. Company owner Joe Firetti II, is not surprised. Since Firetti's father started the business in the Baltimore-Washington area in 1977, customer service has been paramount to the company's business philosophy. "The development of a close builder/customer relationship is at the very core of what we do," Firetti said.

The Firettis moved the business to Southport in 2000, setting up shop in the Wilmington-area because they saw it as a growing market near the coast. Since then, they've built more than 250 homes in Brunswick County.

"We design and build custom homes with a focus on the client's individual specific needs. We offer full home design and interior design services," said Firetti. The firm has done extensive work beyond the gates of exclusive developments including St. James Plantation, Winding River, Compass Pointe and Waterford.

Firetti Builders won the coveted "Diamond Award," three years running, (2015, 2016 and 2017) from the Brunswick County Parade of Homes, recognizing the company as the premier builder in the region. Firetti served as president of the Brunswick County Home Builders Association in 2014, representing Brunswick County and promoting the interests of the residential building industry, keeping up to date on important issues and developments affecting the region, and networking with industry partners.

Firetti Builders encourages their clients to bring their wish list of wants and ideas to initial design meetings. "Then we employ our decades of experience to design a house plan that marries both the views of your lot with the design that best fits. We will remain conscious of your budget and lifestyle, while meeting your hopes, expectations and dreams," Firetti said. The bulk of the company's experience lies in custom homes ranging in size from 2,300 to 5,500 square feet.

"Communication is the hallmark of a successful project," Firetti said, and the company is committed to building trust with their clients and relieving anxiety regarding the process. "We provide the best customer service through constant communication, allowing our clients to stay informed and provide feedback through every phase of the project." The survey numbers bear them out. On the GuildQuality survey of customer satisfaction, more than 95 percent of Firetti's clients reported being happy with the firm's commitment to communication.

Firetti Builders think it's also important to keep an eye on the bottom line. They maintain a comprehensive view of every project, so that jobsite activities are coordinated efficiently and stay on budget. They predetermine costs whenever possible, so they can advise clients on the best choices for their dollar. "In the changing economy," Firetti said, "we continue to pursue competitive pricing while maintaining the highest level of quality."

Looking toward the future, Firetti said the company plans to maintain the company philosophy established by Firetti's father in 1977, "to provide exceptional customer service through respect, communication and reliability."

Accolades

More than 250 homes built in Brunswick County.
Diamond Award winner three years running from Brunswick County Parade of Homes.
2018 Guildmaster Award for exceptional customer service.
Featured on WECT's Today's Builder Television Show as one of the area's premier custom home builders.


---
PBC Design + Build
plantationbuilding.co

Dave Spetrino got his real estate license at the age of 18 in Northern Virginia. By age 20, he was mapping out his future. He saw the coming wave of retiring Baby Boomers as the most viable market for the next 50 years. Dave would start his own business, but what would he sell? "What do people need?" he thought. People need food, clothing and shelter. Dave liked to eat, but he didn't know his way around a kitchen. Food was out. Dave had been wearing the same pair of shorts for five years, he had zero fashion sense, so clothing was out. That left shelter, and real estate was something Dave knew well, and he was passionate about.

A few years later, Dave moved south to Wilmington, and opened PBC Design + Build, with the aim of becoming the premier luxury home builder in the area. "Wilmington was a small enough town where I could make a difference," he said, "but growing enough where I could be a success."

Twenty-one years later, PBC Design + Build was recognized not only as one of the top builders in Wilmington, but of the entire state of North Carolina.

The firm specializes in custom homes in the range of $600K to $1.5 million. They walk their clients step by step through the design and building process, crafting one-of-a-kind homes to suit their clients dreams and needs. "We have yet to build the same house twice," Spetrino said.

"Clients come to us," Spetrino said, "because we love a challenge. Builders by nature are not innovative; our company is willing to be innovative." PBC's clients walk through the door with a lot of unique ideas, but no plans. "When the finished details come in, the client knows, 'That's why we picked these guys,'" Spetrino said.

After 21 years in the Wilmington market, Spetrino said he takes the greatest satisfaction in a job well done and being surrounded by people who are motivated by a job well done. "I'm proud of the fact that we've been able to stay in business doing what we love."

Accolades

Won more than 58 awards for their custom homes.
In the GuildQuality survey, 97 percent of PBC clients said they would recommend the firm to others.
A five-star rating on Houzz—the website's users have downloaded PBC's pictures more than 100K times.
Won three Gold Awards at this year's Wilmington Cape Fear Home Builders Association's Parade of Homes. In addition, won for "Best Kitchen Design" and "Best Master Bath Design".


---

Logan Homes
loganhomes.com

Longtime Wilmington-area builder Logan Homes has been cleaning up on the real estate award circuit this year. GuildQuality recently named Logan Homes a "Guildmaster with Distinction," for the firm's perfect score on the 2018 survey of customer satisfaction. WWAY's This is the Place Viewer's Choice Awards, dubbed Logan Homes, "Best New Home Builder," for 2018. Tastemaker Real Estate Scorecard named Logan Homes, "2018 Best Home Builder of the Year."

"We are impressed at how they operate in harmony as a team, with a 'giving attitude' and unwavering commitment to making the home building process as stress-free as possible for the client," Real Estate Scorecard affirmed as they presented the award.

Wilmington local D. Logan founded the company in 1986, and the firm has gone on to build thousands of homes in the Wilmington area. Over the years, Logan Homes has played a part in the exponential success of exclusive real estate developments including Brunswick Forest, Compass Pointe, Landfall, Clearwater Preserve, St. James Plantation, Waterford, Summerhouse on Everett Bay and Sparrows Bend.

Logan doesn't bask in the glow of awards for too long though. He's been in the business long enough to know that success is a long-term commitment. "Our mission is to build homes and develop communities where value, location and lifestyle come together," Logan said.

The accomplishment that gives Logan the most pride, is the building of a great team to meet the needs and expectations of clients. "Our success depends on our team," Logan said, "and we have some of the best people in the industry, and we take care of them; and they, in turn, take care of our customers. We are proud of our company culture and creating a place where people want to do their best work."

Accolades

The company has built thousands of homes in the Wilmington area, in many of the most exclusive real estate developments on the North Carolina coast.
Named a 2018, "Guildmaster with Distinction," by GuildQuality customer service survey firm.
Named "Best New Home Builder," for 2018 by WWAY's This is the Place Viewer's Choice Awards.
Named "2018 Best Home Builder of the Year," by Real Estate Scorecard.