A Cozy Corner for Rejuvenation
03 Mar 2022
Carve out your own time-out niche

Story and photo by Amanda Stewart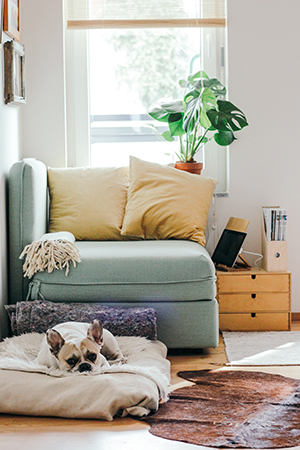 The arrival of cooler weather and the reality of a relentless pandemic has kept many of us indoors for quite a while. How do we keep our homes a place of rest and solace without getting bored amidst the same old rooms?

The short answer: Make it easy (and beautiful) to do the things you love in your own home.

Whether you like to have a glass of wine with your spouse on the back porch after work, or you need a quiet respite to escape from the chaos of the outside world, interior design holds the key to unlock relaxation in your down time. Every home needs a cozy nook for the hardworking homeowner to do what they love most at the beginning, middle or end of every day.

You can shop your own home and use your best pieces to pull together a useful AND stylish mini-retreat.

Here is a simple list of suggestions for creating your spot to relax and renew.

Carve out a space. Look for an unused corner away from the hectic distractions of daily life. Find a space near a window or door that allows you to take in nature's beauty. Nothing says serenity like a view of the trees swaying in the wind, or the reflection of rippling water from the ocean. If that is not an option for you, an indoor plant or small tree can have a similar soothing effect on your senses.

Stock your space. A warm and inviting space will ensure you actually spend time there rather than just use it as a storage area to dump the mail or a purse. Roomy, comfortable seating is essential, followed by a luxurious throw blanket and a textured, interesting pillow. An ottoman or footstool will bring in extra legroom and increase the comfort factor. Sophisticated lighting will illuminate this refuge, and invite you to spend more time here. Finally, make sure you have a side table equipped with ample space for your drink of choice as well as room for your hobby: whether that is a TV remote, journaling, books, or kid's toys. Corral all of these items into a basket or tray to help keep you organized.

Make it extra special. To top it all off, make your space feel indulgent with a few luxury items. Fresh flowers, scented candles, or a pair of cozy slippers will invite you to linger here, as well as entice you to come back again and again.

By carving out a space that is always ready and prepped for your favorite activity, you will find it easy to relax and refresh your perspective, and prepare yourself to face whatever winter throws at you.