A Curious Position
09 Sep 2018
Throw out the records, and such. The stakes will be high again this football season for rivals N.C. State and UNC
By BRIAN MULL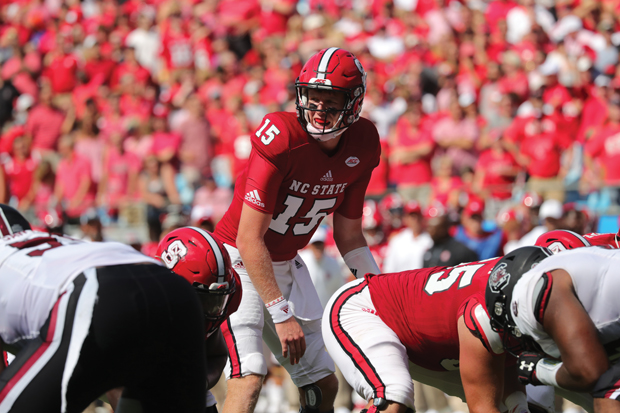 As Thanksgiving weekend 2016 arrived, North Carolina was the premier college football program in the state and questions were swirling around N.C. State coach Dave Doeren's future at the school.
The Wolfpack was 5-6 on the season with a losing record during Doeren's four years and headed to Chapel Hill to face the Tar Heels, who had won three of the previous four meetings between the rivals.
N.C. State upset the Heels 28-21 on that beautiful fall Friday afternoon, clinching a berth in the Independence Bowl where it crushed Vanderbilt to earn a third consecutive winning season. From such a precarious position, Doeren and the Pack haven't looked back. They've now won 7 of the last 10 against the Tar Heels, entering 2018 riding high after a record-setting nine-win campaign and a hope to solve the Clemson puzzle and contend for the ACC Championship.
North Carolina, on the other hand, wouldn't mind finding a Kenan Stadium time machine. Between coach Larry Fedora's controversial comments in late July and the NCAA suspending 13 players for selling school-issued shoes bearing the brand of the university's most famous alum, Wilmington native Michael Jordan, it's been a rough offseason on the heels of a dismal 3-9 season.
The Tar Heels face questions at quarterback, holes in the offensive line and field a beleaguered defense eager to prove it can stop opponents from running up-and-down the field. Now, Fedora is the coach feeling the heat to win. He's under contract through 2022, but it might not matter if UNC endures another losing season.
Doeren, meanwhile, turned down an opportunity to coach Tennessee after last season. Cars move slowly on the Triangle's Beltway during rush hour, but circumstances change fast on the area gridiron.
N.C. State and UNC enter the 2018 season at different speeds with dissimilar definitions of what a successful season entails. Both hope to find their rhythm and answer those questions before their 98th meeting on Nov. 24th in Chapel Hill.
What to Expect in 2018
Doeren, 34-30 entering his seventh season at N.C. State, is a Kansas City native who came to Raleigh after two outstanding years as the Northern Illinois coach. He jokes that, early on, the Wolfpack fan base thought he was a Yankee in spite of those Midwestern roots. Any regional discrepancies have long since been forgotten as he has turned the program to pursue its first ACC title since 1979.
The Pack marched toward the goal last season.
They tied a school record with six conference victories, recorded their highest final national ranking (23) since 2002 and had a school-record seven players selected in the 2018 NFL Draft - including the entire defensive line, highlighted by No. 5 overall pick Bradley Chubb.
Doeren has changed the culture in Raleigh. Season ticket sales hit an all-time high and the seven home games in Carter-Finley Stadium are expected to sell out for the second consecutive season.
A shiny new $14 million indoor practice facility attracts recruits, and N.C. State is winning more of those battles, on the verge of recording back-to-back top-25 classes while dominating the battle for elite in-state prospects.
"He's making people want to come to Raleigh," N.C. State linebacker Germaine Pratt, said. "When I first got there, it was a ghost town. People are wanting to commit and play here … they see what we had last year (with 7 guys drafted)."
Doeren told the Greensboro News-Record he believes recruits want three things:
"They want to win, they want to go to the NFL and they want to be somewhere they can have a life after football," he said.
While the influx of talent will help N.C. State plug gaps in the secondary and backfield, quarterback Ryan Finley made the most important offseason decision, electing to skip the NFL Draft and return for his senior year.
Finley is an accurate passer and able runner who has gained arm strength during his career. He's thrown for more than 6,500 yards the last two seasons, completed 63 percent and avoided interceptions - having only 14 picked in 881 attempts.
Buoyed by a strong running attack, N.C. State churned out 32.2 points per game last year (40th in the nation), but must improve in the Red Zone (within 20 yards of the goal line) to reach its potential as an offensive unit.
Considered one of the top quarterbacks in the nation, Finley could join the Heisman Trophy conversation if his production leads to Wolfpack victories.
"He's harder on himself than you could be on him," Doeren said. "He believes in the process, enjoys the daily grind. He has goals for our team and goals for himself. If you talk to him he's not going to win a single award if he doesn't handle the day-to-day work. He's going to have a great season as long as he trusts his process."
Another strong campaign could also cement Finley's position among N.C. State quarterback legends, still slightly behind 15-year NFL veteran Phillip Rivers and 1960s star Roman Gabriel, a Wilmington native, but ahead of Seattle Seahawks QB Russell Wilson and others.
"It's a pretty impressive lineage of quarterbacks, and I don't take it lightly to be considered among that group. There's a standard that needs to be upheld at the quarterback position at N.C. State," Finley said. "Just in the quarterback room, there's a table and all four or five are on the table just as a reminder of who came before you and the history of this position at N.C. State that's something you shouldn't forget."
Finley enjoys a covey of receivers led by Kelvin Harmon, who aims to become only the third N.C. State player to surpass 1,000 yards in consecutive season. The Pack lost two backs who rushed for 1,500 yards combined, opening the door for veteran Reggie Gallaspy to carry the load. He scored seven touchdowns and scampered for 506 yards in 2017. Ricky Person Jr., a highly touted freshman from Wake Forest, should also receive carries.
On the defensive side, losing all four linemen is an issue, but not the major one. N.C. State's secondary was porous a year ago, allowing 253 yards per game, and faces personnel decisions again. Then again, Doeren understands the root of the inflated passing numbers.
"I believe in winning the line of scrimmage," he said. "We want to play hard, play tough, play together and can't do that if you can't stop the run. If you're going to stop the run your corners are going to have to play 1-on-1. Our DBs are very athletic, they take it personal, we have good coaches and a good scheme, but we're going to stop the run."
"Stop the run" has not appeared in an honest discussion of the North Carolina football team in recent years. The Tar Heels finished 100th or worse in rushing defense each of the last four years and surrendered 31.3 points per game last season. Hurt by injuries that forced young, underprepared players to play more than desired, the Tar Heels collapsed late in games a year ago. They were outscored 95-43 in the fourth quarter of their nine losses, including a touchdown deficit to N.C. State in the 33-21 season-ending defeat.
"When you get into that situation you've got to put your foot on somebody's neck and you've got to stomp down and you've got to finish them off," Fedora said.
Fedora, who is 43-34 in seven years at UNC, analyzed every aspect of the program to identify areas for improvement, keeping one thought in mind.
"(The coaching staff) didn't want to forget what happened, didn't want to put it behind us," he said. "We wanted it to be something that was focused on and wanted everyone to remember exactly what their stomach felt like each and every time things didn't go the way we wanted, whatever the reasons were and make sure we learned from everything that happened."
Starting the season without key players is a less than ideal scenario, considering the opening month includes trips to California and East Carolina followed by visits from UCF and Pittsburgh. While it's unclear which games the 13 suspended players will sit out (the NCAA will allow UNC to stagger the suspensions), Chase Surratt, a contender for the starting quarterback job, must miss four games at some point. His absence essentially gives the spot, at least from the outset, to Nathan Elliott, who passed for 925 yards with 10 touchdowns and five interceptions last season.
Elliott is the more mobile of the two candidates and used his legs to lead the Tar Heels to wins over Pitt and Western Carolina in three starts last season.
Avoiding turnovers will be a critical ingredient for whoever emerges. UNC managed 26 points per game last year as the quarterbacks combined to throw 16 interceptions.
Since he started coaching the position in the late 1990s, Fedora has enjoyed heaving potential signal callers into preseason competition as ideal preparation for his uptempo pass-first offensive attack.
"Just because one guy hasn't separated himself doesn't mean we're not going to be good at that position," he said. "I've used this same strategy, it's been good to me and I'll continue using it until there's a reason not to."
Jordon Brown (613 yards, four TDs) and Michael Carter (559 yards, eight TDs) return to pace the ground game while leading receiver Anthony Ratliff-Williams caught six scoring passes in 2017 and also took two kickoffs into the end zone.
Creating holes for the backs to run through and time for the passing game to operate is another cause for concern. The Tar Heels must replace four starters from an offensive line that was 90th nationally in sacks allowed a year ago.
The UNC defensive line and, to a degree, second-year coordinator John Papuchis must deliver this season, or the fans will fade away and start the countdown to basketball season even earlier than usual.
Brant Wilkerson-New, a UNCW graduate who covers the ACC for the Greensboro News-Record, believes progress is a reasonable goal.
"They have the talent and makings to take a step forward defensively this season," he said. "They're very good along the line thanks to the likes of Aaron Crawford, Malik Carney and Tomon Fox, while they've got a good bit of depth there, too. They're plugging in some pieces in the secondary, but talent-wise, there's no reason they shouldn't fit."
During the preseason, Fedora felt the Tar Heels had ample depth on the defensive line, possessing the ability to rotate eight players into the four positions without a significant dropoff in performance or production.
His thorough review of last year's fiasco revealed a lack of leadership from the upperclassmen and obvious inexperience from players who needed a year in the program to develop physically and grow into their role.
When asked during the ACC Football Kickoff about safety measures programs are putting in place to protect players in light of recent studies linking football and Chronic Traumatic Encephalopathy (CTE), Fedora went off on a tangent regarding the military, and the game of football being "under attack." If given a mulligan, Fedora might opt to rethink those remarks. Whatever his opinion, gaining momentum through early victories will ensure he has a platform from which to speak in the coming seasons.
North Carolina and college basketball will be forever married. From UNC's epic 1957 championship season to David Thompson and Jim Valvano at N.C. State; onward to coach K and Roy Williams and what the Duke -UNC rivalry has become today, the hoops heritage within our borders is strong and evokes passionate reactions from fans across the state. College football in our state, on the other hand, holds a curious position. Sure, the fans care enough to fill the stadiums, and the feelings run deep in pockets like Boone, Greenville and Raleigh, but even during a winning season the reaction can remain indifferent in other locations. The rhythm guitarist rarely receives the same adoration as the person who plays lead. Any N.C. sports writer with a voice mailbox and email address can attest.
Still, rest assured the folks in Chapel Hill are tired of losing to their red-clad rivals from Raleigh. And the Wolfpack Nation, desperate for a championship, doesn't want to squander the status it's gained or have to rue a missed field goal again for another long offseason. Throw out the records, and such. The stakes will be high on Thanksgiving weekend yet again.