Twice as Nice
09 Sep 2018
Pete and Lily Donat's well-loved home design is reimagined on the Intracoastal Waterway

By CHRISTINE HENNESSEY » Photos by T.J. DRECHSEL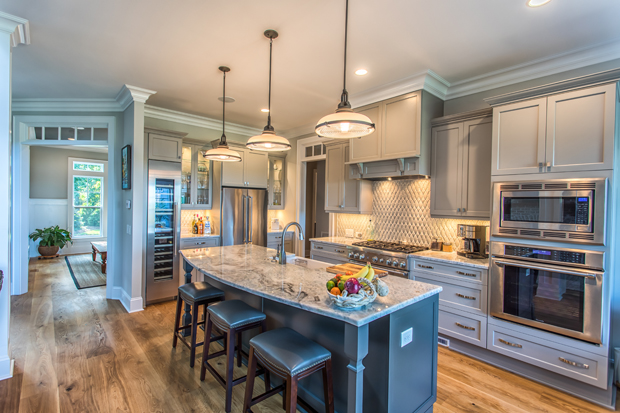 "Location is everything." Real estate agents have repeated this old adage ad nauseam, but no one has embraced it quite like Pete and Lily Donat. For twelve years the couple lived in a custom-built home in Bradley Creek. Like most homeowners, however, their needs changed over time. The main issue was their commute—since building the house, they'd opened Havana's in Carolina Beach, and the drive seemed to get longer each year. To solve this problem, Donat purchased a plot of land on the Intracoastal Waterway, closer to the south end of Wilmington, and then approached his friend Bill Gore, a local architect with over two decades of experience who designed Donat's Bradley Creek home all those years ago.
"He'd sketched up a floor plan that he was leaning towards," Gore remembers. "As we started working and visiting the site, he kept returning to that first house. He liked it so much that he changed his mind and decided to use the original floor plan again."
A house they already loved in a new and improved location? It was a real estate dream come true.
Closer to the Coast
Pete Donat moved to Wilmington from D.C. when he was just twenty years old. "I wanted to live at the beach and thought I'd just kind of figure it out from there," he says with a laugh. While such a loose plan isn't for everyone, it worked well for Donat. He started out in the restaurant business and spent fifteen years at the Oceanic, a well-known Wrightsville Beach establishment. After working his way up to management and eventually becoming a partner, he decided to switch gears and try his hand at something new.
"I got into a little bit of real estate and started renovating homes for about a year and a half," he says. Then the recession hit and the real estate market dried up. "So, I got back into the restaurant business. My wife and I started Havana's, and it's been going strong for ten years now."
Donat has always been interested in home design, construction and renovation, which is one of the reasons he originally worked with Gore to design his home in Bradley Creek, and why he decided to build a new home on his recently purchased lot. In addition to a shorter commute, the couple also wanted a home that felt more secluded and private, especially since the restaurant business is so people-focused. The new lot was also right on the Intracoastal Waterway, which was a huge bonus.
"Living on the water was our ultimate goal," Donat says. "In our downtime, we spend a lot of time on our boat, at Masonboro, and on the beach. When you move here and live here, that's just what you do." It was time to take full advantage of the Wilmington lifestyle and finally build a home on the water.
A New View
As Gore and Donat worked on the plans for the new house, they strayed from the original design in a few ways. Some of the shifts were a consequence of the twelve years that had passed between the design of the original home and version 2.0. "Once we got into the project, we got excited and started thinking of all the new stuff we could do. We made it a little bigger and added some modern features," Donat explains. "Different flooring, different materials, a few more windows, more space. The new design is right at 4,000 square feet, which feels perfect."
The biggest change, of course, is the location. "I found a two-acre lot at the end of a gravel road that's located right on the Intracoastal Waterway," Donat says. "It's an awesome, really quiet spot in the woods, and there's tons of wildlife right in our backyard, including deer, foxes, and nesting bald eagles."
Some of the other changes to the design were made specifically with the land in mind. "It's been redesigned so it works with the environment," Gore says. "We had to tweak it quite a bit to work with that. One of the things that Pete really wanted in the house was to take advantage of the views. Every room that you stand in has some unique view of the waterway or the natural environment around the house, which is really cool."
Breaking Ground
The Donats were familiar with the home building experience, so they weren't going into the process blind. "I interviewed a number of different builders and spent a lot of time trying to pick the right one for us. It wasn't an easy decision, but after spending a lot of time with all the options, Whit was definitely the builder for this project."
Donat is referring to Whit Honeycutt, the owner of North State Custom Builders, which is best known for beautiful, well-built coastal homes across New Hanover County. "Figure Eight, Ocean Isle, Kure Beach," Honeycutt says. "We're not just waterfront, but it is our specialty. We enjoy building homes that can stand up to the challenge of waterfront living."
Donat understood those challenges, which is one of the reasons he ultimately chose North State Custom Builders. "We asked a lot of questions during the process," Donat says, "because you learn something new on every build. Whit took the time to talk to us and explain what he was doing, and I appreciated that."
Most of North State Custom Builders' clients come to them from referrals. Generally, the client has an idea of what they want, and the team at North State helps them find the architect or home designer best suited to that opportunity. "The right creative partner might be based on the location of the home, the intended style and tastes of the client, or the budget and timeframe," Honeycutt explains. Even though North State doesn't do design in-house, he stresses they're at the design table at least 80% of the time, ensuring that the finished plan will satisfy the client while staying within the budget.
Honeycutt is an experienced builder who's seen it all, but he admits that he was surprised when the Donats explained that they were planning to rebuild an existing home rather than designing something brand new. In the end, it was a good surprise. "They knew what they wanted, what they liked, and what they wanted to improve upon," Honeycutt says. "Their excitement was contagious, every step of the way."
Home, Reimagined
The Donats didn't expect to be bowled over by the home. After all, they were building the same house for the second time and they knew, more or less, how it would look and feel. Which is why they were shocked by how much better the finished product was.
Some of their favorite improvements include the additional square footage and bigger windows, which provide a breathtaking view of the land and water. "Pete and Lily are both big outdoor people," Gore says. "We designed the house so it allows them to feel like they're outside, even when they're indoors."
These views extend to the screened-in porch off the living room, which offers a perfect view of the Intracoastal Waterway, as well as an ideal place to relax after long hours at work. "We start and end every day on that screened-in porch," Donat says. "It's the best room of the house by far."
Another new addition is the large, wood-burning fireplace in the living room, which Donat describes as "an absolute must." The couple moved into their new home in April so they haven't had a chance to use it yet, but they're looking forward to lighting their first fire this fall.
Like many people who live in Wilmington, the Donats often have guests in the summer months. To give their friends and family a great experience while also maintaining their own privacy and routines, they planned the home so the master bedroom is in a different wing of the house than the guest rooms. "There's a lot of space between company and ourselves, and that's really nice for us," Donat says.
Gore also added a bigger recreation room above the garage with a pool table and custom bar area for hanging out, which is perfect for entertaining overnight guests and local friends. Finally, the gourmet kitchen is filled with natural light and state of the art features, a nod to the couple's restaurant lifestyle.
Even though the project started with a familiar and well-loved design, the new additions, modern upgrades, and stunning location transformed it into something truly unique. "At North State Custom Builders, we like to say we coined the phrase 'coastal elegance,'" Honeycutt says. "Pete and Lily's house was right in our wheelhouse."
The Donats would agree, but they're too busy kicking back and enjoying life in their new and improved home. "I work a lot and spend a ton of time at the restaurant," Donat says. "This house is my sanctuary."
Resources
Architect: Bill Gore (BMH Architects), 910-762-2621, bmharch.com
Builder: North State Custom Builders, 910-200-9174, northstatecustombuilders.com