A Holiday Hodgepodge
08 Nov 2017
Our staff writers offer up suggestions for your reading pleasure... or as gifts for someone on your list this holiday season.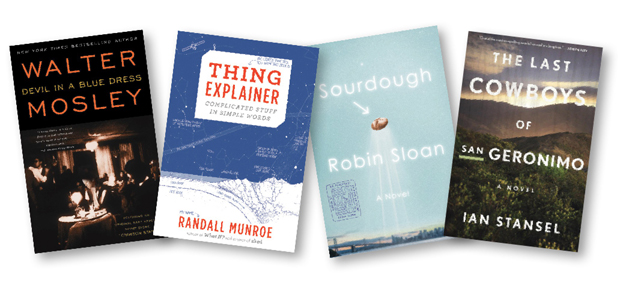 Devil in a Blue Dress by Walter Mosley
1948, Los Angeles. "Easy" Rawlins is an African-American war veteran who has been fired from his job at a defense plant. To pay his mortgage, he's compelled to take a mobster's offer of a job: find Miss Daphne Monet, a white woman who frequents black jazz clubs. It's good money, but Easy is soon entangled in murders and corruption, and unsure who his allies might be. Though he reluctantly embarked on this search, he realizes that he has a talent for being a private investigator. Originally published in 1990, "Devil in a Blue Dress" is the first in Walter Mosley's bestselling Easy Rawlins series. This gritty, character-driven mystery is imbued with a strong sense of place and history -- race relations in 1940s Watts is a central theme. Maybe an oldie, but this fast paced, well-written is a goodie, too. You might want to view the 1995 film adaptation of the same name, starring Denzel Washington and Don Cheadle.
—Chantal Wilson
---
Thing Explainer: Complicated Stuff in Simple Words by Randall Munroe
Randall Munroe, creator of the popular webcomic xkcd, has written and drawn a book of elaborate blueprints that explain complex concepts and objects using only the thousand (sorry, "ten hundred") most common words in the English language. He describes and explains everything from "tall roads" (bridges), to "food heating radio box" (microwave ovens), to "the U.S.'s laws of the land" (the Constitution of the United States) with language that's comically simple. It will make you think about the difference between knowing how a thing works and just knowing the words we normally use to describe it. This is a great gift book for anyone interested in engineering, language and what makes the world (and sky boats with turning wings – e.g., helicopters) function.
—Sara Shiver McBride
---
Sourdough: A Novel by Robin Sloan
Lois Clary works in a high-stress job in the San Francisco tech industry. She eats terrible food and her stomach is a mess. Then she discovers a local restaurant run by immigrant brothers who make the most wonderful sourdough bread. Lois' life (and stomach!) improve. Then disaster strikes: the brothers must leave the U.S. Before they go, they entrust their magical sourdough starter to Lois, which sets Lois on a delightful journey of self-discovery. Sourdough is warm, funny and wise. But be warned – you will get hungry!
—Julie Ellis
---
The Last Cowboys of San Geronimo by Ian Stansel
In this contemporary Western, Silas Van Loy is on the run, on horseback, for murdering his older brother. His brother's revengeful widow, Lena, is hot on his trail. This book traces the complicated history and intense rivalry between the two brothers and how it culminates in murder. This book will appeal to lovers of westerns or mysteries, as well as those who appreciate vivid scenery and characters.
—Megan Mathis