Making Room for Change in the New Year
03 Jan 2018
Renovating a drab, dark kitchen or rethinking your foyer doesn't have to be an exercise in frustration. These local remodeling professionals can help you design and build a better home, bedroom, porch or kitchen. Imagine the possibilities!
By JESSICA SMITH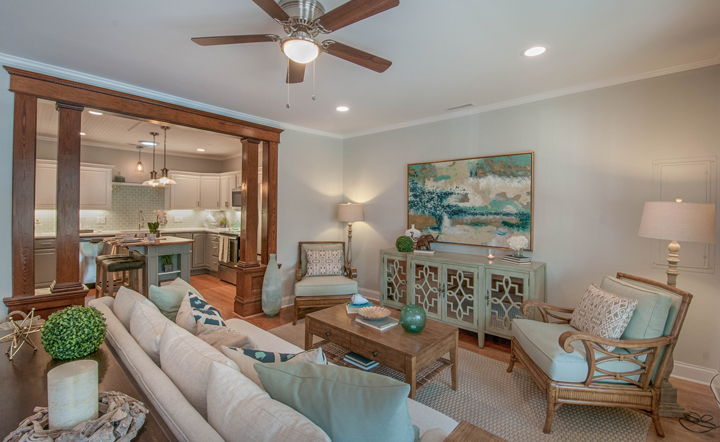 As the new year settles in, many of us find ourselves in a contemplative mood. What will we finally change in 2018? If you're not ready to commit to an exercise routine or search for a better job, why not focus on an easier target? Your home is your sanctuary, and there's nothing more satisfying to invest in than your personal living space.
Markraft Cabinets
910-793-0202
markraft.com
Homeowners Allan and Joan Turner knew exactly what they wanted for the kitchen of their new home in Carolina Beach: a warm, clean nautical style that reflected their surroundings. The couple engaged Markraft Cabinets, a custom cabinetry shop, to breathe life into their vision. Designer Meredith Shaver met with the couple in the Markraft showroom to discuss their plans. Joan was drawn to the simple, traditional lines of Shaker-style white cabinets, complimented by a pristine white marble countertop.
"We ended up choosing quartz in the kitchen instead, as its contemporary look fit well with the minimal design. Quartz offers a more consistent color and pattern, and it's easier to maintain," explained Shaver.
The owner found a pair of antique corbels, or brackets, at a local shop and asked that they be incorporated into the design for her kitchen island. The Markraft team was happy to oblige, and the glossy white scrollwork of the corbels now serves as a focal point in the room. The island was custom color-matched to the wall paint, a dark, creamy Hale Navy by Benjamin Moore.
"For every project, we talk extensively about how the homeowner is going to use their kitchen. Joan wanted built-in bookcases on the island caps for her cookbooks, and a buffet table with open shelving to display her glassware and antiques," said Shaver.
The buffet's beautiful wood top and striking shelves are visible from the open-concept living room and dining room, and they work to unify the space. Shaver also consulted with the homeowner about the planned contents for each cabinet, which helped her to maximize their utility, refine the room's layout and choose the right doors for each unit.
At Markraft Cabinets, projects can range in length from around eight weeks for a regular remodel to over a year for a complex project, depending on the builders' timeline. The design for the Turners' kitchen and bathrooms – including a his-and-hers vanity in the master bath – was complete in just a few appointments, requiring only tweaks as building phases were completed. Final steps included choosing cabinet pulls from the large hardware boards in the Markraft showroom.
The Turners are now happily settled into their forever home. "Joan told me this kitchen incorporates all of the best elements from each of the kitchens in all of the homes they've ever lived in," said Shaver. "She's thrilled with her dream house, and that makes us thrilled, too." This commitment to customer satisfaction is a key reason Markraft has been in business for the past thirty years.
Umbaugh Enterprises
910-619-1089
jenumbaugh@yahoo.com
When Jennifer Umbaugh first purchased the Craftsman bungalow in Carolina Place, its paint was peeling, the roof was buckling, and the interior was sadly neglected. In short, it was exactly the kind of dilapidated structure she likes to resuscitate.
After practicing law for the past 20 years, Umbaugh is now enjoying a second career returning historic homes to their former glory. Realizing her obsessive, detail-oriented nature complimented her passion for renovation, she launched Umbaugh Enterprises in 2015.
In the first year, the business purchased two properties on the same street, turning them from eyesores into showpieces. She acquired 2111 Gibson Avenue at auction, and spent nine months completely redoing its interior and exterior before putting the property on the market. Custom Home Furniture Galleries did the staging, and the home quickly sold in spring 2017. Umbaugh is also a real estate broker with River Town Realty Group, so she acts as a listing agent for each of her company's renovated homes.
"It is so gratifying to enhance the character of a house that's been ignored for decades," says Umbaugh. "We bring in modern amenities like new kitchens and bathrooms, but we save every character element we can." In some instances, Umbaugh and her team install new period details to maintain the home's charm.
Her contractor, Jason Cohan, is instrumental in this process. For 2111 Gibson, Cohan used a master woodcrafter to recreate transom doors and windows. Umbaugh found a beautiful wooden colonnade at a salvage yard in Indiana, and Cohan installed it in between the kitchen and the living room. "As the home was built in 1913 and the colonnade is circa 1910, it's historically accurate, even if it isn't original to the house," says Umbaugh.
After tearing out the sheetrock in the master bedroom, the team decided to highlight the shiplap siding they uncovered. The fire department had required them to close in a window, so they framed the negative space and repeated the shape on either side, painting the trim a glossy white to pop against the textured siding. Now, the homeowner's headboard sits against this beautiful feature wall.
"After being a medical malpractice attorney, it's really great to be able to use my creativity and the right side of my brain. Renovation is like a puzzle, and it's so satisfying to put the pieces back together to make the home whole again," says Umbaugh.
The kitchen boasts a sloped shiplap ceiling with recessed lights, white upper and gray lower cabinets, and a backsplash of beautiful aquamarine subway tile, which is echoed in the master bathroom's walk-in shower. The home also retained its original hardwood floors, always a priority for Umbaugh. Often, the existing floors require extensive repairs, but the pine flooring prevalent in our area makes it easier to feather new boards into old.
For each house she renovates, Umbaugh tasks a local historian with researching the history of the home and its inhabitants before applying for a plaque from the Historic Wilmington Foundation.
"When we finish a house, we want it to feel like you are walking into it on the day it was built," says Umbaugh. "Knowing the history makes it even easier to imagine you were there. I've never done things half-way. We're a bit over the top here, but that's what makes the work so much fun."
Currently, Umbaugh Enterprises is renovating a four-bedroom beauty on South 4th street, built in 1902. "We call her the grand old lady. We should be finishing this property in March, and we couldn't be more excited to show her off to the public."
Kitchen Blueprints
910-763-2536
kitchenblueprints.net
Would you risk a complete kitchen renovation right before you were due to host Thanksgiving dinner? Homeowners Bruce and Carolyn Moskowitz had so much confidence in their vendor that they were willing to do just that. The couple engaged Kitchen Blueprints, a custom cabinet shop on Wrightsville Avenue, to overhaul their existing kitchen at their home in Sterling Place.
Designer Cynthia Orr partnered with the Moskowitzes on the layout, which features capacious white cabinets extending to the ceiling, Shaker-style doors, and a bar area with several glass doors. The couple chose Touchstone cabinets and a LG Quartz countertop in Minuet, painting their kitchen island a dark slate gray to harmonize.
For the majority of the shop's customers, the attending designer is tasked with conceptualizing a new kitchen floor plan to meet the owner's evolving needs. The designer visits the site to take measurements and visualize the design. Sometimes a wall needs to be walked out, or a window must be enlarged or removed. The team works with remodeling contractors to complete any necessary structural work.
"While we have many plumbers, electricians and painters to rely on, we're also happy to work with the homeowners if they have someone they want to use," says Orr. "We try to make the entire process as smooth and well-coordinated as possible for those working on the space." The team makes sure to work with contractors and installers who share their work ethic and are always willing to pitch in and help.
The Sterling Place rehab took about 14 weeks from start to finish, with five weeks for installation. Once the new cabinets arrived, the Kitchen Blueprints team tore out the old ones, installing some in the garage and donating the rest to Habitat for Humanity, as per the homeowner's request. That left the space wide open for plumbers to move pipes and electricians to add new lighting and extra outlets.
"We always try to make sure everything is done in time for the cabinets to be delivered directly to the house, so we can start unpacking them and reinstalling," said Orr. Throughout the process, her team tries to make the renovation as painless as possible for the homeowner.
"We've always been an extremely service-oriented business," says Orr. "We take care of service work just about forever. If a child runs a tricycle into a door and cracks it years later, we'll help them fix it. In fact, we recently changed out all the cabinet hinges for a customer who bought a kitchen from us 17 years ago!"
Orr believes the secret of Kitchen Blueprint's success lies in this generous mindset. The business opened in 1990 and hasn't stopped since, a rarity in the Wilmington market. "We go the extra mile in our approach to customer service, and we always have. We believe that good karma comes right back to us – as do our customers. We've done as many as four kitchens for some people."
Cumulatively, Kitchen Blueprint's three designers have racked up more than 102 years of experience designing kitchens, a fact that sometimes astonishes customers. "When I tell them that I've designed every kind of kitchen imaginable, I really mean it," laughs Orr. "I've been doing this for 37 years."
While the business offers a wide range of price points for cabinets, they always adhere to a certain high standard. "Even our most economical cabinets are well-made," says Orr. "We present only products that will stand up to the test of time. When we run into you in the grocery store, we want to hear you say that you still love your kitchen and it's doing well."
When she next bumps into the Moscowitzes in Harris Teeter, they may reminisce about the hustle and bustle that preceded the Thanksgiving of 2017, but they won't have any complaints. The project was completed in plenty of time for the couple to prepare a family feast in their beautiful, spacious new kitchen.
Dynamic Kitchens and Interiors
910-763-9870
dynamickitchens.com
Homeowners David and Kathy Sweet adored their new home in Landfall, but there was one room that needed serious help. The kitchen featured dark cherry cabinets that soaked up the light, and Kathy felt as if she were cooking in a cave.
Unfortunately, the room's focal point didn't help. The large, stucco-style hood over the stove was both unsightly and non-functional. Eight months after moving in, the Sweets sought professional help, engaging Dynamic Kitchens and Interiors to remodel the room.
With 24 years of experience in interior design, owner Alice Evans launched her family business two decades ago. Her husband is the company's contractor, and the couple work with an array of dedicated electricians, tile installers and cabinet installers.
When Evans meets with a client for the first time, the first question she asks is what the homeowner is trying to accomplish in the space. "I try to understand what the need is in each room," says Evans. "Kathy's desire for a very light, bright, coastal kitchen made it clear that we needed to start fresh."
Dynamic Kitchens gutted the room, ripping out existing cabinets and installing new cabinets from Signature Custom Cabinetry. The homeowners chose a recessed panel Pioneer door, painted Decorator White by the shop. The cabinet hardware is finished in an unusual combination of brushed nickel and chrome.
Evans also worked with the homeowners to select new appliances. The team installed a stainless oven, cooktop, and downdraft by Thermidor; a Samsung refrigerator; and a Danby wine cooler. Due to architectural constraints, the Sweets needed to keep the kitchen's existing footprint. However, Evans did manage to add storage space and maximize flow by enlarging the size of the island.
"The room was spacious enough to accommodate a wider island, so this design is much more pleasing to the eye," said Evans. "Now, it's more comfortable for three to sit there. With that beautiful, smooth expanse of granite, the island is just perfect for serving a buffet-style meal."
For their countertops, the Sweets chose a white eyes variety of the stone, which reflects the light off its sparkling, densely veined surface. The backsplash features subway tiles in a warm gray that compliments the counters.
From demolition to completion, the renovation took about six weeks. Evans's favorite element of the project was a special request from the homeowners. The team custom-built a retractable footstool that tucks into the toe kick area underneath the cabinets, ready to be pulled out and used whenever a dish is out of reach.
A few weeks after the renovation, the Sweets hosted Thanksgiving dinner for ten in their new home. Cooking in the light-saturated kitchen proved even more of a pleasure than eating the meal itself.
The Kitchen Man
910-470-5998
thekitchenmannc@gmail.com
When speed is a priority but you're unwilling to sacrifice quality, consider The Kitchen Man for your renovation project. The kitchen designer and custom cabinet and countertop installer provides in-house services ranging from a full kitchen remodel to a simple backsplash installation. Depending on the size of the project, the company will install your new countertops within seven days, or completely remodel your kitchen in a mere two to three weeks.
Owner Chris Dabideen opened the business in Leland, NC two years ago, after spending twenty years in the business as a licensed contractor. He has designed kitchens and installed custom-fitting granite and marble countertops for hundreds of homeowners. His work can be seen in places as varied as luxury Hamptons, NY estates, to beach cottages in the Cape Fear. The Kitchen Man keeps a wide selection of stone slabs on-hand at their Leland showroom for customer selection.
"Everything we do is in-house, as we like to take ownership for the entire job from start to finish," says Dabideen. "My team takes pride in making your kitchen dreams come true. We're a family-owned and operated business, and it's important to us to treat our customers like members of the family." To that end, Dabideen himself is involved in every job from a simple bathroom vanity, to a 2,000 square foot kitchen design and remodel. "We feel it's important for clients to speak with the owner of the company," says Chris. "We want a level of comfort that I would want if I was dealing with a company, it's personal."
To begin, The Kitchen Man design team visits a client's house, inspects the space and discusses the many options with the homeowner. "Our designers take measurements and talk with you about your needs and color preferences. We recommend materials that will suit your lifestyle, depending on how you plan to use your kitchen, how much maintenance you're prepared to do on your countertops, etc.," says Dabideen.
"Some clients may want a big six burner Viking range and Subzero refrigerator, but the reality is that they don't really cook that much," he adds. We make suggestions that better fit their lifestyle and needs for a kitchen, saving them money and giving them a kitchen they can live in, and a budget they can live with.
All countertops are custom-cut to fit precisely within the client's space. The Kitchen Man is committed to delivering each customer's vision, on time and on budget.