A Home to Celebrate
08 May 2016
Custom millwork and attention to detail define this waterfront home
By CHRISTINE HENNESSEY » Photos by HARRY TAYLOR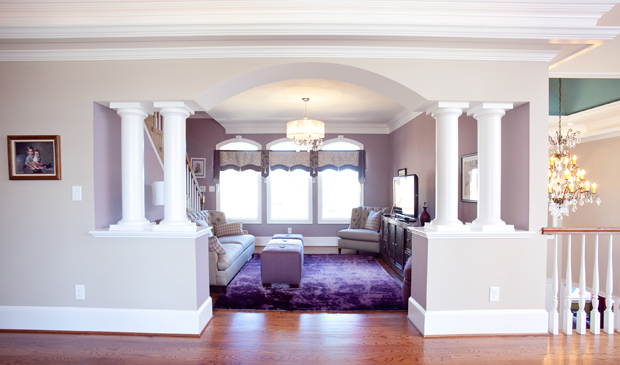 When Kevin Sikorski, a Wilmington native, wanted to move back to the coast, Ivey, his wife, took some convincing. Ivey is a stay-at-home mom and part time substitute teacher, while Kevin is the owner of Famer's Friend, a produce distribution company. Together, they have three children, aged 12, 14, and 16, as well as one dog, two cats, and a sugar glider. "It's a zoo around here," Ivey says, laughing.
The family had been living in Raleigh ever since the Sikorskis graduated from college fifteen years earlier, and Ivey felt settled. In order to convince her that a move to Wilmington was worth it, Kevin promised that they could finally buy their dream house in the Port City. Eventually, Ivey agreed.
As it turned out, finding the perfect home wasn't as easy as the Sikorskis hoped. "We were looking for very specific things and we couldn't find them all together in one house," Ivey says. "Finally we realized that to get everything we wanted, we'd have to build it ourselves."
During the course of their search, the Sikorskis viewed a house built by Wilkins & Wilkins General Contracting. "It was a beautiful home," Ivey says, "but there were some tweaks we would have made." When they decided to go the construction route, they immediately thought of Wilkins & Wilkins. "We already knew what a beautiful house they could build, so we decided to work with them."
A Completely Custom Experience
Wilkins & Wilkins was founded in 1993 and has been building homes in North Carolina ever since. Owned and operated by Jim and Lisa Wilkins, a husband and wife team, the firm offers clients the best of both worlds: Jim's passion for perfection in both the planning and building phases, and Lisa's cheerful professionalism in the office.
When it comes to their homes, Wilkins & Wilkins takes a hands-on approach in every sense of the word. Each home, no matter how large or small, begins in their woodworking shop, where they custom-design, custom-build, and custom-finish all cabinetry, trim, and moldings. "We do pretty much everything in house," Jim says. "We have a total of eight employees, and I actually work in the field, with my men, every single day."
One of the most unique aspects of the company's process is that they only build one home at a time. This allows them to give their complete focus and attention to each client's project. It also means projects are completed more quickly than other builders, which saves time and money. "We have one focus and we hit our target dates because it's our only project," Jim says. "Because of that, people are willing to wait for us." These days, that wait list is three years long—a clear sign that the Wilkins & Wilkins method works.
The Wish List
Most of Wilkins & Wilkins' projects begin the same way. "We ask our clients for a wish list, which tells us how many bedrooms, bathrooms, and garages they need, the square footage they're looking for, the specific things they want. From that point, we start developing the plans." Jim admits that this part of the process can be intense. He goes over the plans anywhere from two to eight times with his clients to make sure everyone understands the home and that it includes absolutely everything the client may want. "I don't like to make changes once we're in the field," Jim says. "It's cheaper and easier to make adjustments with paper and pencil."
When it came to the Sikorskis' wish list, the couple knew exactly what they wanted. The home had to have five bedrooms—one for each child, as well as a spare room for their frequent guests. Because Kevin works from home, he needed an office where he could comfortably run his business. They also wanted a theater room, since the family loves watching movies together, as well as an outdoor space for entertaining guests and hosting parties. Family and friends are important to the Sikorskis, and their biggest concern was building a home where everyone would feel welcome.
"This was going to be our dream house," Ivey says. "The house our children were going to finish growing up in, the house that convinced me to move down from Raleigh." In other words, it had to be perfect.
Settling In
"Building a home can be overwhelming," Jim says, "so we try to simplify it." This approach appears to have worked with the Sikorskis, who had nothing but good things to say about the building process.
"It was exciting," Ivey says. "I always heard that building a house could be one of the biggest stressors on a marriage, but I didn't find that to be true."
Despite Jim's meticulous planning and the Sikorskis' enthusiasm, there were some last minute additions to the home. "We had already finished framing the house," Jim says, "when some friends of the Sikorskis suggested they do something with the attic space. They called and asked about other options." Jim was resistant at first, because the last minute change meant he'd have to undo work that had already been completed. In the end he relented, took on the extra work, and now agrees that it was worth the effort. "It added an extra 1,000 square feet up there," he says, "and it turned out great."
Because the Sikorskis' home was the only project Wilkins & Wilkins worked on at the time, the home was completed in just ten months. Since then, four years have passed and the Sikorskis have easily settled into Wilmington and their new home, enjoying the personal touches and specific details that perfectly fit their lifestyle.
"We love the theater room, and spend a lot of time there as a family," Ivey says. "We also love the big kitchen, which is open to the dining and living areas. When it's warm, the outside patio and pool areas stay very busy. We have a lot of gatherings and celebrations out there during the summer."
Jim agrees that the outdoor space is one of the home's most impressive features, especially from a design standpoint. "The pool and the gazebo and all the work outside took place during the latter part of the job. The way the gazebo attaches to the side of the pool really adds dimension to the house. It was difficult to do, but it makes such a difference."
Because the Sikorskis love to entertain, Jim knew the outdoor area was just as important as the inside of the house. And because Wilkins & Wilkins also does landscaping for all their homes, he was uniquely poised to ensure that every aspect of the outside area was ideal. "The pool has a swim up bar, the dual barbeque uses gas and charcoal, and the house is positioned to offer the best view. I don't think we missed anything in the design," he says. "We hit it on all cylinders."
Come One, Come All
When Jim talks about Wilkins & Wilkins's process, he compares it to the kind of relationship someone might have with the owner of their favorite restaurant, the kind where as soon as you walk in, you're greeted by name and offered your usual table. This intense focus also allows them to form a similarly strong relationship with their clients.
"When you're building someone's home, you have to have a really good working relationship with them," Jim says. Because Kevin and Ivey lived in Raleigh while their home was being built, it was important to keep them updated and in the loop. "One of our biggest assets is communication. We're always available, and we send the client photos at the end of every day." He adds that when clients do call with a question or concern, they talk directly to Jim, the owner of the company—there are no middlemen at Wilkins & Wilkins.
In fact, Jim and Lisa can be found at many of the Sikorskis' gatherings. Since the home was completed, the couples have stayed in touch and become good friends—a testament to both the Wilkins ability to form strong client relationships, and the Sikorskis' desire to create a space where all are welcome.
"We love the fact that our house is the place where most of the big celebrations happen," Ivey says. "We wanted a large, kid friendly house where everyone could relax and feel at home, and that's exactly what we got."
Resources
Builder: Wilkins & Wilkins General Contracting, 910-458-2524, ncgeneralcontractors.com
Tile: Florida Tile, 910-392-3072, floridatile.com