A Love Letter to Wilmington
28 Feb 2023
We asked the owner of one of North Carolina's most in-demand social media accounts to explore her relationship with our unique town—she did not disappoint

Story and photo by Megan Nichols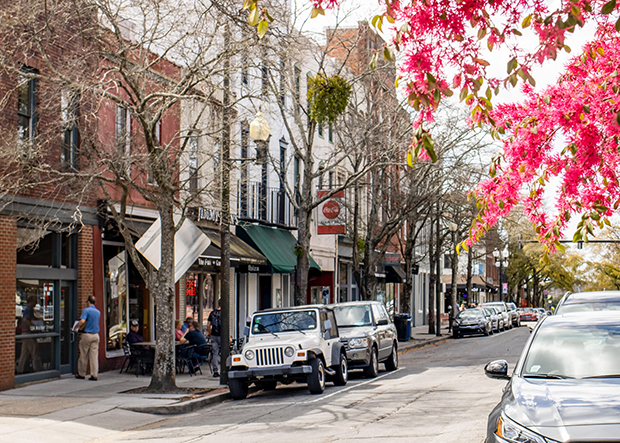 North Carolina harbors beauty around every corner, with Wilmington being a crossroads—a meeting place for contrasting charm. Among the cobblestone walkways, historic homes and bustling riverfront of restaurants and shops, natural life still breathes. It's rare that a developed city leaves room for the inhale and exhale of the wild existence that came before it.

If you take the right paths, you'll find yourself in a setting seemingly untouched by modern culture. The sounds of seagulls, rushing waters of the Cape Fear River, vibrant hues of coastal flora, and sprawling oak trees will welcome you into their home—a world secluded from society. Just a few minutes away, however, you'll discover yourself admiring the intricate detailing of downtown buildings and soaking in the energy of locals and tourists. Indeed, Wilmington is a special mixture of Mother Nature's careful crafting and man's diligent designing.

I didn't fully appreciate it until I reached adulthood. As a child, Wilmington was just a city I passed through as my family traveled to the beach. As a teenager, it was just a coastal city where some of my friends planned to attend college. I was ignorant to the enchantment until I was in my twenties and visited with a friend for a weekend.

I was enraptured by the streets lined with historic houses that varied in design. Victorian architecture with gothic detailing found a home next to classic southern cottages with white picket fences. It shouldn't have made sense—it should have appeared messy and unplanned, but it didn't. It worked beautifully and I quickly learned that Wilmington doesn't follow ordinary rules and expectations.

It's a safe haven for the critters that share the walkways with strollers, for the fish that share the cove with fisherman, for the locals that share their domain with eager visitors, for the designs that oppose one another but join to establish neighborhoods.

My friend and I were told by a local that Airlie Gardens couldn't be missed and we immediately drove there after a delicious lunch overlooking the river as boats arrived and departed. I walked along the green pathways lined with cypress trees draped with eerily beautiful moss and stopped to smell the azaleas, vivid with countless shades of red, pink and white. I turned to my friend and whispered, "this might be the most beautiful place I've ever been."

That was the moment I decided to never stop exploring North Carolina. I had spent my entire life calling it home but had never known the overwhelming charm and natural beauty of this port city. How many times had I driven past it in my lifetime, not realizing it was a sanctuary for anyone who needed it, from the blue heron perched along the trickling riverbed to the twenty-something year old girl, eager for adventure?

I've returned to Wilmington many times since that day, each visit filled with discovery, admiration, and gratitude for a refuge that allows nature and man to walk hand-in-hand.

Follow Nichols on her adventures through our beautiful state on Instagram (@nceatandplay); TikTok (@nceatandplay); Facebook (NC Eat & Play); or online (nceatandplay.com).