A Natural Born Attorney
25 May 2023
Amanda Mason finds her calling and home in Wilmington at a law practice specializing in criminal defense, civil litigation and family law

By Jen Reed » Photos Whitehurst Photo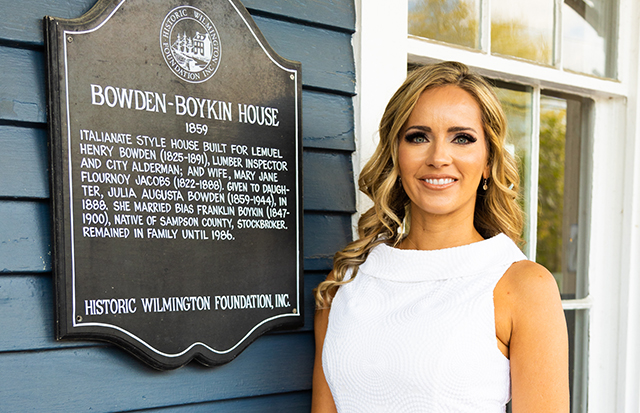 When Amanda Mason took the Law School Admission Test (LSAT) for the first time, it wasn't out of necessity but curiosity. After realizing she had aced the exam, she decided to see if she could get into law school. That moment led to a fulfilling career that culminated in the founding of Mason, Mason, and Smith, a Wilmington-based law practice run with her husband, Bruce Mason. However, the road to Wilmington was far from direct.

Born in Washington, DC, and raised in Maryland by political consultant parents, Amanda's mother was a great influence on her life. "I would see her going to work in her high heels and her briefcase, and there was never any question that I was going to have a career," she says. What that career would be remained uncertain. Amanda attended the University of Maryland before transferring to Southern Methodist University in Texas, where she met her first husband.

After graduation, she worked in market research before relocating with her husband to Tucson, Arizona. While she liked her job, Amanda wanted to make a difference. "If I was going to do that, I knew I would need to get a graduate degree," she says, leading her to take the LSAT. By then, Amanda was pregnant with her first child. She realized that if she was going to pursue further education, that was the time to do it. She officially took her LSAT and passed again. Soon after, she welcomed her daughter into the world.

Living in Tucson, Amanda decided to look at the University of Arizona Law School. It would be her child that cemented her decision to attend. "I went to meet with the Dean, and when I got there, she had laid out a blanket and some toys. She thought I was going to bring my daughter and wanted her to be comfortable," she recalls. Amanda has fond memories of her time at law school, which she says was amplified by the amazing people who worked there and the friendships she made. She welcomed her second child, a son, during the first semester of her second year of school.

More than a year later, she accepted her degree with both children by her side, literally. She walked across the stage with her son on her hip and her daughter holding her hand. Still in Tucson, Amanda knew she wanted to return to the East Coast and, with an uncle and cousins in Chapel Hill, decided North Carolina was the place. While still out West, she studied for and passed the bar exam in North Carolina in 2003.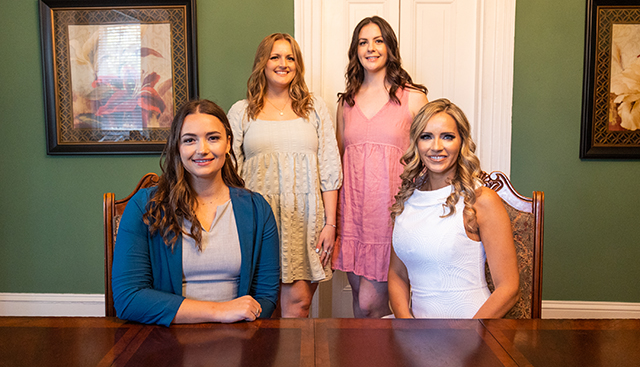 Amanda then moved to the Raleigh area and took a job at a law firm before returning to Wilmington to work at the New Hanover County Courthouse. It was there that the now-single mother of two would meet her future husband purely by happenstance. In fact, the day they met neither one of them were supposed to be in the courtroom; Amanda was doing a favor for her law firm and Bruce needed to get some paperwork signed. After she left, Bruce inquired with a bailiff about her—and the rest is history.

Life in Wilmington has presented Amanda with opportunities to get involved in the community. She serves on the board of the Historic Wilmington Foundation and the Bellamy Mansion. But it's her work in family law that is fueling her true passion: mentoring young lawyers entering family law practice. She says providing guidance and equipping the next generation of lawyers with the tools they need to run a successful practice is critical. "There needs to be more quality family law attorneys," she says. "We are often the lifeline for people who are going through something terrible through no fault of their own. We need to show them empathy and kindness."

She is proud of the steady growth of her law firm, which recently named attorney Gray Smith as a partner. The firm specializes in criminal defense, civil litigation and family law. She is also quick to point out that they could not have become successful alone, praising the hard work of everyone, especially the paralegals who support the practice.

As she reflects on a career that is going strong, Amanda views the milestones as something she had anticipated, although she didn't know the form they would take. But she did know that she wanted a career, children and to live someplace beyond Maryland.

"Filling in the details—that's where life adds the zest," she says, with a smile. masonmasonlaw.com