The Natural Beauty of Wood
25 May 2023
A look at the artistic creations of two self-taught woodworkers

By Kim Henry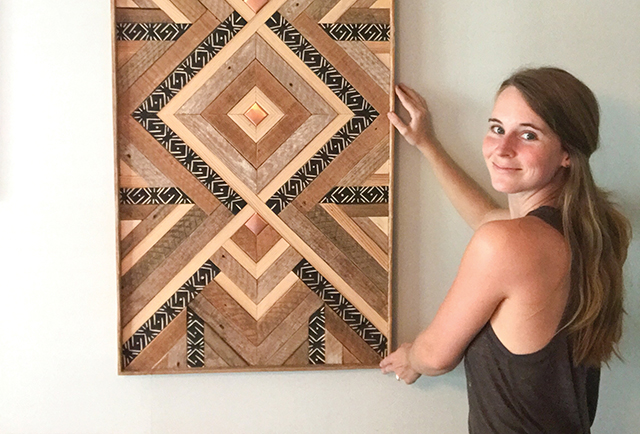 Many of us have our favorite kind of wood. The hue of cherry, the grain of oak, the character of an old hardwood floor and the beauty of handmade pieces of wooden furniture. Wood is solid, natural, warm and timeless. It's no wonder it catches the imagination of artists, who then work their magic to transform this raw material into amazing pieces of art. Enter Nicole Band and William Davis, both gifted Wilmington locals, who have not only developed their own unique woodwork style but are both self-taught.

Band graduated from UNCW in 2015 with a degree in Environmental Science and although she always enjoyed art, she never imagined it would become her full-time gig. She began to take notice of geometric wood art online and, in 2017, made her first piece after following YouTube videos and utilizing her access to reclaimed wood, as well as her familiarity with carpentry tools.

"At first it was just a side hustle, but the more I did it, I realized it was the first art form that my brain enjoyed and then it just took off," smiles Band from her home studio where she is surrounded by a whole lot of saws—table saws, jig saws, circular saws, you get the idea.

Gathering wood from salvage stores and offcuts from her husband's roofing company, Band appreciates the fact that her materials are reclaimed and that her art form is keeping wood out of the landfill. After preparing the wood, sometimes using environmental stain or color, Band begins in the middle of her design and works her way out, piecing her precise cuts together like a puzzle.

"It doesn't involve as much math as people may think," laughs Band, which seems incredible when looking at the seemingly complex and perfect geometry of her stunning work. Setting the different grains and wood colors side by side on a sheet of ply, primarily using 45-degree angles, Band builds her beach-inspired and geometric-framed sculptures. The process not only produces unique results, but is also very therapeutic for the artist, who founded Solstice Woodwork. Accepting commissions, her business sells on Etsy and exhibits locally in the Cargo District, at The George on the Riverwalk and at The Veggie Wagon.

The three-dimensional capacity of wood art sculptures is taken to a whole new level by our other featured woodwork artist, William Davis. Born in Jacksonville, NC, Davis grew up in Emerald Isle with surfing, music and a firm foundation in carpentry, before settling on Wilmington's sandy shores in 1997. Davis ran a successful construction company for over 20 years but turned his skilled hands towards a more artistic tract just a few years ago. Leaning into his lifelong love of the grain, patterns and colors of different kinds of wood, Davis began exploring layered wood sculpture creations during the isolation of the pandemic, and has not looked back.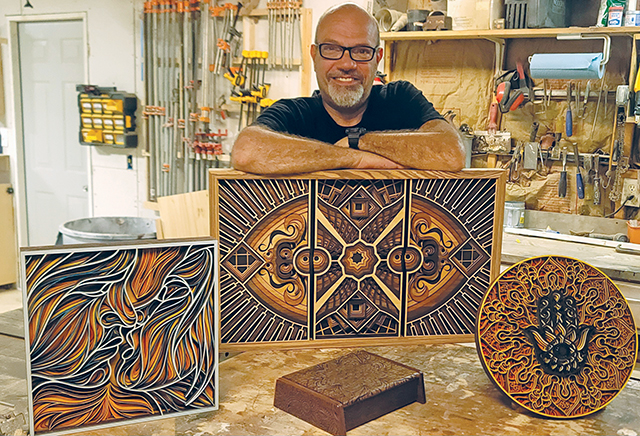 This journey led him to acquiring a computerized laser cutter, allowing him to carve out a wide range of intricate designs. Composing combinations of shades, colors and textures, he then sets the different layers on top of each other to create mesmerizing pieces of 3D work.

"I love being in my shop, getting in the zone and letting the ideas flow," he says. "I'm looking for subtleties in different kinds of wood, something that catches my eye and just explodes when it's all polished up."

Having established Harlequin ForestWorks as the artistic branch (enjoy the pun) of his woodworking company, Davis is constantly developing more designs and techniques, including combining wood and epoxy, etching handmade boxes and integrating 3D layering within his original furniture designs. His chopping boards are a celebration of the natural beauty of different grains and hues of wood. Resonating with the sacred geometry aspect of the mandalas he often depicts, Davis is also inspired by nature, particularly the ocean with seahorses, mermaids, turtles and whales often featured in his work. In addition to accepting commission, his creations can be found in local stores, galleries and on Etsy (HarlequinForestWorks).

The work of Band and Davis is as inspiring as it is beautiful to look at. May their dedication and ability to learn new skills, fueled by the passion to follow the artistic outlets that bring them joy, be a lesson for us all.