She WILL… Graduate, Go to College and Succeed in Life
25 May 2023
A vision becomes reality at Girls Leadership Academy of Wilmington (GLOW)

By Vera Wilson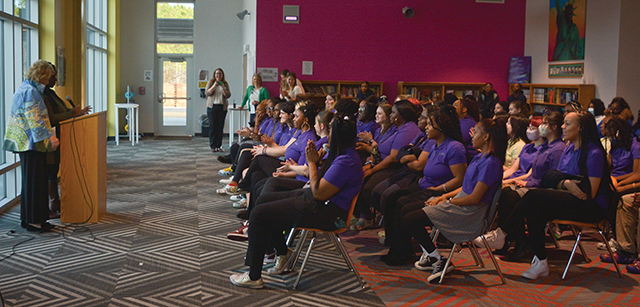 In January, the Girls Leadership Academy of Wilmington (GLOW) announced their first graduating class received an impressive $1.7 million in merit scholarships. Even more remarkable, that number has since risen to $2.8 million.

So what's the charter school's Director of College Access Jahleese Hadley's reaction to this momentous achievement?

"I'm not surprised," Hadley says, who is also one of the founding staff members. "What's helped us get these results is we don't counsel students in a formulaic way. We build relationships with the students. It's more individualized and intentional."

"Statistics show that girls who are a product of a single-sex education are more likely to attend college and pursue nontraditional educational paths and careers," she continues.

Graduates of all-girl schools report feeling more confident than their coed counterparts.

Without the pressure to conform to age-old and oppressive stereotypes, "they're allowed to build an identity that is separate from their sex and their gender," Hadley says. "At GLOW, if a student is a loudmouth, they're just a loudmouth. They're not a 'bossy' girl."

But all-girl schools are not without their challenges.

"This is not a utopia," says Hadley with a laugh. "The difference is when we have a 'mean girl' problem, it's addressed, but also, why is that person being mean? It's about both girls."

The school emphasizes helping the "whole girl" so the emotional, physical and social personas that impact a student's academic path are addressed, and part of that is understanding what's happening in their lives outside of the school walls. To that end, there's a mental health therapist, social worker and nurse on staff.

Jen Wilson-Mathis, a parent of two girls who attend the school, and who, in 2022, joined the GLOW staff as their Admissions Director, believes students thrive in a small school environment.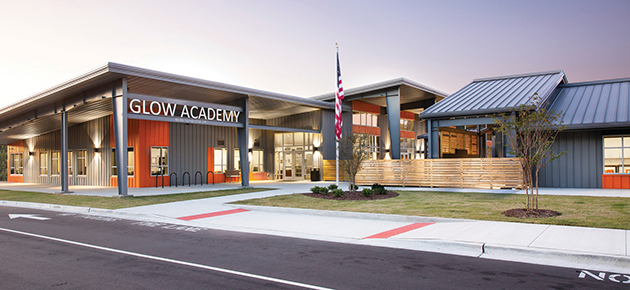 "Everybody knows everybody here, and it's fantastic," she says.

Wilson-Mathis speaks with excitement when she talks about her children's experiences at GLOW.

"Where I grew up is very diverse," she says, "and you could throw stones at any number of all-girl schools, so the idea was not necessarily foreign to me. But I didn't realize all the opportunities they'd have at GLOW."

Those opportunities include frequent field trips such as the one recently taken to local television station WECT for a sneak peek inside that industry. It dovetailed nicely into the school's new multimedia digital arts curriculum, funded by Sony Pictures and the Sony Global Social Justice Fund.

Hadley knows it takes a village, and the community has notably stepped up for the school.

"It's really impactful the number of volunteers and professionals we bring on campus to interact with the kids," Hadley says.

Businesses like nCino and Live Oak Bank, where two girls from GLOW currently intern, are integral partners as well. Visits to college campuses near and far are often funded by generous donors who realize visiting a college may be financially out of reach for some students.

Nonprofit foundation Beacon Education often spearheads fundraising for GLOW. Their secret weapon is annual visits from celebrity chefs like Rachel Ray, Guy Fieri and Emeril Lagasse who attract many donors eager to mingle with the stars. This year, in conjunction with the annual chef event, a new campus culinary lab was inaugurated, thanks to a grant from the Emeril Lagasse Foundation.

GLOW's mantra—She WILL…Graduate, Go to College, Succeed in Life— is working. More than ninety percent of the graduating class has been accepted to at least one college. GLOW is patterned after a network of Young Women Leadership schools whose mission, according to their website, is to provide girls growing up in underserved communities with a high-quality education based on the finest private school models.

College preparation is very deliberate and begins in sixth grade.

"I think one of the things that sets GLOW apart is the leadership advisory portion of each student's day," Wilson-Mathis says. These classes are led by a mentor who encourages the students to think critically, creatively, and collaboratively, all skills needed to succeed in college.

The school acknowledges that students can find the college application process overwhelming, and even terrifying, especially for first-generation students.

"We try and break it down into small pieces", Hadley explains. "We walk through the process step-by-step and make sure they're doing it correctly and thoroughly. We have a senior boot camp. We create the mental space so eleventh graders can research colleges and work on their essays. We encourage them to put a lot of time and energy into making their essays reflect who they are."

GLOW isn't quite ready to kick the students out of the nest, though. With more than 70 percent of the graduates being the first in their families to attend college, they will remain in close contact with their students for their first year, offering support, guidance and encouragement.

To learn more about enrolling at GLOW, volunteering or making a donation, please visit glowacademy.net.