Education Never Goes Out of Style
25 May 2023
Communities In Schools prepares for 7th Annual Fashion Show

By Kendall McGee Englehart » Photos by Jenny Ryder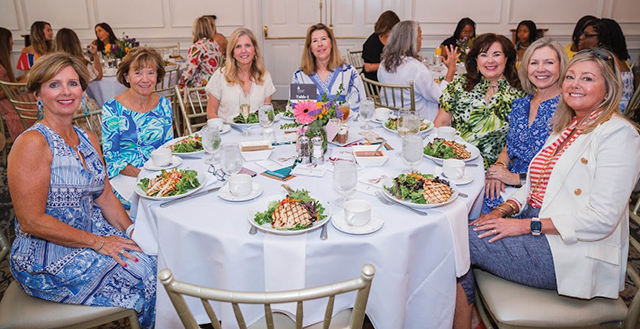 It happens each year about the time the azaleas are in full bloom. The clink of champagne flutes settle into the background as music builds and the first model ascends the stairs to the runway. The moment the model's foot hits the stage, the room erupts into cheers and whistles. What was a quiet ladies' luncheon moments before is transformed into a room full of excitement, empowerment, and support.

Fashion shows typically serve as an opportunity for a designer to channel their creative focus. However, this show channels a greater purpose: ensuring the next generation has the tools they need to find success in the classroom and in life.

Communities In Schools (CIS) of the Cape Fear has been hosting its annual Fashion Show at the Country Club at Landfall for years. The upcoming show on May 23, 2023, will mark the nonprofit's 7th annual Fashion Show fundraiser. In addition to the display on the runway, guests enjoy a plated lunch, a mimosa bar, and a vibrant silent auction. The show is an opportunity for local boutiques to spotlight their latest summer fashion picks, and every dollar raised inches a local student toward a brighter future.

Each day, countless students face challenges that make it difficult for them to focus on academics and can hold them back from reaching their full potential. More than 20,000 children live in poverty in New Hanover and Pender counties and may experience daily struggles with food insecurity, inadequate physical and mental healthcare, exposure to violence, or a lack of stable housing.

Last year, CIS reached more than 15,000 families in need, providing everything from free school supplies, attendance support, behavioral interventions, tutoring and mental health resources to the region's most vulnerable students.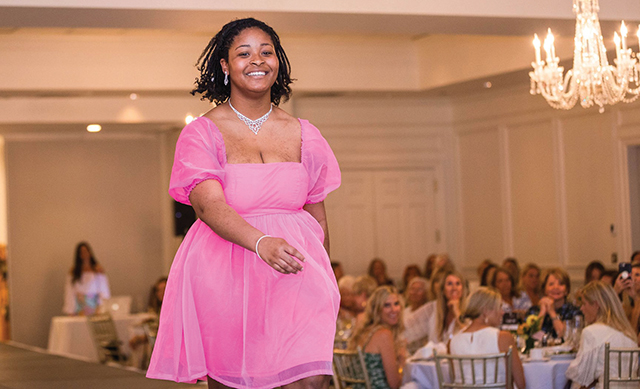 CIS has staff members in 27 public schools across Pender and New Hanover counties. The programs are evidence-based and have striking results. Last year, 99 percent of CIS case-managed students stayed in school, and 95 percent of CIS case-managed students graduated from high school.

"This Fashion Show matters because the work that Communities In Schools is doing matters," says planning committee member Denise Lopatka. "The impact of the event is far-reaching. The money is used to reach more kids and keep those kids in school and heading toward graduation. The fashion show itself is a unique opportunity for a larger network of our community to support CIS in a meaningful and tangible way."

The models for the annual Fashion Show are pulled from all corners of the region, ranging from movers and shakers in media, real estate moguls, longtime CIS donors and several students served by the organization firsthand.

New Hanover High School student Alaijah Brunson has been familiar with CIS since birth. Her mother joined a CIS program for young parents when she learned she was pregnant. As Brunson grew up, she was eventually paired with her own student support specialist to help her at school.

The high school sophomore walked in the 2022 Fashion Show at The Country Club at Landfall and says strutting the runway in a hot pink dress from Lula Balu was an incredible boost to her self-esteem.

"I couldn't tell them no and let them down; they have done way too much for me," says Brunson. "I would describe my experience of walking in the CIS Fashion Show as amazing. I couldn't ask for anything more; everyone was very kind and supportive."

The impact made by the fashion show doesn't stop at the few students lucky enough to grace the runway; The support the event garners for CIS improves the region's dropout rate and ultimately safeguards the future success of our coastal community.

Research shows improving student outcomes makes the next generation more likely to be a contributing member of society, decreasing the chances of incarceration, chronic unemployment and reliance on government assistance. Giving Wilmington's students what they need to thrive at school now is a direct investment in the future of our area's economy and ability to compete in a global workforce.

"The future of Wilmington benefits greatly from CIS," says Lopatka. "The staff at CIS are in our local schools daily supporting kids in any manner they need. This fashion show is a chance for members of our community to come alongside this organization and its students to show our support now, as well as in the future."

If you'd like to reserve a seat at the 2023 CIS Fashion Show at The Country Club at Landfall at 11am on May 23, 2023, please visit CISCapeFear.org