A N.C. Start-Up for Veterans Stakes a Claim
02 Nov 2022
Helping to level the playing field for U.S Veterans

By Crissy Neville » Photos by Melissa Souto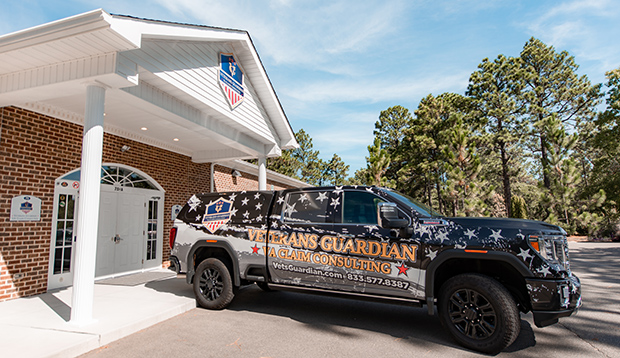 If business is anything like baseball and numbers indicate a company's success, then Veterans Guardian VA Claim Consulting of Pinehurst is batting a thousand. Or better yet, thousands.

Claims approved to date, 22,500+. Veterans served, over 40,000 in total, nearly 2K a month. The company's three-digit and under figures are also impressive. Jobs created nationwide, 170 and growing, employing some 155 North Carolina citizens. The ratio of staff with military affiliations, 75%. Veterans hired since inception, 125. The growth rate of this Moore County start-up, 622%, based on 2019-21 numbers. The success rate of work, 90% and upward. Relationships with doctors and healthcare staff knowledgeable in medical evidence necessary for claims, 75 and rising.

And the numbers scale when considering Veterans Guardian's economic impact in North Carolina — a whopping $47 million per year since inception. With that quantity, the scoreboard lights up, fireworks burst, and the crowd goes wild — especially this crowd. Fort Bragg, the largest U.S. Army base by population, has been in our state for over a century since its establishment as Camp Bragg on Sept. 4, 1918.

Still, the quality of Veteran's Guardian's work makes the biggest difference locally, nationally and even worldwide.

Veterans Guardian is a pre-claim consulting firm that helps veterans maximize the amount of disability benefits they are medically eligible for due to their honorable service in the United States Military. Staff members can help clients with a 90% disability rating or less make the necessary service-related medical connections to win previously denied benefits or start new claims.

Its reach is large — the company has worked with clients in nearly every country where there are military veterans, ranging from North and South America to Europe, Asia, the Middle East and beyond.

Leading the charge to assist veterans struggling with the red tape of the Veterans Affairs Department, which can include administrative woes, long waits, confusing and complex rules, and a paper trail of denied claims are business co-owners Lt. Col. (Ret) Scott Greenblatt and Army Lt. Col. (Ret) William C. "Bill" Taylor.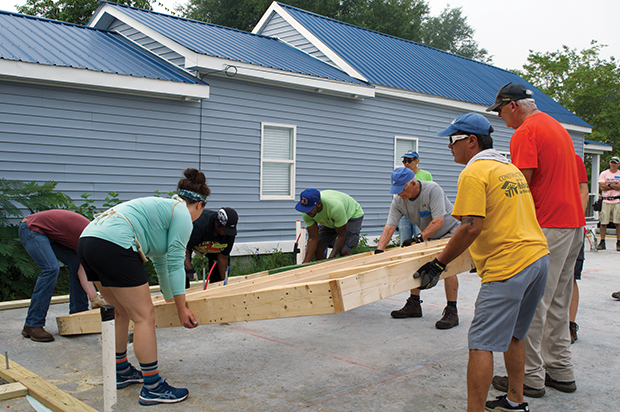 Greenblatt, the company's founder, launched Veterans Guardian in 2017 after serving 25 years on active duty and soon recruited Taylor, a 23-year-tenured service member, to join him as the chief operating officer. Both men have extensive military backgrounds, including command staff positions, advanced coursework, operational deployments and decorated achievements.

Greenblatt reflected on why he started Veterans Guardian.

"In my last couple years in service, I observed significant challenges with the process that separating service members and existing veterans had in engaging with the Department of Veteran Affairs process. There was tremendous frustration; I began helping people with claims just as an individual in my last couple of years in the Army, and I was having great success. While not looking to start a business, I saw that the assistance changed lives. It was when my time was drawing closer to retirement, and I was considering different career paths that my phone didn't stop ringing with people looking for help with their disability claims. I started with a small rental office as the solo employee, and I have been amazed at our growth. I credit our success to my co-partner and the veteran employees who helped create the organization we have today."

"There are many ways to achieve a favorable result in claims filing," Greenblatt explains. "One way is to do it yourself or go to the VA for help. There's also the route of your county veteran's service officer, the American Legion, Disabled American Veterans, the Veterans of Foreign Wars, and other free services. We encourage everyone to utilize all the free services first fully. Veterans Guardian is an alternative option. It's your claim we tell our clients. It's your choice, and it's a veteran's right to choose."

Veterans Guardian is not affiliated with the Veterans Administration, nor do they have a competing interest with the government entity, he continued. Still, the company is involved in Washington via lobbying and the co-owners personally in committee work relating to veteran affairs.

"Almost one week, every month, Bill and I meet with members of Congress and the Senate that are on the Veteran Affairs Committee in efforts to improve a system that is in dire need of fixing," Greenblatt shared.

For the founder, the veterans' work in which he, Taylor and their entire team of former VA employees, medical professionals, military leaders, and service-connected individuals "with valuable experience, knowledge and a shared sense of mission" is much more than about business; it's also personal.

Greenblatt bears the brunt of his years in military service, having had "a full career, doing everything physically he had to do during the time" and having "no regrets" now. Still, he lives with resulting health and quality-of-life issues and goes to physical therapy four days a week, uses a CPAP machine for obstructive sleep apnea and benefits from a beloved new family member, Maya, a chocolate English lab he received from the Aberdeen-based nonprofit, Continuing the Mission, that provides service dogs to North Carolina veterans living with PTSD.

Those interested in Veterans Guardian can fill out an appointment request online at vetsguardian.com/request-an-appointment or call 833-577-8387, Mon.-Fri. from 8:30am to 9pm, to speak to a claims specialist to get the process started. Fees are applied only if the veteran client receives a favorable outcome, said Greenblatt, "otherwise our fees are absolutely zero."

Celebrated annually on Nov. 11, Veterans Day is a federal holiday and time to remember the sacrifices made by U.S. service members. The observance honors military veterans and credits them for the freedoms we citizens enjoy. Veterans Guardian seeks to assist veterans in getting the resources they deserve. Sports are often contested and always competitive, but in the great American ballgame, this organization and it mission equal a win-win. That's the score that matters most.