Let's Go OUT!
19 Sep 2022
Photography: Abigail Whitehurst
Stylist: Danielle Harris
HMUA: Erin Kelly
Model: Sarah Luke
Model: Marissa Landis
Location: Special Thanks to Cameron Art Museum, celebrating its 60th anniversary

Summer is over, and the fun fall times with easing temperatures is ahead. It's time to make plans, get out and gather. Whether a jean outfit with attitude and comfort or dresses with drama and style, Wilmington's boutiques have the fashionable looks you will want to add to your wardrobe.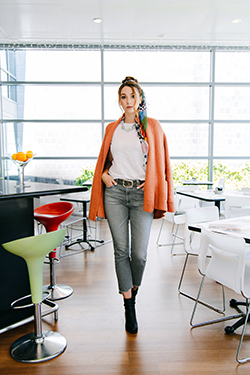 CoolSweats at the Beach
coolsweatsatthebeach.com
Ivy Belt by Streets Ahead, $268; Sea-Lily necklace with Aquamarine stone, $98; Adriano Goldschmied (AG) Mari Grey High Waist Jeans, $225; Nic & Zoe Warm Copper Cardigan, $168; Lilla P White Short Sleeve Tee, $70; Suzi Roher Scarf Titled 24/7, $145.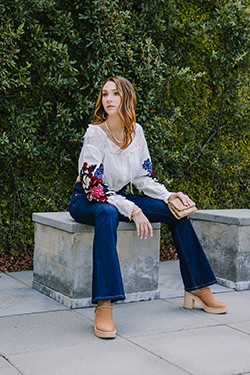 Island Passage
Lumina Passage
islandpassageclothing.com
Free People, The Meadows Top, $158; Dear John, Rosa Flare Jeans, $98; Dolce Vita, Camdin Clog in Praline Nubuck, $150; Hobo, The Advent Wallet in metallic cloud, $138; Island Passage collection accessories, $12-$36.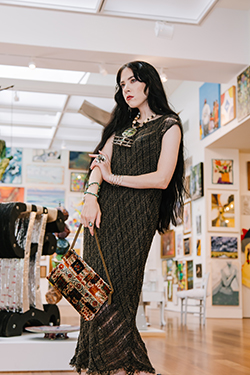 Ziabird
ziabird.com
Bora, Fan Ring, $395; Bora, Turquoise Ring, $345; James & Jezebelle Pink Silverite Shell Earrings, $136; James & Jezebelle Silverite Bracelet, $118; Carolyn Keys River Cuff Bracelet, $320; Fosilart Bracelet, $400; Fosilart, Large Turquoise & Tribal Artifact Pendant Necklace, $1400; Dress: La Bottega di Brunella, Vestito Turchia, $415; Faye slip, $145; MP Joan Velvet bag, $575.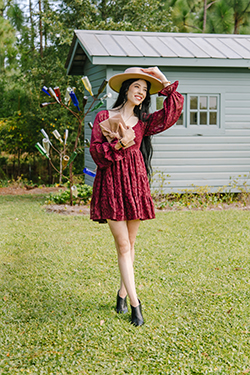 Aidyrose
(located inside Blue Moon Gift Shops)
aidyrose.com
Aubrey Mini Dress, $66; Boater Hat, $45; Tan/Gold 3 Strand Dangle Earrings, $34; Rose Pendant, $18; Giraffe Bracelet, $25; Gold/Ivory Double Bracelet, $24; Blush Knotted Bow Clutch, $45.