A Nearby Spa-cation with Spirits
03 May 2022
Cape Fear Winery & Distillery entices you to relax and linger

By RAY LINVILLE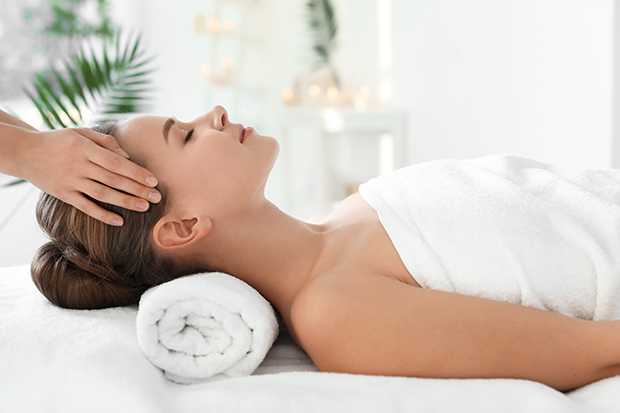 Looking for a great "day-cation" away from the coast but still wanting to enjoy the culture and vibrations of the Cape Fear Region? Elizabethtown's delightful winery and distillery are beckoning you to visit. Upon your arrival, a visitor quickly learns that it has more than estate wine and premium spirits.

A complete destination with its own restaurant, gift shop and luxury lodging arrangements in delightful cottages, it is also a preferred wedding and special event venue. The winery and distillery are often the reasons for first-time guests to visit, while the restaurant, lodging, venue space, and gift shop keep them returning, particularly for special occasions.

And with its recent Vines Day Spa opening, there is another reason to make the easy drive west. Alex Munroe, owner, shares that some of the spa treatments will have a spirited twist. "The facials will feature some of our own rum and bourbon," Munroe says with a smile.

The Cork Room Restaurant, open from Wednesday through Sunday, offers a special dining experience with an eclectic and acclaimed menu that features beef, poultry, pork, and seafood as well as harvest vegetables. "All of our menu choices are paired with our wines, and they are used in our recipes, too," Munroe says.

Wines are produced to linger on the palate and accent the flavors of every dish. Signature wines include I, Swanee, a sweet white muscadine, and Tiger Swallowtail. Signature reds include Tory Hole, The Cardinal, and Cape Fear Reserve. Tastings are offered until 5 p.m. in The Cork Room (and after 5 p.m. based on staff availability).

The creative chefs source the local harvest for vegetables, meats, and seafood choices. By offering farm-to-table dining, The Cork Room brings the freshest and tastiest quality to every meal.

As you dine in The Cork Room, you are embraced by an artistic splash of works by Picasso, Salvador Dali, Matisse, Ron Wood, Ringo Starr, Dr. Suess, Jonathan Winters, Eric Clapton, and more. In addition, outdoor dining is available on the large, covered porch or on the patio by a cascading waterfall and firepit.

The award-winning Cape Fear brand of the distillery, located on the same grounds as the winery, represents coastal N.C. quality, lore, and tradition. Small-batch rum and gin are produced alongside Frying Pans Shoals Bourbon, GameFish Vodka, and Solera Whiskey to round out the five spirits it makes. Distillery tours, reserved in advance, include tastings of each spirit and a souvenir distillery shot glass.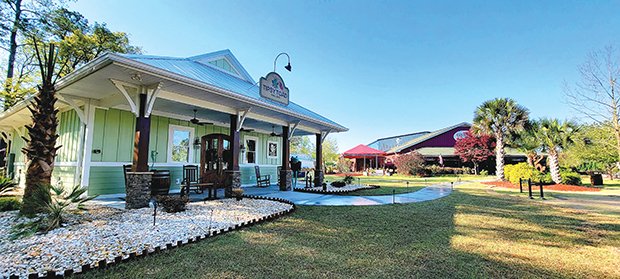 Want more than a "day-cation"? The 12 themed cottages that overlook Vineyard Lake are situated on 11 acres of perfectly landscaped grounds, and offer superb overnight accommodations including luxurious bridal suites, family and work-friendly executive suites, and well-appointed classic rooms.

Weddings, corporate events, holiday parties, and special social activities deserve a scenic location and special ambiance. Party facilities include the Gallery Ballroom (which hosts up to 250), the Landing (up to 240), Porchside Pergola (up to 30), the Lily Pad (up to 30), and the Peanuts Gallery (up to 15).

Make it a summer to remember by getting tickets now to the Diamond Rio Show on June 25 with special guests Bryan Mayer and 87 & Pine. Tickets begin at $29, and gates open at 6:30 p.m. Stay tuned for other events being planned for the 2022 concert lineup.

Before you leave, visit the Tipsy Toad Gallery, which is open daily and features Cape Fear wines and spirits for sale in addition to fine art, jewelry and unique gifts. Steve Goione, an international wildlife gamefish artist, works on his masterpieces at the gallery where his marine life art is exhibited.

"We're only 50 minutes from the Wilmington bridge, so we're a great getaway," says Munroe.

195 Vineyard Dr., Elizabethtown, NC, 910-846-3386. capefearwinery.com