Perfecting the Scene
03 May 2022
Connecting interior design to the people who live inside

By Vera Wilson » Photos by G. Frank Hart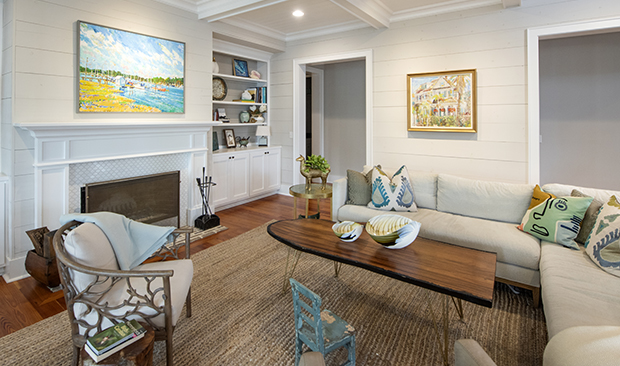 A great interior designer will treat the fundamentals of your home – the bones, the blueprint, the view, the nonnegotiable pieces like your mother's rug — as the setting for a scene. They're able to take what's already there and elevate the surroundings into something so unique and expressive that it reflects the life you lead and aspire to.

This philosophy is embraced by the team at Paysage Home and Interior Design. In fact, the French word 'paysage' means, in artistic terms, landscape or scene.

Gigi Sireyjol-Horsley is lead interior designer and owner of the two Paysage retail boutiques. The Wilmington location has been an anchor of the Lumina Station community for almost 20 years, while the Raleigh location opened in 2018.

At the Wilmington boutique, there's an eclectic and exciting variety of objets d'art and paintings, each hand-picked by Sireyjol-Horsley who, with her mother, used to stroll through antique stores and markets in Morocco, Sireyjol-Horsley's birthplace, and France, where she spent many formative years. With no formal interior design training, Sireyjol-Horsley credits her mother with teaching her the art of design.

"I definitely got the training from my mother. It was the training of aesthetic and that's not something you'll learn in school, necessarily," Sireyjol-Horsley says.

A vital part of the design process is the ability to capture what the clients want, even when they may not be able to define it themselves. Interestingly, Sireyjol-Horsley believes she honed these skills during her time working in the world of finance.

"As a financial advisor, I was listening to people, getting to know the most intimate parts of their life," she says. "You want to get close to try to read between the lines, to get to things they don't even know how to express. Design is so very similar. I met with a client last week, and by taking time and more time to talk to her, I found out she loved weaving and she loved colors." Armed with that information, Sireyjol-Horsley was able to create a design plan.

"And when I made the presentation to her today, she said 'How did you know exactly what I wanted?'" Sireyjol-Horsley says with a laugh.

A move to Wilmington in 2009 allowed her the opportunity to work at the store she now owns. She learned the business from the ground up, starting as a part-time employee, and knew early on, this was where she belonged.

"I fell in love with the business completely and gave more and more to it. Being surrounded by wonderful clients, wonderful things to sell, good people to work with — it was the best of everything," Sireyjol-Horsley says.

Customers noticed the more personal touch, accentuated by Sireyjol-Horsley's quest for exceptionality in the products she offers.

"I like to be exclusive," she explains. "I'm always interested in what's unique and not easily found."

Sireyjol-Horsley curates from all over the world.

"I like to work with Europe a lot. I still have a lot of contacts in France, obviously. A lot of my accessories come from there," she explains.

To be sure, her French influence is palpable and part of what she dubs "the new classic," a fusion of new and antique pieces. Her newsletters and social media posts teach interested readers about French culture, like highlighting the similarities of Bastille Day and the 4th of July.

But sourcing regionally is also important to Sireyjol-Horsley, and that's made easy due to the quality of products she finds right at her doorstep. A recent trip to High Point likely means furniture purchases for the store and her clients "because North Carolina is the best state for that," she says. Work by local artisans, such as a piece made from shells with striking copper undertones, are popular as gifts and ornamental features.

Sireyjol-Horsley doesn't shy away from trends — wallpaper and a fandelier, a fan in the style of a chandelier, currently adorn the Wilmington shop. However, she's sure not to repeat the same thing over and over from one house to another. Instead her goal is to "pull the client's personality out" of every piece.

Sireyjol-Horsley christens her clients "family," describing with pride how they recently stepped up and answered the call when Paysage sponsored a fundraiser to help fund short-term housing for Ukrainian refugees. Thanks to matching contributions from Paysage and Airbnb, they were able to raise an impressive $54,000.

"We love what we sell and we love our clients," she says. "We were here at the store last night working. The day was over and we said we should probably rush home. But it's home here."

The featured photos are from a design project for a couple who moved from Chapel Hill and were seeking help to blend their treasured furnishings into their new house.

"When we built our home, I knew the overall feel, but I did not know how to put it together. After a pleasant and productive conversation with the Paysage team, all of a sudden, the old married the new, and the unexpected became functional," describes Susanna and Stedman Stevens.

Sireyjol-Horsley's ability to listen may be the most important design principle of all. Located in Lumina Station, paysage.com.