A Smooth Way to Ring in 2016
12 Jan 2016
New minimally invasive, breakthrough cellulite treatment now being offered in Wilmington

By CAROLINE GOBBLE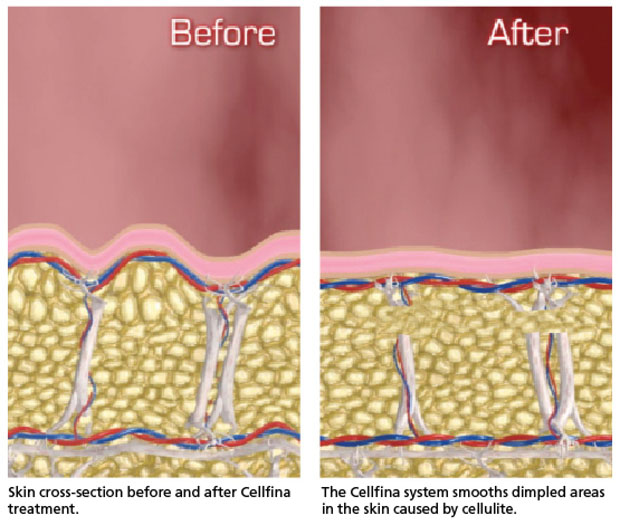 Happy New Year! It is 2016 and with a new year comes New Year's resolutions: lose weight, quit smoking, get in shape, save money… the list goes on and on. As people work hard to get in shape and lose weight, Wilmington Dermatology Center is excited to announce a new treatment coming in 2016. Cellfina is the only FDA-cleared, minimally invasive procedure clinically proven to improve the appearance of cellulite for at least one year.
Opening Wilmington Dermatology Center in 2008, Dr. Rosalyn George is beyond excited to receive one of four devices in North Carolina and South Carolina to perform the Cellfina treatment. "Cellulite affects all women. There has been no real treatment for it. I want to make sure that people get good, lasting results. This is the first thing that will treat cellulite."
Dr. George also touches on the fact that Wilmington is indeed a beach town, so having Cellfina come to the area will be positive for the community as the most common areas for cellulite are around the hips, thighs, buttocks, and abdomen.
Combining a proven approach known as subcision with innovative technology to treat the structural causes of cellulite resulting in a smooth skin surface, Cellfina is different from other cellulite treatments in that it treats the structural problems that cause dimpling. "By releasing the fibrous septae under the dimpled areas, Cellfina can significantly reduce the appearance of cellulite in just a single treatment session." The treatment costs $4,000, which covers treating all areas affected by cellulite.
Potential Cellfina patients should be happy to hear that Cellfina is an outpatient procedure that takes no more than two hours and has very little side effects. Patients will experience some bruising and soreness, but the results are long lasting, "for at least one year, the longest FDA clearance for a cellulite treatment. Results begin within 3-4 days of the procedure and continue to improve over time."
Wilmington Dermatology Center's Executive Director, Ed George, said, "unlike other devices, Cellfina also has one of the highest patient satisfaction ratings two years post treatment at 96%, which is practically unheard of for cosmetology treatments."
"We are innovators," said Dr. George, and in recent years we have been the top provider for numerous treatments in North Carolina, and that experience provides patient's piece of mind knowing we have treated numerous cases each week." WDC offers free consultations about Cellfina and other treatments including before and after photographs, and they have started a waiting list for those interested in Cellfina to schedule treatments in 2016. 910-256-4350, wilmingtondermatologycenter.com