Cape Fear Seafood Company
12 Jan 2016
Like its Monkey Junction predecessor, the newest Cape Fear Seafood Company location in Porters Neck is tucked away off Market Street in an unassuming shopping center. And unless you're looking for it, you might miss the place entirely. That would be your loss. There isn't a better place from here to Topsail Island for fresh caught, hand-cut seafood.
By BRIDGET CALLAHAN » Photos by JENNIFER SIMPSON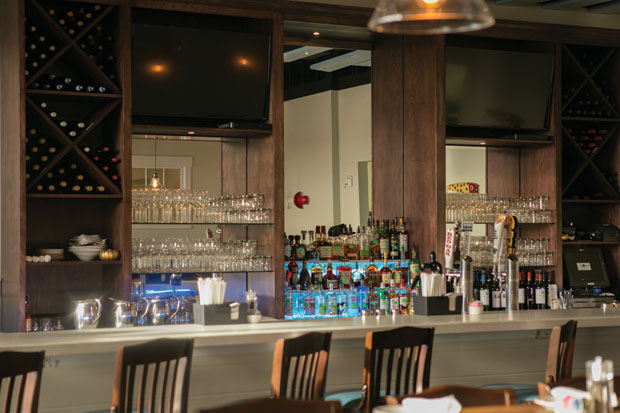 The Monkey Junction location, off College Rd., has gained a reputation in the past seven years for being a local favorite. The restaurant has consistently shown up in "Best Of" lists since its inception. Between executive chef Richard Martin, a Wilmington kitchen veteran, and owner/chef Evans Trawick, it would be easier to name off the local awards they haven't won. For Trawick, the idea to start a seafood restaurant was obvious.
"I'm from Pender County originally, Burgaw, so I grew up in the area, and I felt like Wilmington was a town that should have thirty, forty, fifty places to eat good seafood, and at the time it didn't feel like there were any," Trawick says. He started his career in a pizza shop kitchen, and found he had a knack for management as well as cooking. When he and his wife, Nikki, moved back to town, they ran a successful sandwich shop for many years. But Trawick couldn't see any long term growth potential. In 2007 they closed up the sandwich shop, and a year later opened Cape Fear Seafood Company. 2008 was, of course, a difficult year to start a new business. "It was six months before the world decided to stop spending money. So it was a lot of pain, blood, sweat, and tears to keep that place open, but we grew it from nothing, a brand new concept, to where we are today."
The new Porters Neck location is similar to the Monkey Junction one, both in menu and decor, which is very much on purpose. The new 4,100 square foot space is flooded with light and air, easily seating 135 people, but without losing a sense of intimacy. It also features a comfortable private dining room for events and parties. Trawick is excited about the area's recent growth. "I wouldn't have put a business here if I wasn't optimistic about the future, and the potential. I believe that this market, for what we do, really fits our niche. We're a niche player, we're not out competing against Red Lobster, we're unique in what we do and what we offer. We've spent a lot of time trying to build a brand, and letting people know when they come to eat with us, they know they're going to get a consistent high-quality product."
According to audiences, that's exactly what they're putting out. The kitchen at the Porters Neck location is spearheaded by Chef Chris Estelle, and fans of the first restaurant will be happy to find all their favorites still on the menu. Picked by Our State magazine as one of the top five places in North Carolina to have shrimp and grits, their immensely popular version of the traditional Southern dish features applewood smoked bacon, tomatoes, scallions and mushrooms over creamy cheese grits. Trawick describes it as a "low country, Charleston-type recipe." Another favorite, the saltimbocca wraps the day's fresh catch in prosciutto, and serves it over a lightly sauced bed of spinach, mushrooms, and goat cheese, with tomatoes for sweetness and a lemon beurre blanc for brightness. The main attractions though are the Fresh Catch, whatever it may be, however you'd like it prepared -- grilled, blackened, seared or broiled. Each location offers three different options for the day. Or you can make a meal out of their appetizers menu, showcasing shrimp baskets, mussels, and "Bloody Mary" oysters.
"We're a very diverse restaurant," Trawick points out. "I think that's one of the things that has led to our success. We don't just cater to a high end or fine dining crowd, or just the low-end seafood joint crowd, we really do have something on the menu for everybody. If you want to come in here and spend ten or twelve bucks for dinner, you can do that. You want to come in here and spend twenty-five or thirty bucks on dinner, you can do that too. So it's an interesting mix."
And if someone doesn't eat seafood, because we've been told those people do actually exist in North Carolina, what's the most popular non-seafood dish?
"Steaks, probably. We sell an awful lot of steak for a seafood place. A lot of people tell us we're the best steak in Wilmington. We do filets, ribeyes, and we also do a dish called Chicken Jarrett, which I named after my son, not because he actually eats the dish." Chicken Jarrett, he explains, is a breast topped with roasted tomatoes and goat cheese, served with lemon butter sauce, and any of their two sides, from risotto to asparagus to hush puppies. Hardly the kids menu.
"We just needed a name for the dish and it sounded good. He's ten. My son has probably never had the dish. Sometimes when you come up with a dish, you don't want to call it just anything, you want to give it some character. Now I've got an almost two year old daughter, and everybody's saying "So what's Andy's dish gonna be?"I don't know yet. Give me some time," Trawick says, laughing.
Between two young children and two restaurants, time is not something Trawick has a lot of these days. But if you're looking for the freshest seafood, in a relaxing, friendly atmosphere, you should make the time to stop in and say hi.
Cape Fear Seafood Company
5226 S. College Road, 910-799-7077
140 Hays Lane, 910- 681-1140
capefearseafoodcompany.com