Take Care of Your Heart
12 Jan 2016
How to prevent and recognize heart disease
By JESSICA SMITH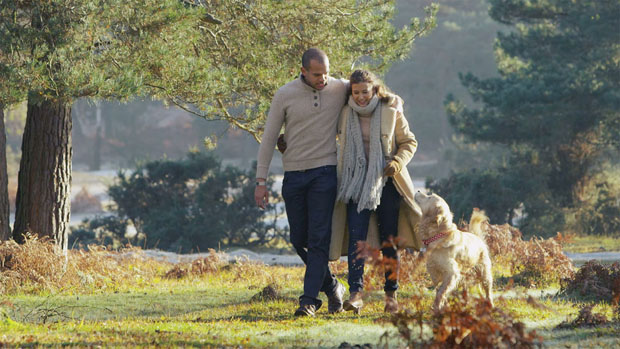 Most of us are familiar with the warning signs of a heart attack: sudden chest discomfort; nausea or lightheadedness; shortness of breath and pain in the arms, back or stomach. Serious heart failure can present differently in women, who are more likely than men to experience nausea, difficulty breathing and pain in the back or jaw.
But there's a world of difference between a sudden heart event and the gradual development of heart disease, which can take many forms. There are several preventative, proactive steps you can take to significantly decrease your risk of developing a heart condition.
Consuming a heart-healthy diet that emphasizes plenty of vegetables, fruits and high-fiber foods – while moderating your consumption of lean proteins and dairy – will help you reduce plaque buildup, a factor in heart disease that can result in a heart attack.
Maintaining a healthy weight and engaging in regular physical activity is also critical. Over time, exercising at least thirty minutes a day for five days a week will strengthen your heart muscles and enlarge your ventricles, helping your heart transport blood more efficiently throughout your body. Exercise helps you avoid weight gain, reduce your cholesterol levels and lower your blood pressure.
Educating yourself about your specific cholesterol and blood pressure numbers is also of paramount importance. Knowing and controlling your overall cholesterol levels can help you prevent a build-up of calcified cholesterol plaque in your arteries. Necessary for hormone production and digestion, cholesterol is a waxy substance created by the liver and circulated through your blood. We also ingest it via meat, poultry and dairy products.
Excessive cholesterol hardens on artery walls, which can severely restrict your blood flow and lead to cardiovascular damage. The American Heart Association recommends that all adults over age 20 should have a fasting lipoprotein profile every four to six years. Results will show your percentages of low-density lipoprotein (LDL) and high-density lipoprotein (HDL) cholesterol, as well as your triglycerides, or fats carried in the blood.
You should also keep regular tabs on your blood pressure. Although nurses generally take a blood pressure reading at every doctor's appointment, many people still are not aware of their typical blood pressure range.
High blood pressure, or hypertension, can cause a number of potentially fatal conditions. Uncontrolled hypertension can cause blocked arteries, coronary artery disease, aneurysms, heart attacks and congestive heart failure. Blood pressure can be affected by a person's overall body weight, especially for those with a body mass index score of 30 or above. Losing even five to ten percent of your excess weight can significantly lower your blood pressure.
New Treatments for Silent Heart Valve Disease
Unfortunately, many heart conditions can manifest themselves without any perceptible symptoms whatsoever. Learning to recognize hidden symptoms, such as fainting episodes or changes in your ability to catch your breath, can save your life.
In Wilmington, the New Hanover Regional Medical Center (NHRMC) has a comprehensive Heart Center that offers a wide array of heart screenings and diagnostic tests to determine patients' general heart health. For those diagnosed with a heart condition, the Heart Center's surgeons and cardiologists treat every heart disease from angina to peripheral arterial disease.
In October of 2013, the NHRMC Heart Center opened its innovative Heart Valve Program for the diagnosis and treatment of heart valve problems. Many patients contract heart valve disease due to age-related changes to their heart tissue, in conjunction with co-existing heart conditions, such as hypertension.
For the majority of patients with severe aortic valve stenosis, or the narrowing of the aortic valve, the standard treatment is a surgical aortic valve replacement. In this traditional open-heart surgery, surgeons stop the heart while they remove the old valve and implant a new one. During the operation, the patient relies on a heart-lung bypass machine.
"For a subset of these patients who are older and sicker – those who may be frail, or have lung problems or carotid artery disease – surgery is often too grave a risk. Even a few years ago, these patients would have been considered inoperable," said Dr. Howard F. Marks, Jr., cardiovascular and thoracic surgeon at NHRMC. "Now, we have a proven method to help them achieve good long-term outcomes."
The minimally-invasive TAVR procedure is approved for high-risk patients. The TAVR procedure is performed either through the femoral artery or through very small incisions in the chest, and the patient's heart is never stopped during the procedure.
Since April 2014, the Heart Valve Program has completed 70 TAVR procedures. Each patient is seen by a collaborative team comprised of two interventional cardiologists, two imaging cardiologists, and two cardiovascular surgeons. This approach streamlines the diagnostic process and reduces the number of appointments for patients.
"The multidisciplinary team meets weekly to discuss patient cases and outline the best course of treatment for each patient," said Alana Speaker, RN BSN, Heart Valve Program coordinator.
The TAVR procedure takes approximately three hours, and the patient remains in the hospital for three to five days afterwards. "Our patients are able to quickly return to their normal daily activities," said Dr. Marks. "This technology is remarkably effective at increasing patients' quality of life. Instead of being readmitted to the hospital for congestive heart failure, they're out walking the loop with their grandchildren and enjoying their golden years."
Patients are most often referred by their primary care physicians or their cardiologists after exhibiting symptoms of impending congestive heart failure. After careful evaluation, the team decides if the patient is a good candidate for surgical valve replacement or TAVR.
Unfortunately, the signs of valve disease are easily overlooked in the first place – and many patients never see their doctors about their concerns.
"As soon as you have symptoms – like swelling in your hands, legs or feet, and especially shortness of breath – contact your physician. Get treatment before it becomes more acute," said Speaker. "Many of our patients mistakenly attribute their symptoms to their age. If you can't walk up your steps like you used to, or if you're too breathless to make it through your usual round of golf, you should talk to your doctor."
In addition to replacing native heart valves, the program has recently completed surgical valve replacements using the same minimally invasive technology. These procedures were performed on patients who had previously had an artificial valve implanted. As replacement valves tend to degenerate within ten to fifteen years, there is great need for this new methodology.
Approved by the FDA earlier this year, the valve-in-valve TAVR procedure allows surgeons to deliver a fully collapsible replacement valve to the site through a catheter. When the new valve expands, it pushes the old valve out of the way and begins regulating the patient's blood flow. (To learn how the procedure affected one patient's life, see our sidebar on Mrs. Green.)
"As technology advances, we have to keep up," said Dr. Marks. "NHRMC developed this program because we wanted to be a complete heart surgery center, capable of helping all of our patients improve their quality of life. Given the demographics of this region, there are so many elderly patients we can now help to live their lives more fully."

Minimally-Invasive Surgery Renews Great-Grandmother's Energy
An 87-year-old Cerro Gordo resident, Mrs. Mabel Green recently had a successful transcatheter aortic valve replacement (TAVR) at the NHRMC Heart Center. A former sales associate for the Roses store in Whiteville, Green is an active woman who loves the outdoors and still sings in her church choir.
Originally diagnosed with coronary artery disease and atrial fibrillation, Green underwent traditional bypass surgery at Duke University Medical Center in 2002. The hospitalization was a difficult one, and she suffered a stroke during the stay. Surgeons implanted a prosthetic heart valve at that time, which began to fail in recent years.
At first, Green and her family had no idea that her valve was deteriorating. "I felt weak, and was short of breath. I felt a little chest pain, and I was very sleepy," said Green. "I just wanted to sit around and sleep for long periods of time." Her family initially believed that the decline in her health was at least partially related to her aging.
As Green continued to have episodes of troubled breathing, she made frequent trips to the emergency room. An ER trip in the spring of 2015 led to her admittance at Columbus Regional Hospital. When an electrocardiogram (EKG) indicated problems with her heart valve, Green was sent back to her cardiologist, who in turn referred her to NHRMC's Heart Valve Program.
On August 17, 2015, Green had the new minimally invasive valve-in-valve TAVR procedure at NHRMC. Widowed in 2003, Green has two children, six grandchildren and six great-grandchildren, who she loves very much. Her family has been impressed with her recovery.
"Her procedure was done on Monday, and she came home on Thursday," said Angie Miller, Green's daughter. "She got along amazingly well for her age, as weak and frail as she had been. We were a little bit afraid for her to have it done, but it's been well worth it. She is back to being active for her age."
A few weeks after her surgery, Green was able to tell a big difference in how she felt, and her activity levels rose. "My breathing has improved, I am not sleepy and the weakness is gone. I am able to do things at home and work in the yard," said Green. "I am very thankful to the Lord for bringing me through the surgery and for a wonderful recovery. And for the doctors who took care of me during the procedure."