Assuming the helm at Wilmington International Airport, director Julie Wilsey has her sights on making ILM a top choice among passengers
By TERESA A. MCLAMB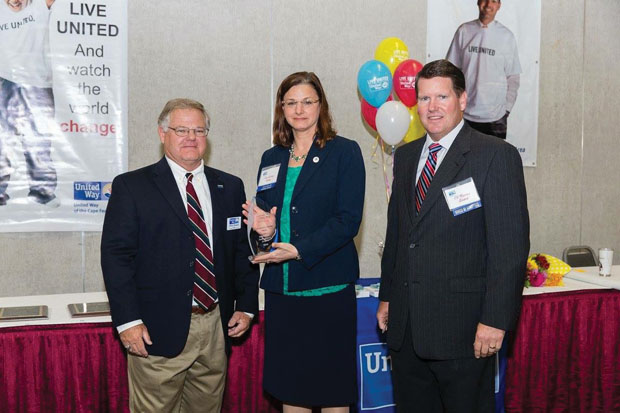 As 2016 rolls in, Julie Wilsey marks her first year as the director of ILM. It's been a good year for her and the airport, she says, but she's not one to be easily satisfied. There's much more to do.
A long-term employee of Wilmington International Airport, Wilsey began as facilities director. She was promoted to deputy director in 2000, and was selected from a national search of more than 50 applicants to take the helm when Jon Rosenberg retired.
Wilsey's journey to the job began as the middle child of working class parents in Evansville, Ohio. "I knew I would be in college the same time as my siblings," something she knew would be difficult for her parents to manage. She set her sights on West Point. "I knew I could go to the academy and get a great education, and save my parents a little money. That would lead to a military career which is what I wanted to do."
She graduated with an environmental science degree with a minor in civil engineering, and served in the US Army as an engineer officer for six and one-half years. When her husband, who had been assigned to Fort Bragg, was reassigned to Sunny Point Military Ocean Terminal, she left the US Army Corps of Engineers and took the facilities position at ILM in January 1999.
Currently working on her MBA, Wilsey earned the accredited airport executive (AAE) national certification while working as assistant director. "They give you five years to complete it. There are four volumes of information to study, then an exam." The next step is a term paper or case study of about thirty pages followed by a two hour oral exam of questions from the four major study areas: communications and public relations, engineering, operations, and finance. "It's not mandatory, but they certainly encourage it because it makes you a more rounded executive," she said.
When she was selected airport director, she was invited to join Executive Women in Aviation (EWA), a group of about 60 women throughout the country who are airport directors or deputy directors. They meet quarterly to discuss aviation issues, and have an annual retreat.
"I'm used to being a minority. At the Academy, it was 11 to one. I was the only female engineer in a company of 300, then there were maybe ten of us when I left." Nonetheless, she finds the support of EWA members to be valuable. "We can ask a question to the group, and everybody will jump to do their best to provide information. We truly believe there's strength in numbers and in collaborating. They want all of us to be successful. It's a really neat group, and I'm thrilled to be part of it."
Over her first year at ILM, Wilsey has made some tweaks in the organizational structure, but says that overall Rosenberg left the business in great shape. "Jon had put together a fantastic team. I didn't see any material weaknesses."
Goal setting always includes some staples, she said. "We're always doing service development, always trying to grow the business park, succession planning, setting a favorable budget. I have more things to do, but I'm the kind of person who wants to make the organization better and stronger. I never sit back and say it's finished."
Those unfinished goals include getting a nonstop flight to Chicago or Dallas, bigger airplanes, more service. "Some things are beyond my control," she laments. Unlike most businesses, the airport never closes, so maintenance is an ongoing concern. "I believe every member of the team contributes every day to make this airport the best it can be."
Top of the list is the safety and security of the facility. While TSA employees are the faces passengers see as they travel, Wilsey says every ILM employee has safety and security as their number one priority each and every day. "The airfield has to be safe and secure. The terminal has to be. We do not let our guard down ever." The facility is protected by 100% perimeter fencing, sophisticated access-control systems and camera systems in the public terminal as well as on the grounds.
The airport's role in the community is key, she said. "We consider ourselves a key piece of the economic engine, for business, tourists and residents. They rely on us to be connected to the world." A 2008 economic impact study stated the airport supported 3,500 jobs and $641 million to the local economy. "We feel a great sense of responsibility to have the best service and the most efficient operation to attract new businesses and new opportunities for the community."
They participate in the regional economic development agencies. "Air service to and from this region can be a key decision making point for businesses; the same with people who are considering moving here and have family elsewhere. They make their choice to move here based on whether they can have a reasonably priced air transportation option to that destination."
Unfortunately, Wilsey says, the airport has no control over the fares charged by airlines. "We meet with them several times a year." The fare system appears to have no rhyme or reason about it, she said. "It's all based on supply and demand at the time you click purchase."
Like many airports around the country, ILM added the adjoining business park to diversify the revenue stream. "Most [revenue] comes from commercial passenger and general aviation services. Adding the business park adds a third revenue," Wilsey said.
There are approximately 200 acres available for development now, she said. The three newest tenants include the VA clinic which opened in March, 2013 on a 19 acre land lease. A high end specialty car dealership, Dynasty Motors, has moved into a building on the corner of 23rd Street. In October, Battlehouse opened a high tech laser tag facility in a 20,000 square foot building. Airport employees assisted in training and calibration runs. "They had fun; enjoyed it a lot. It's much better than older laser tag," she said.
Current construction includes a 10,000 square foot flex building across from the VA clinic which should be completed in late March.
Longer term plans for ILM include an expansion of the passenger terminal which will double the number of gates and space for airlines. Wilsey said they would like to acquire land to extend the runway to 10,000 feet, and they would like to have additional airlines and destinations available to passengers, especially nonstop routes.
It's all part of the effort to make ILM the most convenient option and the best value. "We thank the local community for supporting their local airport," she said.
Bio
Julie Wilsey, AAE
Hometown
Evansville, Illinois, where all 800 people knew each other. "It was a wonderful little place to grow up."
Family
Husband Donald Wilsey, Lt. Colonel, US Army, Retired; step daughter attending Campbell University, and two mutt cats.
First Job
Paper route in Evansville.
Education
BS in Environmental Science, West Point.
Hobbies
SCUBA diving, running, generally anything outdoors.