Steeped in Tradition
12 Jan 2016
A local jewelry store owner that has served Wilmington for 16 years was born into the business
By JOHANNA COLBURN » Photos by KELLY STARBUCK, Salt Studio Photography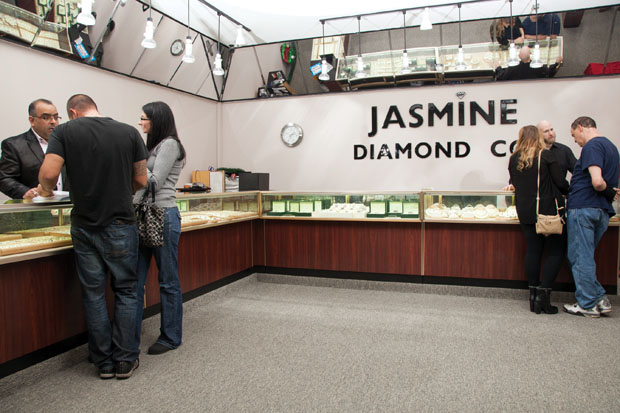 Omi Nanwani, owner of Wilmington's Jasmine Diamond Co., has a rich and lengthy history in the jewelry industry. In India, his family worked for many years in the jewelry business, allowing Omi the ability to uniquely understand the industry from a young age. In 1988, 13-year-old Omi moved with his family to the United States and when he needed a part-time job at 16, he followed his family's footsteps and began working in a local jewelry store. Omi was eventually hired full-time and shortly after, he decided to take a course in diamonds, officially beginning his lifelong passion of the jewelry industry steeped in his family tradition.
When given an opportunity to open his own business in the early nineties, Omi jumped at the chance. He opened his first jewelry store in Myrtle Beach and started a family. As his children got older, he wanted to relocate to a family-friendly area with an excellent educational system. In 2000, Omi moved his family to Wilmington where he opened Jasmine Diamond Co. inside the Independence Mall. The store quickly became known for quality jewelry and its reputation continues to this day.
For the past 16 years, the family-owned small business has served as a reliable source for diamonds to serve every occasion. Jasmine Diamond features a variety of jewelry and accessories for men and women at 50 to 60 percent off retail prices. Each of their collections blends quality craftsmanship with timeless design.
Professionally trained and knowledgeable staff treat each client's treasures with exceptional care and attention to detail, resulting in an authentic, full-service experience. Store Manager Aaron and Omi's son Jaden truly love what they do and share their dedication with their customers. They take pride in personalizing each customer's individual experience and executing every detail to perfection. "You can feel confident that you have come to the best place to buy high-end items and traditional jewelry," explains Omi. "We look forward to serving you."
Jasmine Diamond places a lot of importance on helping their customers save money. They don't work off of high markups and take pride in marketing themselves efficiently. "Our goal is to pass those savings on to our clients," says Omi. "Our jewelry and accessories hold their value and each piece is one-of-a-kind."
Customers trust Jasmine Diamond to assist them in celebrating life's special moments and traditions. Carrying an all-encompassing selection of loose diamonds of all shapes and sizes, they offer a range of rings, earrings, necklaces, pendants, bracelets, solitaries, diamond studs and an array of brand jewelry. Jasmine Diamond also offers to buy, sell or trade gold, silver, diamonds and genuine watches.
The store is highly regarded for their selection of exclusive pre-owned Rolex watches at highly competitive prices. Each of their luxury watches comes fully-serviced and polished like new. Customers are guaranteed on the authenticity of every Rolex sold and each watch comes with a two-year warranty. No watch holds its value quite like a Rolex, and Jasmine Diamond takes pride in selling one of the finest luxury accessories in the world to its Wilmington customers.
They are also known for their huge collection of bridal rings in styles for both men and women. Each ring befits the life a newly engaged couple hopes to lead together: strong and beautiful – as they embark on marriage. To reflect each unique couple's personal aesthetic, Jasmine Diamond offers customization by featuring a variety of mounts allowing their clients the freedom to select their own diamond or use a family jewel instead. Couples provide the inspiration and vision, and the staff will take care of the rest.
Whether you are ringing in the New Year with a dazzling new statement piece, purchasing a special Valentine's gift, shopping for bridal rings, elevating your everyday style or commemorating a special occasion, Jasmine Diamond has it all. They carry a stunning selection of 2016's most popular trends: Morganite (a pink emerald) and champagne diamonds.
This Valentine's Day, cultivate a lifetime of love by giving the gift of a Forever ring. Much like works of art, Forever rings have symbolized timeless love for centuries. To help make your day spectacular, Jasmine Diamond is offering a special promotion on Forever rings beginning mid-January and lasting through February 14th.
An array of services is offered including custom repairs, certifications, appraisals, custom orders, cleaning, polishing, stone matching, watch link removal, and pearl and bead restringing. Services also include ring sizing (in silver, gold and platinum) where gold is added as opposed to stretching. Staff understand that with proper care and maintenance, your jewelry will reward you with a lifetime of enjoyment and luxury. "We look forward to having you as long-term clients," says Omi. 910-796-6632, jasminediamonds.com