A Southport Cottage
08 Nov 2016
Building homes that are as unique as the homeowners themselves, Firetti Builders constructs a home that is timeless and classic
By DAVID HOWELL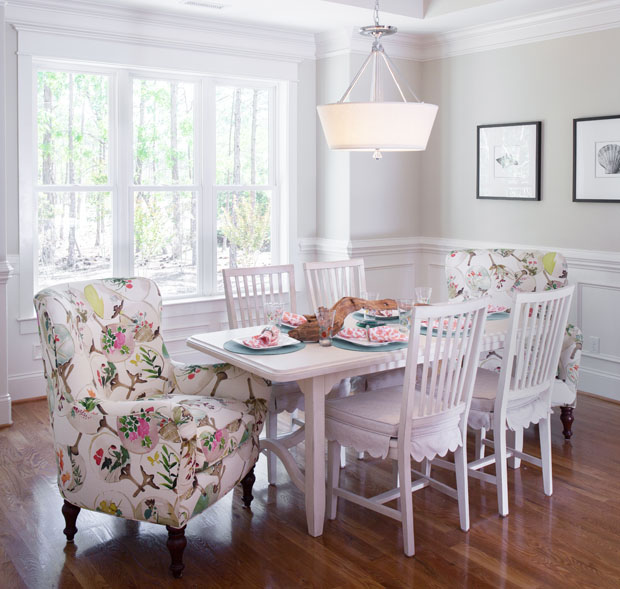 The town of Southport has long been regarded as a treasure to North Carolina's coast. With its endless views of Intracoastal waters and small, uninhabited islands, it acts as a doorway for the Cape Fear River to the ocean as well as to Bald Head Island and the Cape Fear itself. It is serene and quiet, storied and tranquil.
The traditional architecture of homes in the historic part of town help to make up Southport's personality, and the communities that have been built and have grown within the larger Brunswick community compliment and extend the charm of old Southport inland.
One such community is St. James Plantation, and builders like Joe Firetti of Firetti Builders are keeping the area's homes traditional in spirit, timelessly classic, and elegantly made. While many of the homes in St. James compliment the lifestyle of the community—with an oceanfront beach club, 81 championship golf holes, a fitness and tennis center, marina, marketplace and over 36 miles of biking and walking trails—they also pay homage to the Antebellum and Cottage style homes of the traditional coastal south on a grand, modern and beautiful scale.
There is a generational element to keeping this sort of architectural style fresh and new, and Firetti, a third generation builder, poured his knowledge and expertise into one particular St. James home with the model name, The Savannah. From the sophisticated tile-work in the bathroom to the craftsmanship poured into each piece of trim, The Savannah is a testament to Firetti Builders history and philosophy.
Firetti's grandfather was a builder, he says. When the company was started in 1977 in the Baltimore-Washington area, they started with small, single family homes, then added town-homes and other types of dwellings.
"While my grandfather was a builder, it was my father who really put the company on the map," says Firetti. "After college I went to work with some larger, nationwide firms and Dad moved to Southport in 2001 to build his own home." Shortly after 2001, Firetti and his Dad started Firetti Builders and they've been building custom homes in and around Southport for nearly 15 years. Firetti has built over 150 homes in that time, and has been a direct contributor to the present architectural look and feel of the area. The homes they've constructed range in size from 2,600 up to 6,000 square feet.
When asked about the company's philosophy, Firetti points to their mission, which stresses the highest levels of quality, workmanship and service in each home they build. Since their founding, their designs, expertise and experience have combined to create the very best quality for their clients. "We are committed to building distinctive, energy-efficient homes that highlight innovative floor plans and unique features, fine-quality craftsmanship, while offering exceptional value." Firetti says.
They believe that a well built home is safe, efficient and comfortable, and therefore will be a great place to live. It's that simple. Customer satisfaction is key, and one of Firetti's biggest business philosophies is that the company needs to have a close relationship with the client. Building a home for someone is not an ordinary practice. A person's home is and should be as unique as they are, so all of the custom homes, while built on models, all vary with unique elements planned and collaborated with those who will ultimately live in the home.
Firetti is particularly proud of the fact that all of the sub-contractors and most of the craftsmen that do construction with Firetti have been with them for many years. This sense of family and strong relationships is at the core of all they do. Whether they're at work on a swooping staircase or a large pool in the backyard, detail and craftsmanship meant to please the homeowners are pinnacle. "We all trust each other and we all work together."
When asked about The Savannah, built a few years ago on Glenn Eagle Lane in St James, Firetti says he has a personal connection to that particular model and that particular home. "It was the first version of that model that we built. It was very successful, and if there's a plan that I'm near and dear to, it's that one." Before the home was sold, they held a design event to raise money for an organization called Women of Hope. They help women fight cancer in a variety of charitable ways.
In addition to the emotional and charitable connection Firetti and the company have to the model, that particular floor plan of the home is exceptionally efficient.
The home is architecturally designed to have a craft/cottage look. It's a plan that can be customized based on the homeowner's wants and needs as well. However, for this first Savannah, a 3,050 square foot home, there are some unique features that set it apart.
It doesn't have a formal dining room. Rather, it has a dining room nook that compliments a close family-style kitchen setting. It has a very large great room with the corner fireplace which is stone from floor to ceiling. There, they put in a Control 4 audio system for entertainment and enjoyment. The three bedroom, three and half bathroom home also has a large sunroom for family gatherings year-round.
Throughout the home you'll find beautiful stained white oak hardwoods that are reminiscent of the traditional cottage home. Some of the other features worth noting are custom cabinets in the kitchen with limestone countertops from Bluewater Surfaces. The large master bath has quartz countertops and a large walk in shower. And one feature that makes it particularly unique is that laundry room is connected to the master bath, a convenience most homes do not have.
It also has a large bonus room and what Firetti refers to as a unique "drop-zone" in the pantry. That is, on your arrival home from a busy day, there is an area designed specifically for your "stuff"… your keys, wallet, purse, etc. "It's a place where all of the things we need on a daily basis can be put to rest instead of on the island in the kitchen," says Firetti.
Last but certainly not least, the entryway to the home is what amazes everyone the most. "You walk in the front door and it really just wow's you," according to Firetti. "The color palette in place as well as the arrangement is pleasing to the eye and to people's sense of home."
That sense of home is what it's all about for Firetti. Every bit as much as the local area in and around Southport has its own personality, so do the homes Firetti Builders is interested in constructing for its clients―a home that is as timeless and classic as it is innovative and unique.
Resources
Builder: Firetti Builders, 910-477-6018, firettibuilders.com
Countertops: Bluewater Surfaces, 910-233-9629, bluewatersurfaces.com