A Thyme Savor Catering
30 Dec 2016
5941 Carolina Beach Rd., Wilmington
910-262-2962
athymesavor.com
By BRITTANY CALLAHAN Photos by KELLY STARBUCK PHOTOGRAPHY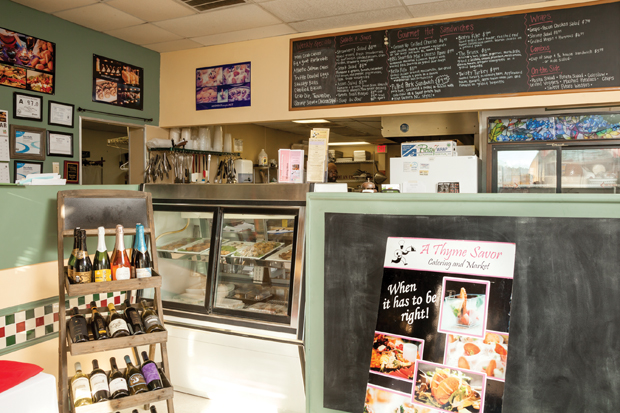 For Jeff Cousler, working in the food industry was an accidental consequence of love. He actually met his wife, Danielle, in Chicago, though neither of them lived there.
"We were in a week long job training, we had both just gotten this new job, so we met there. She was living in Cape Cod, Massachusetts, and I was living down here in Greenville. We hit it off, kept in touch, had like a six month long distance thing, and then I convinced her to move down here, and she's never looked back," Jeff says.
Jeff was working in the telecom industry, but Danielle's passion had always been food. She tried out all corners of the food industry, from catering director for Michael's Seafood, to personal chef. But when a small financial windfall presented itself, she decided it was time to try her hand at having her own catering company, and Jeff came on to manage the marketing and accounting duties. And that's how A Thyme Savor Catering was born.
At first, they just used an existing commercial kitchen, but as the business took off, they thought they'd try a restaurant location. The Black Horn Bar and Kitchen in Carolina Beach was well received, but short lived. After a year, the couple decided seventy hour work weeks was too much to handle, so they went back to focusing on catering. They found a commercial kitchen space to headquarter the catering side, and in a nearby storefront they set up a small market, serving to-go meals and sandwiches during lunch hours.
The market sits in a strip mall that is adjacent to the Beau Rivage Market Place where Harris Teeter is located, and it's easy to miss if you're not looking for it. There's a simple deli case with prepared foods, a refrigerator with a selection of little desserts, cheeses, etc., and a small selection of wine bottles. It's humble, but deceiving. Hanging above the counter is a menu of salads, sandwiches, and wraps to order, and it features some familiar items like a pulled pork sandwich on a sweet potato bun, or the Grown Up Grilled Cheese, with havarti, provolone, white cheddar, and mozzarella. But there's also the BBQ Short Rib Mac and Cheese Panini, or the Bronx, loaded with rosemary ham, salami, pepperoni, and mortadella..
My friend and I both opted for one of the weekly specials - tender roast beef piled high with horseradish cream sauce and melted cheddar on a baguette. With prices hovering around ten or under, this is a perfect to-go lunch spot in monkey junction that neither of us even knew existed. Grab sandwiches, a bottle of wine, and a few brownies, and you've got a great beach day picnic. But the hours are limited: the market is only open Monday-Friday, from 11am-3pm.
"The idea behind doing the lunch is we always had excess food from events. If we had two cases of chicken and we only needed a case and a half for an event, well, that other half can be put towards the lunch menu. We used to do different specials, 6-10 different specials for the week, but this year we decided to come out with a standard menu and run 1-2 specials. The majority of our lunch clients are pharmaceutical reps and business offices. Nine out of ten times, they don't care what we're serving, they just know the food is great, and we're going to provide top notch service and a good quality product for a fair price," Jeff says. The couple is currently looking at expanding with a second location closer to downtown.
Catering is, of course, the main service for A Thyme Savor, and they've been feeding guests at weddings and corporate events in the Wilmington area for over ten years.
"We don't have a particular type of food," Jeff says. "I can't say American, Italian, or Greek. We kind of do it all. Danielle has a lot of Greek and French influences. The head chef, Brad Hagler, has a lot of Italian influences. So we cover all bases. The main thing is to source locally as best as we can. A lot of our cheeses, meat products, and our poultry products, are all based out of North and South Carolina farms. We're trying to keep our business and buying powers local, so it helps other local businesses in the state."
And in addition to being good neighbors, the benefit for their clients is quality of product.
"All our products are fresh, we use very little processed or frozen stuff. We have one can opener, and probably a dozen cans of food in our entire kitchen. We're not the can-opener caterer," he says.
It also gives them flexibility with the menu. Since everything is made from scratch, they can adjust easily to fit their client's dietary needs, from allergies, to gluten-free, vegetarian to vegan. The company also prides itself on being earth-friendly.
"We try to use only biodegradable, earth friendly products," Jeff says. "We saw the amount of plastic at events, hundreds and hundreds of plates and cups getting thrown in the trash. So it costs us a little bit more money, but we try to be a green friendly business, and all of our products are either made out of a corn-based material or some other biodegradable material."
Potential clients can set up a consultation with Danielle, who will then design a menu to their needs and budget, and bring them in for a complimentary menu tasting before signing the contract.
It's not where he thought he'd end up, and with all the moving parts of an event, it can be a difficult job, but for the Couslers, this is a labor of love.