Fitness for the New Year
30 Dec 2016
Classes and fitness experts ready to help you achieve your 2017 goals
By DEAN BLAINE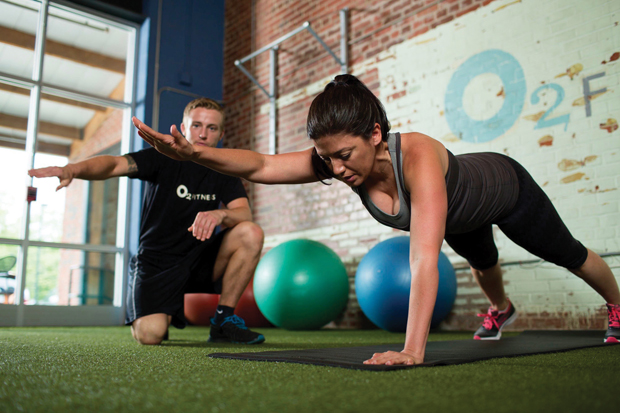 It's that time of year again. Sure, we celebrated a little too much as the clock counted down the few remaining seconds of 2016. Sure, we gorged over the holidays on candy and cookies. Sure, we slacked off on our exercise routine amid holiday parties and fighting traffic at the shopping mall. But now that it's a new year, it's time to turn things around. This is that time of year when we set our resolutions, and tell ourselves we're going to get into shape. Time to lose the flab and tone the muscles. Time to join a fitness club.
O2 Fitness was started in 2002 and now boasts 23 locations in North and South Carolina. The company expanded with a credo: "We promise to provide a welcoming, motivating and clean environment with a professional and caring staff all helping you achieve real results." The company's core values include, welcoming, motivating, clean, professional, caring, helpful and fun. In Wilmington, that means two locations ready to help you meet your goals: Hanover and Mayfaire Town Center. Both locations promise group exercise, personal training, state of the art equipment and more than 50 exercise classes per week.
"Once you come through the door, that's where we help you identify what you want to accomplish," said Justin Mascho, O2 Fitness Area Director for Wilmington. The new member process includes an analysis of your goals, Mascho says. First, they will determine what you are looking to accomplish and why you are doing it. They will help you to develop a 4-week cardio plan, a 21-day nutrition plan, and a strength planning template. Each new member is also given two free sessions with a personal trainer. "You'll be given the tools and the knowledge necessary to get results," Mascho said. The company offers a free trial membership for those interested in testing the waters.
O2 Fitness is all about providing the best possible experience in all aspects of your fitness plan. "We want to be the best part of somebody's day," Mascho said.
In addition to state-of-the-art facilities, O2 Fitness prides itself on its many different classes offered at the two locations in Wilmington. Some of the classes offered include yoga, Pilates, body pump, cycling, ballet bar, body combat and step.
Wilmington's Hanover O2 Fitness location is an extensive, 28,000-square-foot facility offering the latest in cardio and strength training equipment and fitness programs. The club features both indoor and outdoor turf areas, yoga and stretching area, stand-alone cycle studio, training area, mind and body studio, sauna and a cyber lounge with free wifi. The location offers classes in LesMills Body Pump, Yoga, Zumba, Pilates and more. O2 Fitness employs only the best instructors and personal trainers.
The Mayfaire Town Center location is 14,000-square-feet of with top equipment, including groups of cardio machines, weight training machines, Pilates reformers, an indoor turf area and a sauna. The location also boasts a serene Cardio Getaway Theater and an O2 Express Room that offers easy-to-follow cardio and strength training programs designed to take 30 minutes.
Members at the Wilmington Hanover location can expect classes called Insanity, LesMills Body Combat, LesMills Body Pump, LesMills RPM, O2 Ride, O2 Yoga, Power Pilates and Zumba. The location at Mayfaire offers the same classes and more: Core Sculpt, LesMills Body Attack, LesMills Body Flow, LesMills Body Step, SilverSneakers Classic and Total Body Conditioning.
A Class for Everyone
The Insanity Class: a 45-minute intense workout designed in blocks of maximum heartrate exercise, followed by very short breaks that barely give you time to catch your breath. It's called Insanity for a reason. This extreme exertion is proven to produce faster, more noticeable results.
LesMills Body Combat: a fitness class combining the martial arts of karate, boxing, taekwondo, tai chi, and muay thai self-defense techniques into one intense workout. The class is designed to increase cardiovascular capability through different forms of punching and kicking.
LesMills Body Pump: a one-hour-long class utilizing the barbells through squats, presses, lifts and curls. LesMills RPM is a cycle class where the bikes simulate terrain, including downhill slopes, steep peaks, and flat straightaways in an effort to exercise and tone the leg muscles.
O2 Ride: spin-cycle class set to music and a planned virtual route. Riders customize their resistance level in an effort to exercise the legs and core, and build leg muscle while burning maximum fat.
O2 Yoga: yoga at the gym, maybe before or after your workout. It's modeled on traditional yoga emphasizing breath and movement, and designed to strengthen the core, improve posture and alignment, and increase flexibility and muscle tone.
Power Pilates: a group class designed to help the average pilates student take their routine to the next level. The program utilizes bodyweight movements, freeweight exercises, pilates ring routines, thera band sequences, medicine ball blocks and bar stabilizations, with the aim of strengthening the body core.
Zumba: fat burning and body sculpting set to the Latin sounds of Merengue, Salsa and Cha Cha.
Core Sculpt: it's all about strengthening the body's core muscles―those used every day to twist, turn, bend and squat. The 30-minute class is ideal for all levels of fitness.
LesMills Body Attack: this might be the most intense class offered at O2 Fitness. The moves are simple, but the results are not. This class is designed for those expecting nothing less than a full body transformation.
LesMills Body Flow: combines yoga, tai chi, and pilates into one workout. Set to serene music, the program is designed to increase calm thoughts, core strength, muscle flexibility and symmetry in posture.
LesMills Body Step: a cardio workout that also sculpts muscles. The program forces muscles to adjust to inclined and declined body core positions that target hard to reach muscles and improve endurance.
No matter what your New Year's resolutions are, O2 Fitness offers a program for you. Here's to a happier, healthier 2017. o2fitnessclubs.com