A Volunteer's Role
13 Mar 2017
Having served for over five decades as a volunteer, the payoff for Jean Lawler is reaching the president's seat for the NC Azalea Festival
By TERESA A. MCLAMB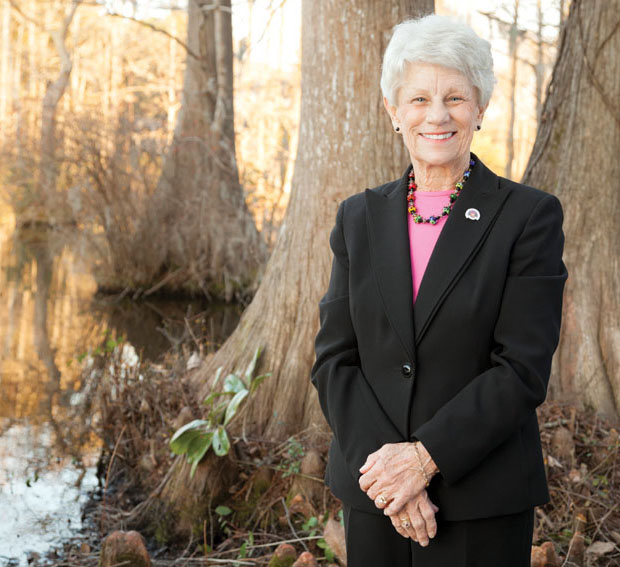 2017 marks several milestones in Jean Lawler's life. The Wilmington native is at the helm of the North Carolina Azalea Festival's 70th year. She has been a festival volunteer for an incredible 57 of those years. It's also the 49th year she's been married to Wilmington native Eddie Lawler.
As a team, Jean and Eddie have followed the Sea Hawks from their early years as Wilmington College graduates. Jean is a past president of the Sea Hawk Club. Her many volunteer hours for the school earned her the Bill Brooks Distinguished Service Award. "I'm really proud of that."
She and Eddie are also the creative force behind Enchanted Airlie. "Albert Corbett asked us to do it. We went to other cities and looked at what they were doing. We decided to put Airlie under lights at Christmas." Lawler was the inaugural chair and worked under three succeeding directors. "Thank goodness, it's twelve years now. The first year we had no money to work with. It's gotten better every year," she said.
Of all the many volunteer roles she has held, Lawler says the most meaningful was working on the four Honor Flights that took World War II veterans to see their memorials in Washington, DC. Vice-Chairman of the World War II Homefront Coalition Board, she was volunteer coordinator for three of the flights and joined them in their trips to DC. "That was the most rewarding thing I've ever done," she said.
Currently the on-site advertising manager for Wilmington International Airport, Lawler is responsible for much of the first impression visitors see as they stroll past back-lit graphic boards in the terminal. The volunteer-manned information booth and racks of advertising pieces and magazines are also her responsibility. She came to that job nine years ago after her employer of 43 years, Jackson & Bell Printing Company, closed.
Lawler's association with the NCAF began in 1960 as a volunteer for the Cottage Lane Art Show. Her next step was the concert committee. "Concerts were in Brogden Hall [at New Hanover High School]. Everybody wore evening dresses to usher patrons." Because she was working at a printing shop, she was recruited for production of the souvenir book, something she did for 20 years while still working on the concert committee. When someone suggested, seven years ago, that she apply for the board, she was happy to do so. "I thought it was a real honor to serve."
According to a UNCW study, last year's festival brought in more than $50 million to the Wilmington economy. "Loving Wilmington like I do, I thought it was a huge economic boost for our economy," she said.
The festival is managed by a six-person board (president, president-elect, vice-president, treasurer, assistant treasurer and secretary) who oversee more than 100 committees with several hundred, maybe thousands, of volunteers. Most volunteers work on one event, but some have multiple responsibilities spanning the week-long festival.
Each officer is responsible for specific committees. Officers begin as secretary and rotate through the positions such that by the time they are president, they have had primary responsibility for almost everything that is involved in the event.
As president, Lawler is responsible for oversight of all the committees as well as a list of her own, which includes the original art poster unveiling, the cadet escorts, city liaison, county liaison, official party private schedule and transportation, past presidents' party, queen's court, school visit, and selection of the celebrity guests and queens.
"I'm trying to get someone [as queen] who has really done something [worthy of recognition]," she said. She would like a role model who has been a vital part of doing something good for society, not just a celebrity who is famous for being famous. Unlike the early days when celebrities traveled to promote television shows, many of today's possible choices have agents and contracts. "It's hard to get anyone to come for a week," she said.
They have been successful in procuring the musical entertainment. Late in January, they announced the line-up. Wednesday night is The Temptations at Kenan Auditorium. The remainder of the week will be the outdoor venue downtown that has proven to be very successful. Thursday is country singer Cole Swindell with opening act Michael Ray and CJ Solar. Friday is 80's mega band Duran Duran. "My kids went to all their concerts in the 1980s," Lawler said. The band is on a world tour, so festival officials are hopeful they'll be a big draw. Saturday is R&B/ hip-hop sensation Jason Derulo with opening act Morris Day.
Throughout the seventy years of NCAF history, tradition has been honored, but circumstances have also demanded change.
Concerts were for many years held at Trask Coliseum which holds 5,500 people. The move to the outdoor venue carries with it the risk of rain, but it also allows 10,000 to 11,000 people to enjoy the music. The increased attendance results in the ability to hire bigger acts as well as the ability to sell wine and beer which couldn't be done in Trask. "Ticket prices range from $38.50 to $68.50 plus the surcharge; we have to keep the price down so it's not so expensive after the booking surcharge." Tickets are available on the NCAF website and at the office.
Loss of the Henrietta downtown required the festival to make major changes. While the boat was here, Azalea Belles and the Azalea Queen rode up-river to the coronation stage on Water Street. It afforded a beautiful spectacle. This year, however, the committee has decided to take the coronation back to the place where it all started, Greenfield Lake. There will be Azalea Belles everywhere, she said.
Lawler has brought back the shagging contest, "Because I love to shag. We're going to see how it goes. We had a beach music band for the Pre-fest Party. There were more than 600 people."
A large traveling equestrian show, Cirque Ma'Ceo, will take the place of the Cole Brothers Circus, at the same airport location. Standards such as the coin show, boxing, parade and many more continue. The festival's long standing partnership with the Cape Fear Garden Club is also critical to success as the club coordinates the garden tours and queen's ribbon cutting.
Because the Third Street bridge was closed last year, the parade route was changed from what it's been for many years. This year, there will be new issues with bringing floats up from their staging area at Greenfield Lake because of road construction in that area.
The Street Fair has the challenge of working around the demolished Front Street parking deck. "There are a lot of changes because Wilmington is growing," Lawler said. But each of the challenges is just another way of looking for new and better ways to celebrate our city.
Others are noticing too. The festival won seven awards last year. NCAF Executive Director Alison Baringer has been tapped to serve a three-year term on the International Festival and Events Association board. That's in the same league as the Macy's Thanksgiving Parade, the Kentucky Derby and the Rose Bowl Parade, Lawler said. "How many festivals can go on for seventy years?"
It's all possible because of the volunteers, she says. Volunteers who love their city as much as she does. "I love Wilmington. I love the beach. Most of my family lives here, so I'm fortunate in that. I feel I've always been blessed to live here."