Absolutely Crab-u-Lous
06 Sep 2020
Taking a crack at the Cape Fear's most crave-worthy crab feasts

By FANNY SLATER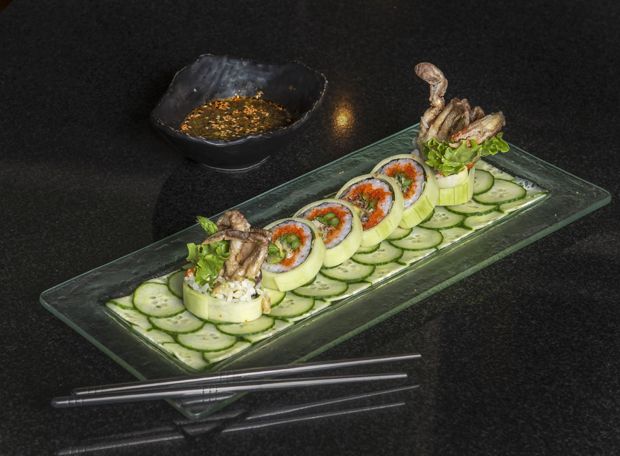 Whether it lands on your plate via cake, savory dip swimming with secrets, or pleasantly packed inside another delicious ocean dweller—crab is a force to be reckoned with. And lucky for us, our region's ingenious chefs have no shortage of creative tricks up their sleeves for making the sweet ingredient shine.

Here's how they get their sparkle on.


East Oceanfront Dining
910-344-2513, blockade-runner.com/dining-br/east-oceanfront-dining

What happens when regular avocado toast bumps into lump North Carolina crab on harvest grain bread? Magic, of course. And the apparent fact that celeb Chef Jessica Cabo is somewhere nearby. Blockade Runner's East Oceanfront Dining is a shoo-in for killer seafood, and Chef Cabo's menu of experimental fusion drops a flavor bomb every time. Her Crab Avocado Toast trickled with tart lemon aioli and garnished with vibrant micro greens and herbs is a show-stopper.


Paddy's Hollow
910-762-4354, paddyshollow.com

If a cozy, dimly lit pub paired with creamy crab and cheese on toasted sourdough sounds like your cup of tea (or pint of Guinness), you'll fit right in at Paddy's Hollow. This family owned and operated eatery tucked inside the Cotton Exchange has been enchanting locals and tourists for over three decades. While traditional Irish fare like Fish and Chips are a clutch order, the open-faced crab melt (a backfin and claw-crammed patty topped with freshly sliced tomato and broiled cheese) and crab bisque are two of the top selling items.

Bento Box
910-509-0774, bentoboxsushi.com

This trendy Pan-Asian paradise satisfies sushi wishes like a genie creeping out of a sake bottle. Regulars' love for Chef Lee's signature dishes is unmatched, and when it comes to crab—this dude knows how to roll. Take the Spider Cucumber: a divine melody of tempura-fried local soft-shell crab, asparagus, avocado, and rice served with vibrant masago, spicy sriracha cream, and citrusy ponzu sauce. Can't get enough of those North Carolina soft shells? Chef Lee couples this seasonal luxury with sweet miso, red bell pepper sauce, and funky house kimchee.


Circa 1922
910-762-1922, circa1922.com

Circa's regionally-themed small plates, charming sidewalk dining, and topnotch staff are what will draw you in. But it's the nightly $5 bar menu from 5 – 7 PM (holy bargain, Batman) that will turn you into a regular before you know it. As far as tasty tapas go, the Crispy Calamari with wasabi cream always receives high ranks—but it's the Crab Dip featuring tender artichokes, spinach, and sharp white cheddar that's the real star of the show.


Jerry's Food, Wine and Spirits
910-256-8847, jerrysfoodandwine.com

When it comes to modernized fine dining, Jerry's is a central hub for special occasions, holidays, events, and simply a Tuesday night on the town. This kitchen has mastered the art of local sourcing and the Warm Jumbo Lump Crab Cocktail is no exception. Truly a thing of beauty (and all brought to you by nearby farms), this exquisite dish showcases heirloom tomatoes, peppers, parsley, oniony chives, micro greens, and decadent duck fat toast.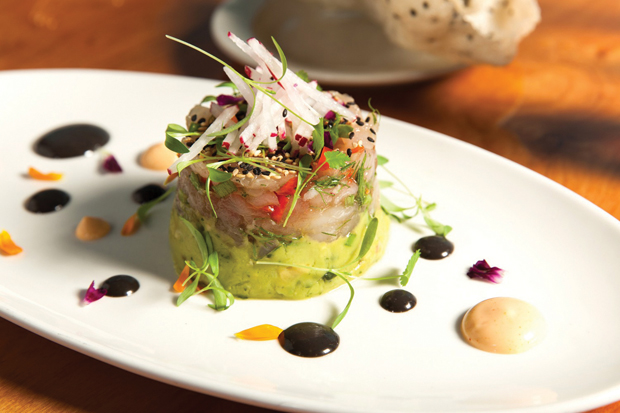 Grand Cru Food & Wine
910-679-4013, grandcruwb.com

Grand Cru takes the (crab) cake when it comes colossal wine lists and shareables so good you'll want to ask the goat cheese-stuffed dates on a second date. At the peak of the list of exceptional crab-inspired goodies: the jumbo lump Crab Cakes with rich tomato confit and lemon butter. Wash them down with the bubbly Pear-Fecta—Grey Goose vodka, cranberry juice, and wintery simple syrup (a bright, nutty balance of star anise, clove, cinnamon, vanilla, and honey) splashed with sparkling Spanish wine.


Felix Café
910-399-8060, thefelixcafewilmington.com

Locals love to think of Monkey Junction's Felix Café (formerly of Sunset Park) as their own hidden gem, but word of this tropical eatery has hit the streets and there's no cure for island fever. Chef Jacob Foster's answer for your crustacean craving comes in several forms, and I suggest these three: start with the Crab Balls with Boom-Boom sauce, followed by the Lobster Tail loaded with herby pesto butter and blue crab, and finish strong with the stunning tower of tuna and blue crab.


The Bridge Tender
910-256-4519, thebridgetender.com

This well-versed Wrightsville Beach steakhouse (a staple since 1976) is just as famous for their bustling outdoor patio overlooking the tranquil Intracoastal waterway as they are for their dynamite seafood experience. The Lump Crab Cake with zesty chipotle remoulade is a heavenly starter, and the wildly popular Crab Stuffed Flounder draped in tangy herb beurre blanc over an airy Yukon mash with sautéed spinach is basically North Carolina in a bite.


Port City Chop House
910-256-4955, chophousesofnc.com

If you've got your sights set on fresh catch, dive mouth-first into the righteous lineup at this time-tested Wilmington tradition. PC Chop house—praised for its superb cuisine and alluring outdoor ambiance—is no stranger when it comes to crab. In dip form, you'll find succulent lumps of crab meat and cheese baked together and accompanied by toasted flatbread. When it comes to dishes not meant for sharing, the 5-ounce Carolina Crab Cakes, lightly pan-fried and served with honey pecan remoulade, basil, oil, and crispy wonton strips are beyond blissful.


Cape Fear Boil Company
910-707-3034, capefearboilcompany.com

Why venture to a crowded restaurant when you can get a low-country boil delivered right to your very own backyard? Cape Fear Boil Company—whimsically known for having "the best pot on the beach"—brings this nostalgic salt water tradition to life (and right to your door). Their Crab Pot is fully equipped with lemon, butter, and homemade cocktail sauce to go along with your seasoned red bliss potatoes, yellow corn, spicy andouille sausage, onions, jumbo shrimp, and snow crab clusters. BYOB (and friends).


Buddy's Crab House & Oyster Bar
910-328-1515

There's nothing quite like a seafood facial, and if you hold your head over Buddy's steam buckets just right—you get one for free with your meal. This Surf City oceanfront tiki bar is sure to have a spot for you on their scenic deck and a few ways to cash in on your need for crab. The dreamy crab and shrimp dip is an ambrosial union that will drive your taste buds wild, and the steam bucket is a triumph you'll have to taste to believe.


Catch
910-799-3847, catchwilmington.com

Chef Keith Rhodes is an artist when it comes to his use of everything our land and sea have to offer, and lobster cream sauce is one of the many colors on his palette. To please your palate, you'll want to get in on Catch's crab cakes—plump crab meat carefully folded with savory spices and finished with seamless sauces like the above-mentioned silky seafood blend. For an even more exotic flavor experience, go for the Bun Rieu Cua (Crab Noodle Soup) in red curry broth with crispy tofu and pork rind.

The George
910-763-2052, thegeorgerestaurant.com

This Riverwalk restaurant's unique use of crab throughout their menu is only outdone by their transcendent views of the sunset over the Cape Fear. Let the "Chef's Choice" New England-style chowder simmering with corn and potatoes knock your socks off, but save room for the Shrimp and Crab Nachos (multi-colored tortilla chips with delicately seasoned seafood and velvety housemade mornay) or come back for brunch to behold the Surf & Turf Benedict with Belgian waffles, shaved ribeye, blue crab, poached eggs, and béarnaise.


Cape Fear Seafood Company
910-799-7077, capefearseafoodcompany.com

CFSC is celebrated for their cheerful atmosphere and imaginative assortment of skillfully prepared regional seafood dishes. But it's the Bald Head Island Crab Cakes that always seem to steal the show. The plentiful patties are overflowing with pan-seared backfin lump claw meat and enveloped in a zesty citrus beurre blanc. Don't be shy, complete your CFSC crab experience with the Crab Scampi Risotto—a dangerously good fusion of crunchy risotto cakes and lemon garlic butter crab.


Havana's
910-458-2822, havanasrestaurant.com

Thanks to Havana's lighthearted spirit and vacation vibe, it's the kind of the environment that makes you want to kick back and stay a while. And while you're there, you'd be crazy to deny the Blue Crab Cocktail of making an appearance in your life. This refreshing combination of chilled jumbo lump blue crab with sharp Key West honey mustard sauce is as good as it gets. For breakfast, the Blue Crab Benedict (two toasted English muffins, poached eggs, plump crab cakes, hollandaise, Havana Hash, and fresh fruit) is a magical morning treat.