Beauty and Strength
06 Sep 2020
Building a new beginning on Wrightsville Beach

By CHRISTINE HENNESSEY » Photos by G. FRANK HART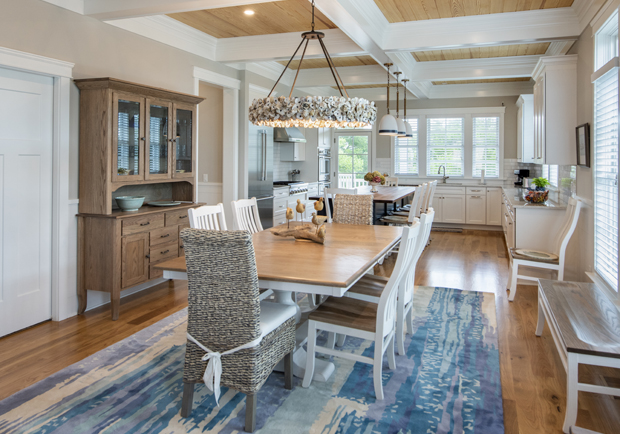 Catherine Brunjes is a rarity in Wilmington—she was born here, grew up here, and raised her family here. "I graduated from New Hanover High School and then went to Wilmington College, where I met my husband," she says. "He was going for a teaching certification and I was doing secondary education." The couple taught at New Hanover High School until they retired, and their sons attended the school as well.

Shortly after they were married, Brunjes's mother-in-law gifted them the family home at Wrightsville Beach, where they lived for fifty happy years. After her husband's death in 2017, Brunjes continued to live in the house, comforted by the memories it held. And then Hurricane Florence struck.

"All those years we lived at the beach, we never had storm damage," Brunjes says. "We lost some shingles, had a cracked window or two, but nothing major." As Florence slammed into Wrightsville Beach and caused historic destruction along the North Carolina coast, Brunjes's beach house was added to the list of casualties.

"It took a piece of the porch, then ripped the whole front half of the roof off, and threw it in the lot next door. It was like a tornado went through it," Brunjes says, remembering. "And then the house sat there in the pouring rain for days, and everything inside was destroyed." The city officially condemned the home, which shocked Brunjes. Her husband had passed away just two years earlier, and she couldn't imagine living anywhere else. She was determined to prove the city wrong and began searching for someone who could repair her home. Unfortunately, every builder she spoke to said the same thing: no way. The house was originally built in 1934, and the amount of work required to not just fix it, but bring it up to code, made the project impossible.

Defeated, Brunjes talked to her sons about what to do next. Together, they decided the best course of action was to tear down the old house and build a new home on the lot. "If my husband was still alive, he would have gone down with a hammer and nails and found a way to fix it himself," she says. Part of her wanted to do so on his behalf, but she knew it was time to move on. She also knew this was her chance to build something her children and grandchildren could enjoy for years to come. "It was the hardest decision I ever made," she says, "but I decided to build it for them."

Finding the Right Partner

Brunjes's husband's best friend was a retired builder named David Smith who was also on the North Carolina building code council. Brunjes knew she could trust his advice, so when he recommended RMB Building & Design, she went straight home, called the firm, and made an appointment with Mack Braxton, founder of RMB. "Mack isn't just a builder," she says. "He's a designer, and having your designer and builder in one is an advantage. He knows what you want, he knows how to make changes. He saw the whole picture. Right from my very first visit I knew he was the one I wanted."

For Brunjes, working with someone who could see the whole picture and was easy to talk to was important. "Building a new house at seventy-six is a big decision, and neither of my children are in Wilmington," she says. She knew she would need someone who could walk her through the process, listen to her needs, and help her build a new beginning.

The partners of RMB Building & Design have been in the industry since 1973, and building homes in and around Wilmington since 1987. A boutique builder, the firm does everything in-house, from initial design to construction, and is very hands-on when it comes to their projects. "My son Travis is in the business now too," says Braxton. "He started back in 2012, after getting his Construction Management degree, so we're officially second generation builders. He also served as the Project Manager for Brunjes's home."

Some clients approach RMB Building & Design with ready-to-go plans, while others come with ideas. No matter how a project starts, the goal is the same: make sure the process is pleasant, and the final product is perfect. Even though Brunjes had never built a home before, Braxton immediately put her at ease.

"Our very first visit, we just chatted," she says. "I told him wanted a home with a beach cottage look, and that it had to be strong and storm resistant. He had a checklist, and we went through all these questions. How many bathrooms do you want? How many bedrooms? Do you have dogs? That kind of thing," she says. "Then I got in my car and drove to Topsail and Surf City and Carolina Beach and Oak Island, and all over Wrightsville Beach. I stopped and took photos of everything I liked and even some things I didn't like. I also started buying home magazines and cutting pictures out of those. I sent everything to Mack, and he always responded. It was fun."

A few weeks passed, and then one day Braxton called and said the plan was ready. When he showed it to Brunjes, she fell in love immediately. "It was exactly what I wanted," she said.

Having a builder she trusted and a design she loved, however, didn't make the next step any easier. When Braxton's team tore down the old, storm-damaged house, Brunjes was nowhere to be seen. "I didn't go the day they bulldozed, or for a week after," she says. "I couldn't stand it."

Beauty and Strength

Luckily, building a new house proved to be a good distraction from losing the old one, and Brunjes quickly got caught up in
the process.

"Having to choose so many things in advance was hard," she says. "The roof, the windows, the colors, the appliances, the light switches, the doorknobs. Everything has to be picked out months in advance so that when the contractors are ready, they don't have to wait for you to make a decision—it's all ready to go," she says. "My children did not have total confidence in their mother, and they suggested I hire someone to help me. I thought that was a good idea, and decided to work with Karen Johnson Interiors. I met her a few years ago when she had helped me with my mother-in-law's house." Johnson laid out Braxton's plans for the house, and helped Brunjes make key decisions, such as where to put the kitchen appliances. "She knew everything," Brunjes says. "She was wonderful. I know I could not have done it without her."

Meanwhile, the build continued. To achieve the traditional beach cottage style that Brunjes wanted, Braxton used cedar shakes and included four porches on the back side of the house, double stacked off the master bedroom and kitchen for privacy. "She was always thinking of her sons and grandchildren, and making sure there was enough space for all of them," Braxton says. "We designed two living areas, one for the grandkids and one for the adults." There are also two fireplaces in each living area, as well as classic door trim and molding, and an outdoor shower for rinsing away sand after a long day at the beach.

Inside, the house boasts an open concept floorplan that flows seamlessly from one space to another. Shiplap wainscoting is used throughout the house, and coffered beams and pine tongue and groove adorn the ceiling and porches. When you stand on the second floor, you can see the sound from the front of the house and the ocean from the back.

For a woman who saw her home destroyed by Florence, safety and strength were at the top of Brunjes's must-have list. "I wanted a strong building that could survive any storm," she says, "so we'd never have to go through something like that again." To help make Brunjes feel safe and to preserve her home, Braxton added a metal roof to withstand storms, impact resistant windows, storm shutters, and tall, heavy pilings up off the ground to help prevent flooding.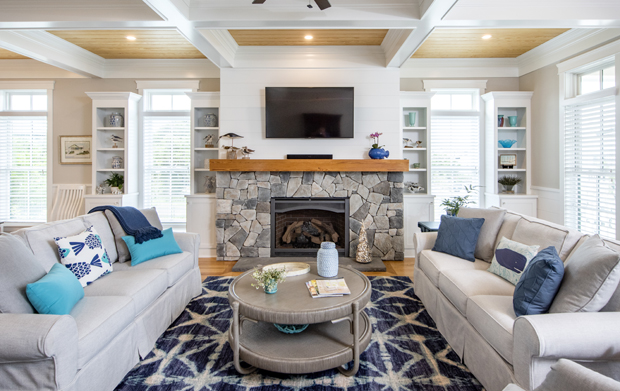 A New Beginning

Between Braxton's attention to detail and Johnson's help with design, Brunjes's new home is a far cry from the wanton destruction once wrought by Hurricane Florence.

"I truly love this house," she says. "I have not found a single thing about it that's not beautiful." Whether standing at the front door and admiring the molding, or walking into the kitchen and running her hands along the butcher block top on the kitchen island, or sitting in front of the unique stone fireplace—it's exactly the kind of new beginning that Brunjes imagined all those months ago.

Of course, not everything in the home is brand new. Brunjes wanted to pay homage to the home she and her husband had shared for so long, and Braxton and Johnson both found creative and meaningful ways to do that.

Before the original home was razed, Braxton went in and salvaged the old pine boards. He reused that pine in the floor of the master bedroom and in the custom mantle in the living room. The wood in the mantle wasn't painted or refinished, but rather perfectly preserved. The décor in the house also includes a nod to Brunjes's late husband. "He carved birds," she says, "and I have those carved birds everywhere." These small details honor and celebrate Brunjes's past, while at the same time making space for the future.

One tradition that will always live on are the green wooden rockers that sit on the front porch. They were one of the first things Brunjes put in place when the new house was finished. She loves to rock in them and wave hello to neighbors walking by. "I've been a Wrightsville Beach person for fifty years," Brunjes says. "It's the nicest place to live, the sweetest community, the most wonderful people. It's special."

And now, with a new home strengthened by thoughtful design and imbued with pieces of the past, she and her family can enjoy this special place for years to come.

RMB Building and Design, LLC, 910-256-6326, rmbbuildinganddesign.com