African Safari
07 Jul 2016
A group of UNC Alumni cross off an item on their bucket list with a memorable trip to Africa
Text and Photos by TERESA A. MCLAMB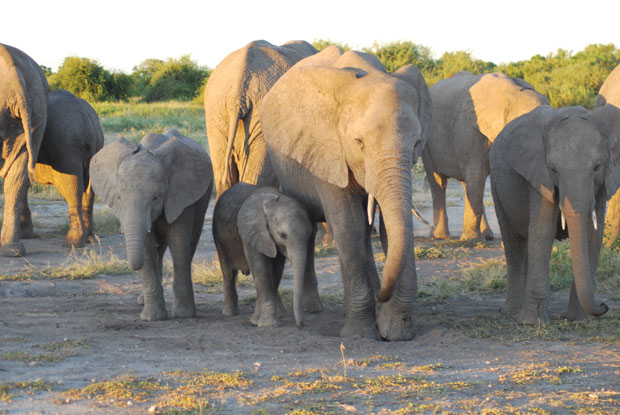 The full moon hung high in the night sky reflected in the Zambezi River where all else was solidly black. It's the beginning of winter in the lower part of the continent, so a cool breeze makes for pleasant sleeping in the open canvas tent. About 2am a loud munching sound caused me to bolt upright, where I was almost face-to-face with an elephant stripping leaves from a tree at the river's edge, just a foot or so from my tent. I didn't dare speak to awaken my tent mate, but relished this rich moment before he ambled off to the next tent where he ripped grasses from the ground unheard by that tent's occupant. This jewel from Zambia is just one of many memories forever emblazoned from an April bucket list trip with other members of the UNC Alumni Association through Odesseys Unlimited.
Our able guide was James McKenzie, a fourth generation South African of Scottish ancestry. Much of what we learned and experienced was due to his knowledge and relationships with the people he introduced to us.
Our journey began in Johannesburg, a modern city of 9.5 million people where many speak English and the US dollar is accepted. The country was settled by the British and Dutch in 1642, and their influence remains in religion, language and food. The country is twice the size of Texas, and only the 10th largest on the African continent.
Gold was discovered in 1880 and continues to be important to an economy where 40% of the country's population is unemployed and many receive government assistance equivalent to about $100 per month.
We visited Nelson Mandela's home in Soweto and stood outside the giant wall that now surrounds Desmond Tutu's home; toured a museum dedicated to the students killed in the 1976 uprising, and read the chiseled copy of the Freedom Charter. But this was not the reason I traveled seventeen hours by plane. I'm here for the animals.
Victoria Falls, Zimbabwe
The first animals we experience are the vervet monkeys who watch us from the tree tops as we gape open-mouthed at the splendor of Victoria Falls. Named by explorer David Livingstone for Queen Victoria, its Kololo name is Mosi-oa-Tunya, meaning "the smoke that thunders." Flying overhead and for miles on land the falls' spray is visible. It rumbles across the landscape. An almost two-mile path runs along the upper rim on the Zimbabwe side. The farther we walked, the wetter we got until finally we were drenched but happy. Our local guide, Michael, had kindly arranged for heavy waterproof ponchos which didn't keep us dry, but saved our cameras from drowning.
Our accommodations for the next few days are at the Stanley & Livingstone private game preserve owned by someone who lives in Dubai. There are fourteen guest suites, staff housing and a large dining/gathering area with lush gardens overlooking the preserve's 6,000 fenced acres. It adjoins an open game park, and the dirt road to the property is littered with elephant and buffalo droppings.
Our First Safari
Following a 5am wake up call, we gather to search for black rhino. Only 5,000 live in the wild, and this preserve has eight in its protection, including a baby. A juvenile male is being held in a compound until it can be moved away from the dominant male, which would kill it to protect his claim on the females. After thirty minutes of driving, we came upon a female and baby and sat spellbound watching them amble along, then lie in the dirt to rest.
On the return trip, we saw giraffe, impala, baboons and zebras as well as dozens of birds. We would learn that there are thousands of birds in the countries we are visiting, and James knows the names and characteristics of almost all of them.
Elephants rescued from a major drought a few years back live in the park and contribute toward conservation efforts through the Shearwater Elephant Ride. Efforts to release them back into the wild were unsuccessful, so visitors to nearby lodges pay to ride the elephants through the bush. The fee helps to pay for elephant care, for the rhino program and anti-poaching efforts. I rode a 17-year-old named Laduma, whose massive footprint now hangs on my living room wall.
Our first evening in Zimbabwe concluded with a dinner cruise on the Zambezi River where we were absolutely giddy at the sight of hippos in the water. They were the first of dozens we would see on land and in the river, but there's nothing quite so exciting as the first time.
Over the next week and a-half, we traveled to six countries by boat, motor coach, van and chartered plane and visited several towns, two rivers and two national parks. We were charged by elephants, watched lions fighting over territory, played chicken in the road with wild African dogs, were scared out of our wits by a Cape buffalo that suddenly appeared in our path at night, and marveled at how hippos can carry their massive weight on tiny legs.
We forged friendships that will last for many years, and made memories documented in the tens-of-thousands of photos we have shared with each other.
It was truly an amazing adventure which I'm happy to share with you here.