Bridge Tender
07 Jul 2016
1414 Airlie Road, Wilmington
910-256-4519
thebridgetender.com
By JESSICA MAURER » Photos by JENNIFER SIMPSON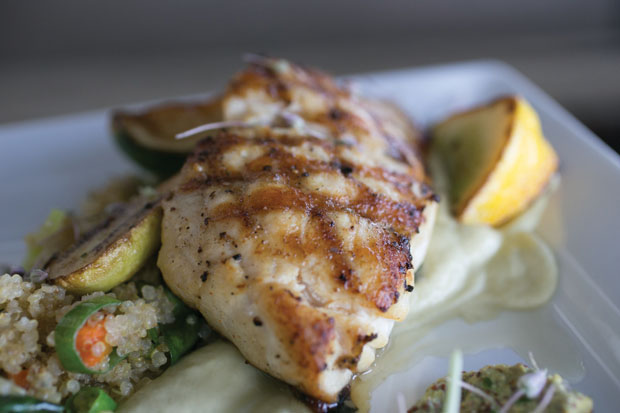 Chef Benjamin Anders came to the helm at Bridge Tender Restaurant three years ago, and says he's never felt more at home in a kitchen.
A Wilmington native and graduate of the Culinary Institute of America, Anders has worked at fine dining establishments from Texas to Maine. He says the restaurant's history and reputation for stability are what sold him on the position.
"Lots of restaurants need saving but that wasn't the case here," Anders said.
Bridge Tender will celebrate its 40th anniversary this year. Many a special occasion has been marked by dinner and drinks amid these walls lined with photographs showcasing the history of Wrightsville Beach.
Founded in 1976 by Johnny and Estelle Baker, Bridge Tender was the first restaurant to bring fine dining to the Wrightsville Beach stretch of the Intracoastal Waterway, serving prime rib as its signature dish. There was an all male wait staff with the exception of female cocktail waitresses, and the restaurant quickly became the "go to" spot for a swanky happy hour. John McLatchy bought the restaurant from the Bakers in 2003, but the spirit of the restaurant remains the same.
"The goal from the start was to operate as a high end restaurant with impeccable service," McLatchy said. "And that goal remains today."
McLatchy says Bridge Tender is focused on making every diners experience a memorable one. They pride themselves on not only the quality of the food, but the ambiance and customer service.
"We want everyone here to feel relaxed, it's not a stuffy, fine dining atmosphere," McLatchy said. "And we have a built in advantage because of the tranquil, relaxing setting on the water."
Anders says that while some of the dishes have been on the menu for 40 years, he has refined the menu somewhat since his arrival. The focus remains fresh seafood and Certified Angus Beef prepared simply with both regional and classical French influences. Lemon, butter and herbs, all of these flavors compliment not only seafood and beef, but fresh produce as well says Anders.
"People want fresh, not processed and that's the way things have always been done here," McLatchy said.
Anders is quick to compliment his staff on their focus and commitment to their craft. The soft-spoken chef exudes an air of tranquility. He's far more calm than many in his position. It's clear that his demeanor sets the tone in the kitchen; he demands collaboration, concentration, and consistency. He said the staff comes together each day to work hard at putting out great food without bringing any of the drama he's seen at other restaurants.
Bridge Tender makes nearly everything from scratch, from dressings and sauces to desserts. Produce is provided by Feast Down East, the Wilmington based economic development program that provides local restaurants with produce from local farms.
"Feast Down East has been an amazing resource for us," Anders said. "Every night we run a fish special showcasing whatever seasonal produce has come in that day and we incorporate it into our regular menu items as much as possible as well."
Anders says some of the highlights of the summer bounty are heirloom tomatoes, garden peas, spring onions and squash. In addition to utilizing local produce, Anders tries to get seafood from as nearby as possible, bringing in tuna and mahi mahi from the Outer Banks and grouper and tile fish from local waters.
Both Anders and McLatchy say they've seen a shift in how customers respond to locally sourced, fresh food. In an active community like Wilmington, many are focused on a healthful diet and want to know where there food is coming from.
"If we serve a fish special with a healthful grain like quinoa we're likely to sell twice as many specials as a dish that's served with potatoes," Anders said.
In addition to his daily specials, one of Anders best sellers is the Jumbo Scallops and Heritage Farms Pork Belly served with Russian kale, celery root puree, Asian slaw and a soy-ginger sauce.
And then there's the beef.
Newcomers to the area may immediately think seafood when they think of waterfront dining, but Bridge Tender has long been known for their high quality beef. Steak selections include the London Bridge, a filet mignon with a red wine demi-glace and mushroom duxelle; the Brooklyn Bridge, a New York strip with tarragon butter; the Golden Gate Bridge, a sirloin with gorgonzola cream sauce; and the Cape Fear River Bridge, a ribeye with local sunflower shoot gremolata.
Highlights from the dessert menu include homemade chocolate toffee crème brulee, and bread puddings that incorporate everything from fresh berries to white chocolate, depending on the season. And of course like any good Southern restaurant there's the Key lime pie.
From Sunday through Thursday the restaurant offers a Sunset Menu from 4 to 6 p.m. The menu offers a three-course selection of appetizers, entrée's and desserts for $19 per person.
McLatchy says Bridge Tender has been experiencing strong, consistent growth over the past few years and he continues to make improvements to the building to make it even more inviting. McLatchy also owns the neighboring Fish House Grill, which he purchased from the Bakers just a year after his purchase of Bridge Tender.
"Our business at both restaurants is really driven by locals and repeat business," McLatchy said. "The high concentration of restaurants in Wilmington demands that every customer who comes into one of my restaurants is satisfied and wants to return. We need the local support even in the meat of the season because although tourism is great, we cannot survive on that alone."