Retirement Living in the Port City
07 Jul 2016
As more seniors look to call Wilmington home, the retirement and assisted living facilities are stepping up their game with more care options and amenities

By CAROLINE GOBBLE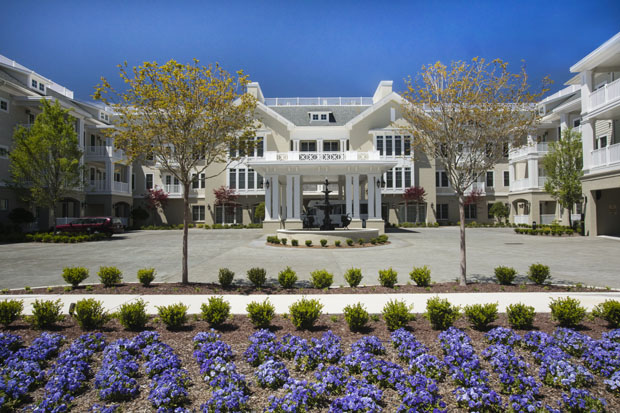 According to the NC Department of Health and Human Services, North Carolina ranks 9th nationally, both in total population and in the number of people 65 and older. In 2025 one in five North Carolinians will be 65 and older. The data also reports that NC's 65 and older population will almost double in the next 20 years from 1.5 to 2.5 million.
As North Carolina's 65 and older population continues to grow, so does the need and demand for retirement living. Wilmington's position as a port city provides residents and tourists with regular opportunities for lovely outings, all times of the year. Downtown, the Riverwalk is a mile-long stretch for pedestrians to enjoy a leisurely stroll. Only minutes from the Riverwalk, the beaches of Wilmington provide the perfect backdrop for seaside picnics or lazy afternoons in the sand. The fresh air provided by the outdoors is of great benefit to a senior's health. Playing golf, shopping, visiting a spa, taking in a show at Thalian Hall, or cruising the Battleship are just a handful of all Wilmington has to offer. It is the perfect place for seniors looking for independent or assisted living facilities.
Brightmore of Wilmington
Located in midtown Wilmington, North Carolina between the Cape Fear River and Wrightsville Beach, Brightmore of Wilmington has been a part of the community since 1990 and has had numerous modern updates since its inception. Offering a full continuum of care with 137 Independent Living apartments in a beautiful 191,283 square foot building.
Also on the Brightmore campus, The Kempton is a 50,185 square foot building, licensed for 136 Assisted Living beds and has been in operation since 2003. Next door, The Commons is licensed for 201 Healthcare beds and has provided Assisted and Memory Care since 1989. The Brightmore campus sits on 14.5 acres and has a total of 300,000 square feet between the 3 buildings.
Brightmore provides a continuum of care and wide array of services and amenities designed for active senior living. Some of the plethora of amenities at each community include: private studio and one-bedroom apartments with kitchenettes or kitchens, a variety of floor plans, daily chef prepared meals and restaurant-style dining, private dining room, library, arts and crafts.
Residents can also enjoy a wellness program with exercise and pool therapy available, a campus therapy gym and walking trail, monthly active social calendars including scheduled entertainment and outings, church services, educational classes/support groups for community and families, a billiards room, public rooms including sunrooms, living room and card rooms, Brightmore University Series Lifelong Learning Classes & Events, and a state of the art emergency call system.
"The unique thing about Brightmore is we're centrally located," said Kristin Shields, Marketing Director for Brightmore. "The campus lies just 10 minutes away from historic downtown with its captivating riverside and streetscapes, and is close to major shopping centers, supermarkets, hospitals, and medical practices. We're also minutes from world class golf courses, soothing day spas, cultural arts, a major university, historic quests, and of course, our legendary Carolina beaches."
"The residents are really what make the community here at Brightmore," said Shields. "They are welcoming to new people and are very socially engaging. They really make people feel at home when they come to Brightmore."
From BINGO nights, to movies, to outings to the beach to saltwater aquatics classes, there is something for everyone. Director Georgia Blankenship emphasizes, "Our robust programs offer the residents ways to stay healthy and engaged. The residents and staff feel like this is their home." Since it's opening in May 1997, Brightmore has maintained a professional, caring staff devoted to caring for the residents and meeting each resident's needs.
Another unique offering to residents is Brightmore University, a learning series of classes and events that range from concerts to classes lead by local historians to NC leaders. This summer, residents will celebrate the 2nd Annual Salute to The Troops, a Patriotic concert and dance that provides music, food, fun, and supports The Wilmington Parkinson's Support Group.
Brightmore is managed by Liberty Healthcare, "an experienced family-owned company that has been helping people manage their healthcare and residential needs for more than 125 years."
To learn more, visit brightmoreofwilmington.com.
Carolina Bay at Autumn Hall
Carolina Bay at Autumn Hall is located off Eastwood Road on 24 acres within Wilmington, North Carolina's charming Autumn Hall mixed-use community. The Main Campus is comprised of 124 Independent living units and 100 Healthcare units. With a total of 330,000 square feet, Carolina Bay offers multiple dining venues, social areas and a full wellness and aquatics center to fit the needs of seniors engaged in an active aging lifestyle.
"Our goal is to help you to explore, to learn, and to grow with Carolina Bay. The new experiences that you could have, the new friends, the lifestyle, the dining venues…It's like, what are you waiting for? Please come experience Carolina Bay," said Jerry Cooper, Director of Development and Marketing for Liberty Healthcare.
Carolina Bay, a planned continuing care retirement community (CCRC), offers seniors a full continuum of lifestyle choices, including independent living, assisted living, and skilled care. Carolina Bay features a range of services and amenities, including dining venues (including a pub), a market, beauty salon, spa, fitness center and indoor saltwater pool. The community is located just minutes from Wrightsville Beach and the port of Wilmington, so residents have access to numerous shopping, dining, and entertainment options.
Residents have the option to rent or buy, and they have access to a continuum of healthcare, including assisted living, skilled nursing and memory care are readily available. Bradley Creek at Carolina Bay offers residents a full range of healthcare services "from inpatient and outpatient rehabilitation to assisted living, memory care and long term skilled nursing care. Seniors have the appropriate level of care they need without the worry of leaving the community they call home."
"Residents participating in Carolina Bay's Wellness program are sure to feel better physically, mentally, socially, and spiritually. Individuals can expect to achieve a higher sense of well-being and quality of life not only in the Wellness Center but throughout the entire community of Carolina Bay." Wellness Director Nate Futrell helps residents maintain a healthy lifestyle. There are "programs to suit the beginner as well as the advanced fitness enthusiast. They provide several diverse levels of aquatics, from the Arthritis Aquatic Program to "Hydro Circuit" training sessions, as well as high intensity water aerobics, incorporating full body movements and using resistance equipment to target all of the major muscle groups."
The architecture and style of Carolina Bay is not to be missed, along with the endless list of amenities it offers. Architect Chris Boney of LS3P explains, "Carolina Bay is a real labor of love because it brings to focus a lot of the inspirations of the area that I hold dear over my career as an architect. We began by looking at some of the grand homes in Wilmington downtown, like the Latimer House or the Governor Dudley Mansion, buildings that capture the essence of the spirit of what Old Wilmington was really about." Boney says that in designing Carolina Bay, "we also looked at the spirit of the grand Oceanside retreats of the early 1900's. We looked at places like the Oceanic Hotel, the Lumina Pavilion in Wrightsville Beach, and places that capture the spirit of the 1900's that were really a grand time for Wilmington and Wrightsville Beach."
Recently, Carolina Bay launched its first edition of Carolina Bay Watch Quarterly (CBWQ), "a newsletter created by the residents for the residents. The CBWQ includes activity reviews, resident and staff highlights, personal stories, recipes, and much more."
Carolina Bay is also backed by Liberty Healthcare and Rehab Services.
To learn more, visit carolinabayatautumnhall.com.
Cambridge Village
Conveniently located near Wilmington's luxurious Mayfaire Towne Center, Cambridge Village is a retirement living community whose mission is, "to provides an environment of security, wellness and enjoyment, improving lives, one senior, one family and one community at a time."
Cambridge Village, located at 75 Cavalier Drive, opened its first Phase in March 2015. The resort style community quickly gained the attention of residents from Wilmington, as well as many who relocated to the area to enjoy the coastal lifestyle. The amenities, the financial flexibility of their "no buy-in" format, the home-like atmosphere, and membership to the state of the art fitness center with its heated saltwater pool have all contributed to the success of Cambridge Village. "The expansion will certainly help meet the demands of the growing number of retirees who choose to make Wilmington their home," said Beverly Booth, Marketing Director of Cambridge Village.
Construction on Phase 2 of the community is currently underway. With occupancy of Phase 1 nearing capacity, the additional 120 apartments will be completed in Spring 2017. "We have already received deposits from retirees anticipating the spring opening and desiring to select the location and floor plan of their choice," said Booth.
New floor plans include the highly sought after 1 bedroom/1.5 bath apartment and a more spacious 2 bedroom/2 bathroom floor plan that many couples prefer. "Now is the perfect time to tour Cambridge Village, learn about our unique format and take advantage of the fully refundable deposit opportunity," continued Booth. Like the current apartments, Phase 2 will feature details high on the list of those seeking comfort and style in their new home, such as 9 foot ceilings, covered balconies, granite countertops, and a washer/dryer. Crown molding will also be included as a standard feature in the living room/dining area of the new apartments. Other features of interest will include courtyard and water views, an expanded pub, an outdoor recreational area, and a dedicated special event venue.
Residents at Cambridge Village also have a variety of care options available to them including Home Care available in a resident's apartment, Enhanced Supportive Care, and Skilled Nursing and Rehabilitation Services.
Kendall Oliver, co-owner, President & Managing Partner of Cambridge Village, has successfully owned and operated seven senior living properties since 2000. Oliver says, "One trend in senior living is clear, folks want to age in place. Even active seniors who want to continue to live independently, look for communities that offer higher levels of care, should they need it. We wanted to offer these options, so we partnered with the Davis Community, a well-recognized health care provider in Wilmington. Together we will be able to provide a wide range of supportive care services that will allow our residents to enjoy the Cambridge Village lifestyle, and also get the healthcare support they may need."
For more information, visit cambridgevillageofwilmington.com.
BrightStar Care
At BrightStar Care of NC, owned by John Wagner and his daughter Dawn Wagner, "our home care agency provides quality home care, caregivers, and medical staffing solutions to families and businesses in the Brunswick and New Hanover County areas. We offer compassionate care, peace of mind and exceptional service — any time, any place."
"Our core values are rooted in the importance of family, and the passion to provide high quality healthcare. We understand how difficult it is to find high quality care to help people live independently in their homes, and how tough it is to manage care when families are busy or geographically removed."
The creation of BrightStar stems from the desire to create a great company with a great purpose: To provide families and their loved ones with the highest level of accessible home care, dignity, and personal attention they need and deserve.
BrightStar's office is located in Leland and serves Wilmington, Bolivia, Carolina Beach, Castle Hayne, Kure Beach, Leland, Southport, Supply, CPU Oak Island, Calabash, Sunset Beach, Ocean Isle Beach, Shallotte, Winnabow, and Wrightsville Beach.
No matter what level of care is needed, from child care so busy parents can have a night out, to more complex senior care in the home or a facility, BrightStar helps provide peace of mind that loved ones are in the best care possible. All caregivers go through a rigorous screening process that includes: extensive interviews, national background checks, drug testing, CPR certification and continuous education to ensure only the best are caring for family members. BrightStar also provide a 100% compatibility guarantee, RN oversight on every case and 24/7 live voice line.
To learn more, visit brightstarcare.com/brunswick-new-hanover.