Neighborhood Close-Up
07 Jul 2016
Brunswick Forest debuts three new neighborhoods
By CHRISTINE HENNESSEY Photos by KELLY STARBUCK PHOTOGRAPHY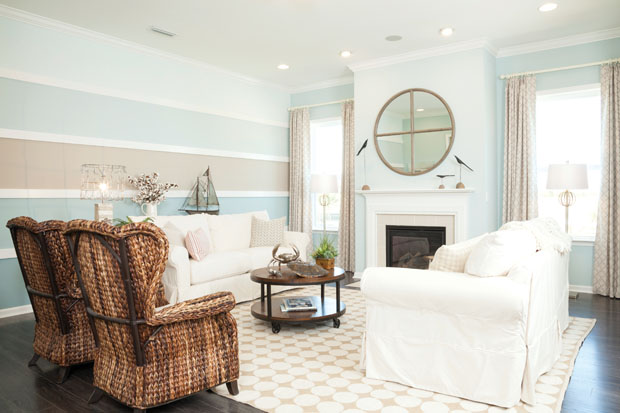 Brunswick Forest, one of southeastern North Carolina's fastest growing and most desirable communities, is located in Leland, a stone's throw from the Cape Fear River, the Atlantic Ocean, and Wilmington's Riverfront. Throughout the state, Leland is known for its diverse homes, top-rated golf courses, and many amenities. For the people who live there, however, it's known simply as home.
Brunswick Forest is nestled within 4,500 acres, which includes both developed and undeveloped land. Developed land incorporates homes, roads, and amenities, while undeveloped land is comprised of natural areas, wetlands, a golf course, and green spaces. While these numbers will shift over time as neighborhoods are built and the community expands, a large part of Brunswick Forest will remain untouched.
"We are committed to being good stewards of the land," says Jerry Helms, Brunswick Forest's Director of Sales. "We take great care in preserving the beauty of our area."
Promoting an Active Lifestyle
Recently, Brunswick Forest launched three new neighborhoods within their coastal community, each one offering a uniquely different lifestyle. It's not just the neighborhoods themselves that are unique, however. It's also the way Brunswick Forest approaches them.
"As a developer, we pride ourselves on building completed neighborhoods," Helms explains. Each phase of a neighborhood generally has between 75 and 100 homes, and homes within that phase average completion within 18 months of breaking ground. "Whether a homeowner starts construction on day one or day 365, they know they will not be living in an ongoing construction zone." This is great news for families worried about waking up every morning for the next ten years to the sound of a nail gun.
Part of the reason completing neighborhoods efficiently and on schedule is so important is because of Brunswick Forest's active lifestyle, which is evident in both the design of its homes and the layout of its neighborhoods. Wide and inviting sidewalks, sweeping front porches, dedicated spaces for entertaining, and outdoor private areas with fire pits and grill patios are part of the experience, and making sure its residents can enjoy these perks is a top priority.
Unique Homes for Unique People
At Brunswick Forest, homes and neighborhoods are designed with different demographics in mind. Whether you're a retiree, an empty nester, a young professional, or a growing family, there's a style of home in the community that can fulfill your dreams. "We're constantly evolving the style of living based on our customers' wants and needs," Helms says. "Not everyone is living in the same cookie cutter home."
This feat is accomplished through specific neighborhoods, which are separated into themes, and they're excited to welcome families and individuals to their three newest neighborhoods. Two—Spring Branch and The Leewards—are subsets of the Shelmore neighborhood, while the third is known as Parkway Crossing.
Spring Branch at Shelmore
Shelmore is a neighborhood with coastal vibes featuring neo-traditional cottage homes, white picket fences and homes with elements of brick and stone, hardy board and cedar shake. Most of the floor plans include three bedrooms and two bathrooms, as well as studies and dining rooms, making them ideal for families.
The homes in Spring Branch at Shelmore look out over water and nature views, and are constructed by nationally recognized builder David Weekley Homes. Their open and inviting front porches and courtyards are the perfect excuse to get to know your neighbors, and be a part of the community, while the seclusion found in their backyards offers just enough privacy. "These homes really appeal to empty nesters from the Northeast," Helms says. "The young professionals really like them, too. They know these are homes they can grow into."
The Leewards at Shelmore
If you prefer a West Indies style home, then The Leewards at Shelmore will be a welcome sight. The homes in this neighborhood feature large overhangs with Bahama shutters, open, airy floor plans, and living spaces that blur the lines between indoor and outdoor living. All the homes in The Leewards are bordered by natural areas and wetlands, and are designed and built by Dan Kent of Kent Homes, a local builder who has been in the Cape Fear region 20 years, and has been building in Brunswick Forest for the last eight.
The combination of modern open floor plans, single-level living, and coastal colors creates a unique living experience that appeals especially to early retirees. "They're designed so homeowners can age in place," Helms explains, which makes sense. Once you land in The Leewards, you won't want to leave.
Parkway Crossing
When it comes to real estate, location is everything. That's the idea behind Parkway Crossing. While these homes are held to the same high standards as every other home in Brunswick Forest, the homes and yards are a bit smaller, focusing instead on a style of living that creates a good value. "The families in Parkway Crossing are choosing to spend their money on the lifestyle of Brunswick Forest," Helms explains. "For them, being here is more important than living in a larger home somewhere else."
Designed and built by Tribute Homes, Parkway Crossing is perfect for young families just starting out, as well as retirees who want to downsize. Helms is also excited about the fact that the homes in this neighborhood are under $300K. "We haven't been able to offer that price point in a single family home until now," he says. For many people, the ability to live in Brunswick Forest makes this neighborhood an incredible value.
Moving On Up
All three neighborhoods offer a dozen different floor plans, which can be customized even further. Unlike other communities, Brunswick Forest's builders are able and willing to make each home as unique as its owners. If you're interested in making a home for yourself in Brunswick Forest, there are three ways to begin the process. Which method you choose is based on your timeframe and specific needs.
If you're willing to wait, you can purchase a homesite and build your home when you're ready, on your own time. If you want to move to Brunswick Forest within a year, you can secure your site, your builder, and your design, and your home will be ready within seven months. If you just can't wait to call Brunswick Forest home, then you're in luck—builders have homes ready and waiting for you to move in. All you need to do is sign on the dotted line and start packing your bags.
When it comes to your dream home, why wait?
For more information about Brunswick Forest's new neighborhoods and the unique lifestyles they offer, visit brunswickforest.com.