Treasured Memories
07 Jul 2016
A Landfall home inspires the green thumb in all of us with lavish gardens, intricate stone pathways, statuaries and water fountains
By DAVID HOWELL » Photos by G. FRANK HART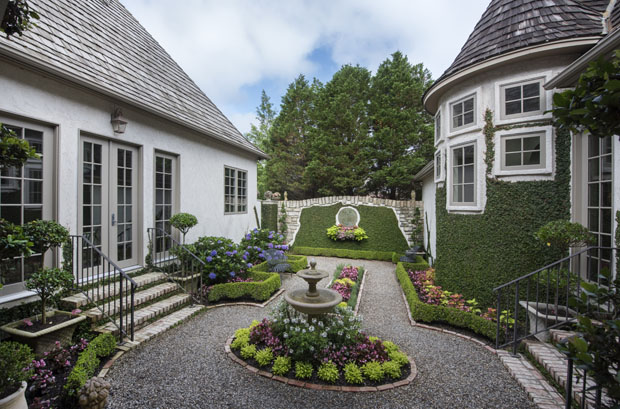 About a half hour into my visit with Hank and Debbie Phillips at their home in Landfall, Hank turned to me and asked, "Do you know Marcel Proust? Remembrance of Things Past?" I said I did, and he went on to say, "So he writes about how sights, sounds and smells trigger involuntary memories and experiences you've had your whole life."
When he said that, we had just exited the Phillips's guest cottage—which holds a great part of Hank's pottery collection (primarily Japanese), paintings the couple has gathered over the years from around the world (Paris, Japan, Cincinnati, Maine and New Hampshire), mostly antique or Shaker furniture, a grandfather clock, and rustic cherry hardwood floors. I understood Hank's attraction to Proust immediately, and admit that a guided tour through the Phillips home and around the gardens that make up the exterior of the property is less like a visit and more like an exploration… into the past, to other states and other countries, to a place where the sites and sounds that have defined the Phillips's lives remind you of your own treasured memories of being out of doors and into wonder.
Leaving the guest cottage close to the front entrance of the home, we stood just past the twelve-foot tall cypress wood gates that provide the front entryway, looking out at their interior courtyard on a limestone veranda. From that vantage point, the diamond patterned fig covered walls, colorful beds, gravel paths and the sound of water flowing from the fountain make for a tranquil and majestic outdoor room which can be seen from all living areas inside the house.
At the end of the interior courtyard is an arched nine-foot stone wall covered with a fig vine. Clipped boxwoods define the garden beds on the side of the courtyard, filled with annuals that Debbie changes each season. She has planted myriad numbers of perennials in all her favorite colors. Spanish blue bells, white daisies, pink cone flowers, lavender, blue salvia, black-eyed susans, phlox, yellow day-lilies, iris, coreopsis and daffodils are but a few of the blooms that are in concert with the larger White and Coral azaleas, knockout roses and an arborvitae border. "My mother," Debbie says, "was a master gardener and she has always been my inspiration." Debbie does almost 100% of the gardening while Hank tends to the lawn, a soft bed of Bermuda manicured to perfection.
In orchestrating the various color palettes over their ten-year cultivation of the home and grounds, the Phillips have worked with Nina Brown from the Stone Garden often. The grounds are blessed by many stone pathways leading to rear gardens. Other garden art from the Stone Garden includes bird baths, fountains, a pondless waterfall, statuaries, and stone benches that provide focal points onto specialized areas of color that give one a sense of peace and pleasantry. A stone lantern from Japan emerges subtly from one of the flower beds in the back yard, a space which also contains two of the many magnificent Japanese maples around the property. And most recently, Debbie added three natural basalt columns with fountains to a paisley bed off the patio in the rear.
"I have had the privilege of visiting their garden many times and it has evolved to be more and more stunning each season. They both have a serious appreciation of nature and a talent on how to integrate stone, garden art, and water features into a landscape. Debbie's knowledge of plants, and how to weave their colors together, is amazing," Brown says. "The flow between their indoor and outdoor spaces feels seamless, and that's how they live. It's easy to imagine yourself pulling up a chair and wanting to stay awhile."
It should come as no surprise that the Phillips home has been featured before in other forms of media. In 2012, it was a popular stop on the Azalea Festival Garden tour. "There were thousands of people who came through and all of them enjoyed and appreciated a beautiful garden." Debbie said. "Seeing their delight walking around our home made up for the challenges in getting everything ready," she says with a laugh. The home has also appeared on a PBS television show some years ago.
As we stood next to the stone fireplace in the backyard looking out at the first hole of the Nicklaus golf course, we discussed how the grounds go beyond gardening and landscape. It is true to say what the Phillips have made around their home is art.
The grounds and garden taken as a whole play on realms of artistic thought. There is symmetry to how each garden "room" works within the broader surroundings of the overall property to create a mix of pleasure and an almost intense intellectual curiosity when you try to think about how the Phillips accomplished such a magical and inviting space. When you add that there are intentional areas that Debbie has left wild, there is an even deeper sense of symmetry between the landscape and what would otherwise appear to be untouched nature. For this reason, the property has been designated a Certified Wildlife Habitat by the National Wildlife Federation.
This landscape design all comes together to compliment the home itself, which incorporates the elements of a 300 year-old ancestral family "petit chateau" and farmhouse in the Burgundy region of France. That chateau and farmhouse, which are still in use, were built with stucco and stone. This home, called "Le Bourget" (meaning a small village), was the home of Hank's ancestors, and supplied the inspiration to build a French Country home with a central interior courtyard.
Built by J.E. Evans Construction, every architectural and interior detail, including the 28 arched walls, an immaculate French inspired kitchen with a large limestone hood, custom cream colored cabinets with worm holes to give them an old world rustic charm, is in light of the French countryside. Like the great room, the master bedroom boasts extraordinary exposed beams. The bedroom also has a turret acting as a hallway to the master bath, and allows sun and moonlight to pass through the turret windows that bring a sense of warmness to the space.
"We started in 2006 and we've been developing the property ever since," Hank says. "It's a space where we can live joyfully in the present and the past," he says harkening back to Proust, who wrote, "An hour is not merely an hour… it is a vase full of scents and sounds, and projects and climates."
Resources
Stone Garden, 910-452-1619, stonegarden-nc.com
J.E. Evans Construction, 910-790-9247, jeevansconstruction.com