All About Al Fresco
08 Sep 2021
The finest decked out dining in the Port City

By FANNY SLATER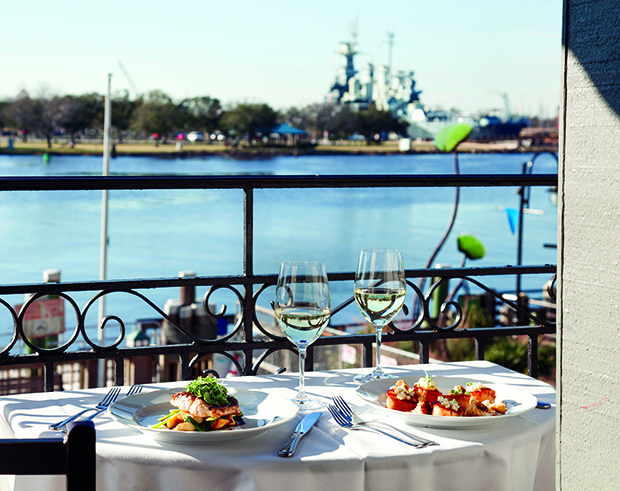 Though it's the fiercely fresh, southern-inspired coastal flavors that typically take center stage when we meet here on this page to celebrate Wilmington's culinary scene, today we're covering something else. From charming picnic table-lined patios to sidewalk bistro tables and oceanside decks, we're illuminating those restaurants who rock al fresco like a pro and take the term "salt life" to an entirely new level.

Picturesque views (often served with a side of seafood) are truly the beating heart of our small-but-mighty waterfront town, and we've rounded up who does it best.


Havana's Restaurant
910-458-2822, havanasrestaurant.com

Sure, Havana's award-winning clam chowder tastes just as divine inside the elegant dining room. But savor it on the tropical, open-air patio—and good luck finding your way back down from heaven. This delicious destination is just as adored for its ample outdoor porch seating (with champion views of CB's fireworks that go off with a bang Thursdays in the summer months) as it is for its superb seafood selection. Start with the light and crispy calamari with tangy Thai chili for dunking, then swirl a forkful of the blackened shrimp and scallop pasta sauced in silky alfredo.

Floriana
910-504-0160, florianarestaurant.com

The private two-person wrought-iron balconies overlooking the Cape Fear's stunning sunset are reason enough to fall for Floriana. Though, it's hard not to be smitten over classic Italian fare made when it's made almost entirely from scratch. Tucked inside the historic three-story building square on the corner of Market and Water (formerly Henry's Riverboat Landing), this modern bistro doles out stuffed pasta perfection—see: agnolotti with osso bucco, corn, and cream—and majestic meats like marsala-laced veal chops and chili-rubbed ribeye with bright salsa verde. Call ahead to lock down a veranda.


South Beach Grill
910-256-4646, southbeachgrillwb.com

The ever-bustling courtyard at South Beach Grill is a picture-perfect illustration of island life at its finest. This Lumina Ave. eatery showcases the Banks Channel port, not to mention some of WB's yummiest food. The menu is regionally-driven and accommodating for those with dietary restrictions. When that sun hits just right, snag some shade under the covered patio and a pile of the Seafood Nachos with crab, shrimp, and melty jack cheese. For the land-lovers: melt-in-your-mouth short ribs (which are—as SoBe describes—painfully slow-braised) with sweet onion soubise, pickled mustard seed, and root veg hash.


Ocean Grill & Tiki Bar
910-707-0049, oceangrilltiki.com

Escaping to the tropics isn't exactly necessary when you already reside in a bodacious beach town, but even if you're from here—Ocean Grill will convince you that a before-noon rum punch is completely acceptable because you're on vacation. Lovingly known to the locals simply as "the tiki bar," this oceanfront gem is nestled between rows of sand dunes and the Golden Sands Motel. Mounted on the remnants of the Center Pier (destroyed in 1996 by Hurricane Fran) is the actual tiki bar, which serves scrumptious bites like velvety crab dip with sea salt flatbread crackers and a juicy grilled mahi sandwich that's as fresh as it gets.



Waterman's Brewing Company
910-839-3103, watermansbrewing.com

This ocean-themed brewpub spotlights modernized coastal fare, pulls influence from California and Mexico, and is heavy on incorporating in-house suds. Thanks to the extension of a glorious beer garden, guests can now pull up a picnic table (and one of Waterman's crushable crafts) to chow down on the best oyster po boy in town. Head chef Drew Stanley is a veteran is Wilmington's restaurant industry, and you'll want to follow along on Instagram to make sure you don't miss a single one of his imaginative specials. The blackened cheesesteak "fry pie" created to celebrate National French Fry Day in July was a sinful stroke of genius.


Block Taco
910-399-2796, block-taco.business.site

It's one thing to have a couple al fresco tables. It's another to be a permanent outdoor setting, and this walk-up taco window falls into the latter. Block Taco began as an enhancement to adjacent tavern, Satellite, but it wasn't long before folks began flocking to the South Front neighborhood simply for the Brussel sprout tacos. Though many enjoy BT's modern Mexican street food inside the funky dive bar—the preferred awning-covered seating that looks out onto Greenfield Street is where you'll get the best people watching to pair with your chile butter charbroiled skirt steak taco and citrusy guac.


Mellow Mushroom
910-769-6688, mellowmushroom.com

Although Mellow's Oleander and Wrightsville Beach locations both boast solid exterior set-ups, we're giving a nod to the newest installation just steps away from the Cape Fear River. Not only does this North Water Street chain have a knockout view of the sunset over the water, the stone-baked pies are hopelessly delightful. The Cuban-infused Wild in Havana is a marriage of jerk-marinated pork, ham, salami, Swiss, and pickles topped with a mustardy drizzle. Not feeling pizza? Other munchies worth washing down with a cocktail include the made-to-order hoagies and premium double-baked wings coated in rich garlic parmesan sauce and chives.


Anne Bonny's Bar and Grill
910-399-7212, annebonnyswilmington.com

I'm often asked for my personal archive of go-to grub, and Anne Bonny's never fails to make the cut. Why would I deprive someone of Wilmington's only entirely outdoor floating bar and restaurant? This pet-friendly pirate-themed barge fixed to the Riverwalk is one of downtown's most energetic establishments. They also whip up one hell of a Maryland-style crab cake. You'll find fruity frozen beverages (the whipped cream-topped Dreamsicle will give you all the nostalgic ice pop feels), live music on the weekends, and homemade goodies like a buttery soft pretzel the size of your head.


CheeseSmith
910-231-0808, cheesesmithco.com

I've been a fan of (and thankfully, a friend to) the powerhouse couple behind this grilled cheese hub from day one. And now that Molly and Brendan Curnyn have planted roots via brick-and-mortar in the Cargo District. I don't have to scour the streets for their truck to get my Buffalo Baby fix each weekend. Their artisanal between-bread combos are crafted with love and creativity and taste even sweeter on the sunlit patio. CheeseSmith is also armed with an ABC permit, so you can wash down your OG (a fusion of American, cheddar, and tomato jam) and epic beer cheese fries with a cold brew or glass of wine.


Smoke on the Water
910-833-5069, smokeonthewaternc.com

If you're already strolling along the quaint boardwalk in Marina Village, pop a squat at Smoke on the Water's spacious riverfront deck and thank me later for the best smoked trout dip of your life. The magenta-tinted North Carolina sky is an idyllic backdrop for barbeque, and the 14-hour smoked brisket sandwich with shaved red onion and dill pickles is a mouthful in the very best way. Can't-miss items—made better when eaten near the cozy firepits—include cornmeal battered shrimp-and-tasso corndogs and house brined chicken wings with sweet and spicy glaze.

Cloud 9 Rooftop Bar
910-726-9227, cloud9ilm.com

Cloud 9 hovers above downtown's Embassy Suites, and this chic lounge is a heavenly, open-air oasis of boozy island drinks, live music, and chef-inspired eats. Folks flock to the rooftop bar for the intoxicating views, but the laughably-labeled libations (such as the tart "That's Not My Name" slushie made with spiked seltzer, raspberries, and vodka) also give the party quite the buzz. Build your base with one of their famous pies in the sky. I dig the cheesy Baby got BBQ pizza loaded with pimento cheese, pork rinds, and grilled chicken.


Fish House Grill
910-256-3693, thefishhousegrill.com

The name Fish House is legendary around here, and it's not just because of the lemon pepper curly fries—though they certainly don't hurt the restaurant's distinguished reputation. Fish House sits along Wrightsville Beach's notorious Airlie Road at the foot of the drawbridge, and this summery space is branded for exceptional blackened fresh catch tacos, fiery pulled chicken nachos, and a decadent crab cake melt with sharp provolone and chipotle remoulade. Known for its dynamic outdoor atmosphere equipped with a laidback coastal vibe, this seafood haven is a force to be reckoned with.


The Bridge Tender
910-256-4519, thebridgetender.com

With the calm Intracoastal waterways as your scenery, it's impossible not to praise this casual fine dining favorite. The Bridge Tender has been pleasing loyal patrons on their breezy deck since 1976. That's a lot of crab dip. Since you're already in position to watch the sun go down, check out their Sunset Special—a three-course meal under thirty dollars served from 4-6 PM Tuesday through Thursday. The crunchy coconut shrimp are impossible to pass up, but make sure you save room for the expertly light, inexplicably creamy key lime pie.



The Sailfish at Marsh Creek Marine
910-406-1055, thesailfish.net

There's no better place to feast on "fish and chips-style" fried flounder than Sailfish. Located at the scenic Marsh Creek at Scotts Hill Marina, this locally-run harbor for the hungry is the epitome of vacation-style dining. If seafood baskets aren't your thing (which BTW—come with coleslaw, housemade tartar sauce, and bacon-dill potato salad so you're probably crazy)—belly up to the fresh, hoisin-glazed ahi tuna Bahn-Mi with wasabi aioli and sesame ginger veggies. For a shareable starter that doesn't leave you fighting over a spoon, try the baked crab bread featuring toasted baguette slices pre-slathered with the creamy seafood-cheese blend.


Soundside Seafood
910-256-1887, soundsidewilmington.com

Just this past year, Boca Bay upped its game, relaunched as Soundside Seafood, and introduced an elevated menu and more modern aesthetics. Interior renovations aside, with a kitchen now hyper-focused on fresh local seafood (promising to emphasize the who, when, and where of the catch)—you better believe that those charming tables on the terrace will be harder to come by on the weekends. Get your hands on hot items like the sumptuous seafood tower before the rest of the table, and double up on small plates such as the snapper tacos with carrot slaw and lemon.


Bluewater Grill
910-256-8500, bluewaterdining.com

This Wrightsville Beach waterfront venue has been doling out fabulous seafood, steaks, and more for just over two decades. While waiting on your table, sip an evening cocktail at the outside bar and watch the sailboats cruise by on the waterway. Perch on the patio for some lives tunes on a Sunday (courtesy of Bluewater's waterfront music series) from April through October. Regulars swoon for the in-house hickory smoked salmon with briny capers, hot garlic toast points, Cajun rémoulade, and pickled red onions. Time your meal during high tide to catch the local dolphins
doing tricks.


Oceanic
910-256-5551, oceanicrestaurant.com

Smack dab on the south end's historic Crystal Pier (and complimented by live music in the summer), the Oceanic's prime outdoor setting offers the quintessential coastal dining adventure. The natural beauty of the waves crashing below is only enhanced by the golden hushpuppies served with each meal. The blackened salmon Caesar with rustic croutons and zippy dressing is always a hit, along with the hand-breaded Calabash platters partnered with smoky Old Bay fries.


Poe's Tavern
910-509-2739, poestavern.com

Gourmet, in-house ground burgers, fresh-as-can-be fish tacos, and chili-smothered nacho mountains headline the menu at this quirky WB pub. Poe's bar area is anchored by a glass garage-style door that allows for open-air seating when the weather is just right. Dine directly out front on the covered deck in your wet towel for the full post-beach experience. The Pit & Pendulum is a classic that covers burger basics (bacon and cheddar), and those with a daring palate will definitely need a nap after The Sleeper screaming with roasted garlic blue cheese and buffalo shrimp.


Michael's on the Waterfront
910-769-4252, michaelsonthewaterfront.com

Do me a solid and show this new Water Street eatery some love. Michael's prides itself on surviving everything from a total remodel to a grand opening during a global pandemic to a hurricane or two. When the hardworking team finally unveiled the riverside beer-centric gastropub, customers swarmed to cash in on the upgraded streetside seating. The jumbo Bavarian pretzel (a warm, yeasty treat served with stoneground mustard) is a must, and the massive thirty-day dry aged cowboy ribeye garnished with crispy shoestring onions is butchered in-house.