Port City's beloved Chef Neff has opened up his own delectable destination

By BRIDGET CALLAHAN » Photos by DOUG YOUNG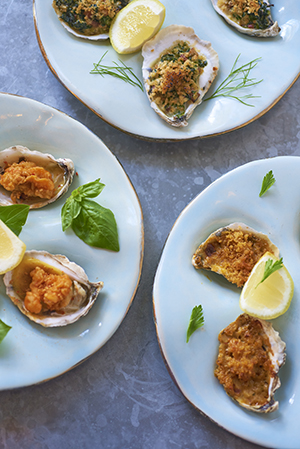 A person who grows up next to the ocean may move away and travel for years, but they almost always inevitably find their way back to the waves. For owner and chef Dean Neff, opening Seabird is in many ways the result of his own reunification with coastal living. Neff isn't new in town. He first made the Wilmington food scene as a founding owner of Pinpoint. But when he decided to sell his shares and find his next passion project, he found himself reconnecting with the fresh caught fish and shrimp of his childhood.

"Once I really started kind of, thinking about what would work best in that space, I realized it should be a seasonal seafood restaurant that celebrates the local seafood and regional ingredients of this area. Those are my first cooking memories, cooking fresh caught fish as a child. So the whole concept fell into place for a restaurant based on my journey back to the coast," Neff says.

Like all great chefs, Neff is a bit of a nerd, and the excitement in his voice really comes out as he talks about understanding that fish, like produce, has a variety for each season, or as he excitedly describes a plan hatched with a favorite oyster nursery to grow a unique Seabird oyster. In fact, oysters have become a bit of
an obsession.

"I am learning every day about them, I love oysters, says Neff." They're a huge part of our menu and definitely one of the main things this restaurant is about. Oysters are interesting. They're harvested live, and it's really important to store them cup up, because you don't want to lose any of the liquid. That liquor is so important to the flavor of the oyster. So much goes into it - the salinity of the water, the area they were in, the temperature of the water when they were pulled out. It's a time capsule of the exact point in time and ocean where they came from, that's what gives each their distinct flavors."

"We get some really delicious oysters from New Brunswick called St. Simon oysters. In the wintertime, they'll actually push them down beneath the ice so they don't freeze solid, and they take 4 to 6 years to mature, because the water is so cold. What's interesting is where those oysters grow, there's a lot of eel grass, which researchers think is what gives them this super buttery, creamy, ocean flavor,"
Neff adds.

Oysters occupy the prime top spot of the Seabird menu, but the rest of menu show an equal exuberance for fresh coastal seafood and all the different ways the South has found to make it sing. On the Small Plates, you'll find a smoked catfish and oyster pie, slow smoked yellowfin, and of course fresh North Carolina peel & eat shrimp, served with worcestershire butter and grit toast. The entrees may change based on the season, but the eastern cioppino, a rich seafood stew with andouille sausage, fennel, and what's best at the market remains a crowd favorite. It's served with a charred seaweed sourdough bread that's bursting with flavor, made with seaweed sourced from Portland, Maine. Another surprising hit is the swordfish schnitzel.

"That's something I felt like people might not like, but they absolutely love it. It's special because I used to make a different version with my mom. We use smaller noodles, and we crisp it in a little butter to give it a golden brown color. And it comes with whatever seasonal vegetables we get. Right now we're using some really beautiful summer squash. It's such a delicious dish," Neff says.

While the menu is all about seafood, there are still options for anyone who isn't as enamored of ocean flavors. Carnivores can get their fix with dishes like fresno pepper sorghum ribs or a seared bavette steak. And there's a vegan plate with an ever changing assortment of veggies like seared okra, charred eggplant, and sweet corn stuffed Cubanelle peppers.

The wine and beer lists may not be the longest in town, but they are excellently curated. And the cocktail list is full of fresh, light, citrusy flavors like their take on a Humminbird with marigold simple syrup, or a classic Aviation with creme de violette. Try the Seabird Martini with a splash of plankton sea brine.
Neff and his partner Lydia Clopton wanted the beautifully renovated and tiled space at the corner of Market and Front St. to be appreciated and useful for more than just dinner service.

"I thought well if we're putting this much effort into making this space, we obviously want as many people as possible to be able to enjoy it. So, we utilize it as much as we can, giving people the opportunity to see it and be in it. They can post up, do work, drink coffee for as long as they want,"
Neff says.

With a beautifully designed coffee bar and self service light breakfast menu, Seabird in the morning is just as enjoyable as dinner. Pastry chef Jim Diecchio offers lemon curd topped muffins and other pastries to nibble with your lavender latte or espresso tonic, making it the perfect stop for a mid morning pick-me-up.

While there will certainly be changes and happy hours coming up in the future, for the most part Neff is happy to build the great team of collaborators he's attracted and focus on growing their talents. He's got a gorgeous restaurant, a talented staff, and the success to be creative. That general feeling of happiness and celebration is what really defines a meal at Seabird, and what keeps customers excited to come back again and again.