Smoke & Mirrors
08 Sep 2021
Deceptively simple seasonal dishes

Photos and Recipes by Kim Byer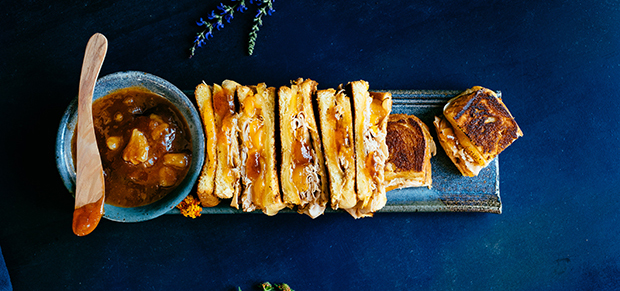 Mirror, mirror on the wall, who makes the most delicious peanut butter pie of them all?

"Mwah, haha," spoke the mirror," that would be Sue Kornegay Junkin." In Tuscaloosa, Alabama, my Aunt Sue was famous for two things: her devilish wit and her peanut butter pies. She would wink and whisper how easy they were to make. Years after she passed, I finally made one for myself. The myth that was her peanut butter pie held—it is not only soft-as-chiffon and delicious, but it is also delightfully simple.

Of course, being the obstinate niece I am, I tried to one-up her legendary pie with a salted peanut and pretzel crust. But do not be fooled; her pie recipe makes a store-bought graham cracker crust shine.

Aunt Sue also knew her way around an oven, so I am sure she'd approve of my tweaks on the celebrated baked feta and tomatoes recipe that flew from Finland around the world last year in a viral sensation. You'll want to try it Southernized with caramelized Vidalia onions.

In this enchanted season of colorful trees, back-to-school mornings (hurrah!), and pumpkin-dotted porches, I hope you'll tie on an apron (my favorite "I'm-sooo-domestic" disguise) and delight your favorite monsters with one of these highly complicated and time-consuming recipes. Wink, wink.


Grilled Cheese & Mango Chutney Melts with smoked turkey

Makes 4 sandwiches


Mayonnaise (recommend Duke's)

Dijon mustard

Butter

8 (¼-inch thick) slices of bakery-bought white sandwich loaf

½ cup of mango chutney

Smoked gouda cheese, approximately 2 ounces, grated

4 ounces sharp cheddar, grated

¼ pound deli smoked turkey, sliced for sandwiches


1. Prepare a work surface with parchment paper or foil. Spread 8 slices of bread evenly with mayonnaise (about ½ teaspoon each side). Flip mayo-sides-down and spread 1 tablespoon of chutney onto each slice. Spread Dijon mustard on the remaining 4 slices, then divide cheeses and turkey among the bread slices.

2. Assemble sandwich halves with chutney on the inside, mayo on the outside.

3. On a smooth grill or in a large flat-bottomed skillet, melt butter over medium-high heat. Add sandwiches (in batches if using a skillet) and heat until one side is toasted and golden.

4. Carefully flip sandwiches (adding more butter, if needed); turn heat to medium-low and continue to toast while preparing plates. Cut sandwiches diagonally and serve warm.


Tip: If using a panini grill, spread butter (not mayonnaise) on the outside of each slice before assembling and heating/pressing.





Chunky Shrimp Salad in buttery brioche rolls

Yields enough salad for 8 buns


For the shrimp:

2 pounds Carolina wild-caught shrimp—jumbo, shelled, and deveined (about 24 shrimp)

2 teaspoons smoked paprika

2 teaspoons kosher salt

1 teaspoon coarse black pepper

Coconut oil for flash frying


For the salad:

3 stalks celery, minced

1 large ripe tomato, chopped, or 1 dozen grape tomatoes, sliced

½ cup Duke's mayonnaise

2 tablespoons capers

Juice of 1 lemon

1 heaping tablespoon fresh dill, minced

¼ cup sliced salad olives with pimento

1 package split-top bakery brioche buns (6-8)

2 tablespoons butter, melted


1. Pat shrimp completely dry. In a large bowl, mix seasonings and toss shrimp until covered.

2. Heat 3 tablespoons of oil in a large skillet until it begins to pop. Place ⅓ of the shrimp into the pan one at a time. Flash fry until pink (about a minute) and then turn over once. Remove to a paper towel and repeat until all shrimp are fried. You may need to add more oil and allow it to reheat between batches.

3. In a large bowl, mix salad ingredients. Chop shrimp into bite-size chunks and add to mixture. Refrigerate salad for at least 2 hours or overnight.

4. Before serving, brush tops of buns with butter and warm, butter-side-down, on a flat grill or in batches in a large skillet. Spoon salad into buns and serve while buns are warm.

Roasted Tomatoes & Sheep's Feta

Inspired by @liemessa, with added onions and pine nuts

Serves 3-4 as a pasta sauce or as a topping for freshly baked bread


1-2 Vidalia onions, quartered

1-2 shallots, sliced into rings

Generous amounts of olive oil for drizzling/tossing/baking

2 pounds tomatoes in various sizes, shapes, and colors, sliced (larger tomatoes) or whole (cherry/grape)

10-ounce block Greek sheep's feta in brine (not cow's milk feta!)

2-3 garlic cloves, sliced

1 tablespoon capers

¼ teaspoon red chili pepper flakes

¼ cup raw pine nuts

Handful fresh basil leaves

Kosher or sea salt and freshly ground pepper


1. Preheat oven to 400°F. Prepare a sheet pan or rimmed baking dish with ⅓ cup of oil. Add onions and shallots, toss with salt and pepper, and bake for 15-20 minutes.

2. If using any tomatoes with stems and/or fresh herbs, place into a shallow dish of water while onions are cooking. If serving with pasta, cook pasta according to directions.

3. Remove pan from oven and add tomatoes, sheep's feta, garlic, capers, and any water-soaked tomatoes on the vine or herbs. Generously drizzle more olive oil. Return pan to oven and bake for 20-30 more minutes or until tomatoes are softened, and feta has started to melt.

4. Increase temperature to 450°F. Roast (or broil) until feta begins to melt and brown (5-15 minutes).

5. Remove charred tomato and herb stems. Add a few fresh basil leaves. If serving over pasta, pour several tablespoons of pasta water onto the sheet pan and toss with feta and tomatoes until you get your preferred sauce consistency. Otherwise, add a few tablespoons of water to the mix depending on how chunky or smooth you prefer the spread.

6. Serve over pasta or as a spoon-able spread with freshly baked bread.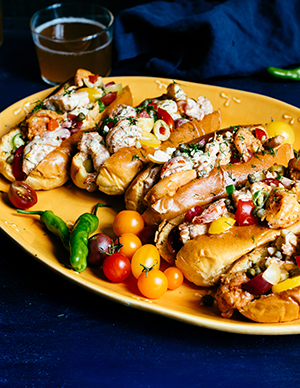 Aunt Sue's Peanut Butter Pie with a thick salted peanut & pretzel crust

Makes one 8-inch pie


Salted Peanut & Pretzel Crust

¼ cup lightly salted roasted peanuts, plus more for topping

1 ¾ cups salted pretzels (sticks are easier to measure)

6 tablespoons salted butter, melted (if unsalted, add 1/8 teaspoon coarse salt)

2 tablespoons sugar


Pie Filling

8 ounces cream cheese, softened

½ cup extra crunchy peanut butter (recommend Jif brand)

¾ cup confectioners' sugar, sifted

16 ounces whipped topping, thawed if frozen (divided use)


Toppings

Chopped roasted peanuts and/or Reese's Pieces

1. Preheat oven to 350°F. Coat an 8-inch springform pan or pie pan with baking spray.

2. In a food processor, blend peanuts and pretzels for 10 seconds. Add melted butter and sugar and reduce the mixture to a coarse meal—no more than 15 more seconds.

3. Press into the bottom of the pan and bake for 12-15 minutes. Allow to cool completely.

4. Using a mixer, beat the cream cheese and peanut butter until fluffy. Then, add sifted confectioners' sugar and three-fourths (12 ounces) of the whipped topping into the bowl and beat again.

5. Spoon over cool crust and spread the remaining whipped topping on top. Chill for at least 2 hours.

6. Before serving, top with chopped peanuts, if desired. Pie will last for several days in the refrigerator.

Note: This pie is deeper, and the crust is thicker when using an 8-inch springform pan, but a 9-inch or regular pie pan also works. Aunt Sue recommended store-bought graham cracker crusts for her peanut butter pies.

Rice Krispie Chocolate Cake-in-Disguise with chocolate frosting and ghastly decorations

Makes one 6-inch, 3-layer cake and 3 cups of frosting


Rice Krispie Layers

6 tablespoons butter (high fat is best)

20 ounces mini marshmallows (2 10-ounce bags)

9 cups Rice Krispies or puffed rice cereal


Whipped Chocolate Frosting

½ cup butter, melted

⅔ cup unsweetened cocoa powder

3 cups confectioners' sugar

⅓ cup whole milk


Chocolate Glaze (optional)

3 tablespoons butter, melted

3 tablespoons unsweetened cocoa powder

⅓ cup confectioners' sugar

2 tablespoons whole milk + 3-4 teaspoons

1 teaspoon light corn syrup


Toppings

Halloween candy, chocolate-dipped pretzels, mini chocolate chips, M & M's or Reese's Pieces, sprinkles, chocolate bar shards, etc.


1. To make the tower "cake": In a stockpot, melt butter over low heat and pour in mini marshmallows. Continue stirring on low until marshmallows melt. Remove from heat. Slowly pour and gently fold cereal into marshmallows until combined.

2. Suggestion: Prepare the 6 x 3-inch cake pans with parchment paper (parchment rounds with lifting tabs are great) and butter or baking spray. Divide the cooling marshmallow mixture into three equal parts. Press one mound of marshmallow mixture into each pan until firm and even. Lift one layer out of the pan and place on a 6" or 8" cardboard circle. Place circle on a revolving cake stand or lazy Susan.

3. To make frosting: Using a mixer, beat melted butter and cocoa powder on medium speed until smooth. Add confectioners' sugar and milk and mix on low until sugar is dissolved. Gradually increase speed to high until frosting is smooth and creamy.

4. Add a layer of chocolate frosting to the top of the first layer. Repeat with two more layers of marshmallow mixture and frosting. Push a dowel or skewer through the center of the three layers to add stability while you frost the sides. Using a small offset spatula or icing spatula, frost the sides, then remove the skewer. Re-frost the top, add chocolate glaze if desired.

5. To make chocolate drip/glaze: In a small bowl, stir melted butter and cocoa powder until smooth. Add confectioners' sugar and stir until sugar is dissolved. Add milk and corn syrup and stir again until smooth. Continue adding single teaspoons of milk and stirring until desired consistency is reached—either for an all-over glaze or for dripping down the sides.

Note: Tightly wrapped or covered cake will stay fresh on the countertop for several days.


Boulevardier with charred citrus peel

Makes 1 cocktail


1 orange

1 ½-ounces bourbon (your favorite mix-friendly bourbon, from Bardstown to Buffalo Trace)

1-ounce Campari

1-ounce sweet vermouth (such as Carpano Antica or Dolin)

1-2 good quality maraschino cherries (optional—recommend Luxardo, Fabbri Amarena, or Bada Bing)

Ice (recommend 1 large cube or sphere)

1. Peel orange skin around and winding down the circumference with a flat peeler. Using a small knife, remove jagged edges. Cut two additional 2-inch slices and cut the remaining strip in half. Shape each long strip into a point on both ends.

2. Place ice cube(s) into glass. Pour bourbon, Campari, and sweet vermouth over ice. Stir. Add long orange peel and cherries to each glass.

3. Take one of the 2-inch strips into your dominant hand and, carefully lighting a match with the other, hold the citrus peel atop one glass as you squeeze it above the match flame to express the citrus peel's oil into the drink. The heating peel will sizzle as the oil releases. Rub the slightly charred citrus strip around the rim of the glass.


Tip: Vermouth will last for up to one month chilled in your refrigerator. Also, large cube and sphere silicone ice molds are widely available online and in-home stores.