An Aquaculture Endeavor
04 Mar 2022
A coral specialist opens an enchanting, awareness-driven live coral aquarium business


By Lori Wilson » Photos by Brandon Williams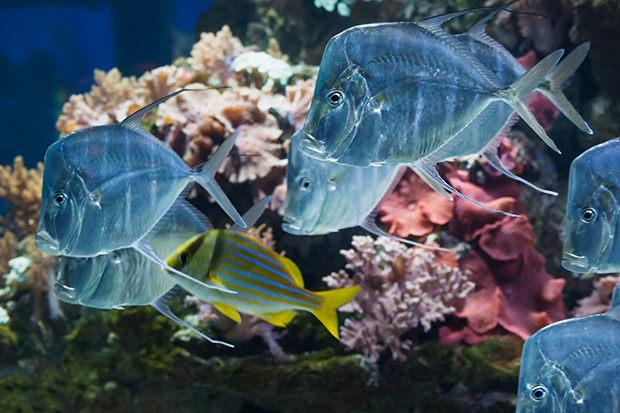 At six years old, T.J. Lysiak received his first aquarium. When the other kids asked for video games, Lysiak wanted National Geographic magazines for Christmas. He was a budding biologist with a love for all creatures who make water their home.

But it took Lysiak a couple professions before his hobby turned into his work, as owner of the newly opened Port City Aqua studio in the South Front District of downtown Wilmington, which welcomed guests for the first time on December 3rd of last year.

"My grandfather, an engineer, always said 'biology is for hippies,'" Lysiak says with a laugh.

So. first, he pursued something a little more technical, graphic design, while maintaining his own tanks on the side. It wasn't until Lysiak's self-described "first mid-life crisis" and the 2008 job market crash when he dove into marine biology as a future career. He began the distinctive UNC Wilmington marine biology program, where his experience lent insight to aquaculture conservation, preservation, and fragmentation.

Though, Port City Aquastudio does more than sell fish, corals, and aquarium supplies. To its clients and followers, Lysiak offers an enchanting, awareness-driven hobbyist ideology based on respect for the amazing aqua creatures he's admired for decades.


Aquaculture Education

As part of the UNCW marine biology program, Lysiak interned at the Bermuda Aquarium and Zoo, about 600 miles off the North Carolina coast.

"In Bermuda, I saw a pristine reef, not having been impaired by any human interaction," Lysiak says. "There, it was all education-based with classes and field trips. That's what I was doing. That's where I learned that conservation begins with education."

Lysiak is also an experienced diver. In areas of the Caribbean, where its residents respect the aquatic ecosystem, he explains, the reef systems are healthy, colorful, and abundant – unlike, for example, the Florida Keys, where boating and parties draw visitors more than aquaculture.

"In the Keys I had to go looking for reefs," Lysiak says.

This observation troubled Lysiak. As his career in coral emerged, suddenly his hobby evolved into a calling. The company's mission statement differs from that of your typical retail establishment:

"Port City Aquastudio aims to increase the awareness of our customers and community through education and conservation allowing hobbyists to successfully enjoy replication of God's amazing ecosystem in their own homes."

Coral reef habitats continue to decline as a result of human – or, the technical term, anthropogenic – activities, including the over-harvesting of wild coral. Port City Aquastudio encourages all its customers to purchase aquacultured, rather than wildly collected, specimens.

"Conservation is heavy to me," Lysiak says. "I've got some grief in this business. I take an extra level of care. When people ask to buy a certain kind of coral or fish, I ask them what size tank they have. If the answer isn't right, I tell them 'no.'"

If the care level isn't present, obviously, things may not work out well for the specimen. So, if Lysiak is honest with customers, he reduces the chances of that aqua creature needing to be replaced.

But, then, many may ask – how is that a sufficient business model? Well, Lysiak offers honest, dependable consultations and maintenance to hobbyists in the greater Wilmington area with all levels of experience. The Port City Aquastudio business model integrates service with its store-front offerings.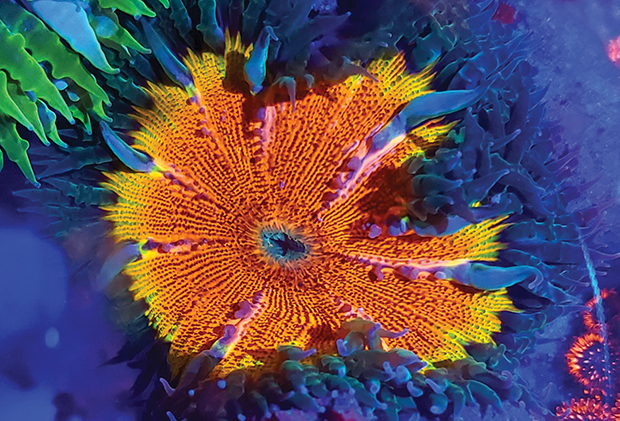 "I've got clients who've been with me since they were in middle school," he says, "who are now in college."

Many of his favorite clients are the youngest – for example, a five-year-old girl whose parents called upon him for help with the aquarium tank she requested.

"Many of them just sort of sit and stare in awe like I once did," Lysiak says. "Helping kids learn about coral gives me the feel goods."

Port City Aquastudio's space on 2nd Street is equipped with a projector, on which Lysiak hopes to one day show documentaries about coral. They will soon run education programs out of the space for people of all ages and aquarium-knowledge levels.


Shop Offerings

For those looking to add to their aquariums, Port City Aquastudio stocks tanks and supplies, marine fish, man-made live rock, live coral, and a variety of other invertebrate species, such as snails and feather dusters. But guests only need to take a few steps inside the shop to see Lysiak has a favorite.

"For me, it's always been the coral," he says.

Dr. Joseph Pawlik of UNCW's marine biology program quickly recognized this in Lysiak, whom he cites as a "stand out" in his invertebrate zoology class from when Lysiak attended years ago.

"I always know when my marine bio students are there for the right reasons," Pawlik says, "when they walk in the lab and gravitate to the back where the reef tanks are – and strangely I don't get a lot of those."

Unlike Lysiak, many students, Pawlik explains, are more interested in large fish or other marine creatures. Lysiak's passion and aquarium store fills a niche in the market.

Each of his tanks house coral of all shapes, sizes, and – best of all – colors: naturally bright yellows, greens, pinks, blues, and reds in various, vibrant shades. Lysiak works to carefully grow his coral colonies through a fragmentation process. Much like propagating plants, new polyps "bud" off from their parent coral and begin growing on their own.

"Some of my corals here have been in captivity for over 30 years," Lysiak says. "That's all they know. Most people have no clue the lengths I've gone to for them."

Lysiak's favorite coral is "by far" the Acropora, a genus of small polyp stony corals.

"I just think they're as cute as can be," Lysiak says, pointing to a new baby polyp.

The notorious reputation of SPS coral indicates that they require delicate care to be kept properly in a hobby aquarium. For first-time reef aquarists, Lysiak recommends soft corals (or softies) that grow rapidly and are – ironically – considered a fairly hardy species.

Even the fish swimming in Lysiak's tanks serve some sort of purpose for his coral, such as algae eaters.

"You know, people often say 'for an aquarium shop owner', it's weird that T.J. [Lysiak] doesn't like fish," he jokes.

But, echoing his conservationist attitude, Lysiak is simply intentional about the fish kept in his tanks and is even more specific about where he orders wild fish, when requested. If a product or species does not appear in the shop on a day a customer visits, it can likely be ordered from one of Lysiak's responsibly curated suppliers.

Giving Back

As part of his business goals, Lysiak aims to tithe 10 percent of his shop proceeds to nonprofits focused on ocean and marine life conservation (once his space in the SoFro district becomes more established).

But for years Lysiak has already been donating his time to help tanks in need of additional expertise. The name "coral doctor" has been spread once or twice around the community.

"I really prefer coral specialist," Lysiak says. "I'm not a doctor. I'm just recognizing an unhappy animal and remedying the situation. We rarely see disease in captivity."

Lysiak has kept his connections to UNCW by maintenancing tanks in the library as well as Friday Hall. He has consulted with colleagues on tanks at the UNCW Center for Marine Science and Fort Fisher Aquarium on Kure Beach. He has helped with transitions of tanks from old to new spaces or simply assessing temperature and O2 levels.

With Port City Aquastudio's position so close to Greenfield Lake, Lysiak hopes to become more involved in the health of local lakes and waterways as well.

"I'm not just interested in tropical climate systems," he says. "There are amazing marine species in all sorts of waters
near us."