Changing the perception of the arts in Brunswick County
By TERESA McLAMB Photos by KELLY STARBUCK PHOTOGRAPHY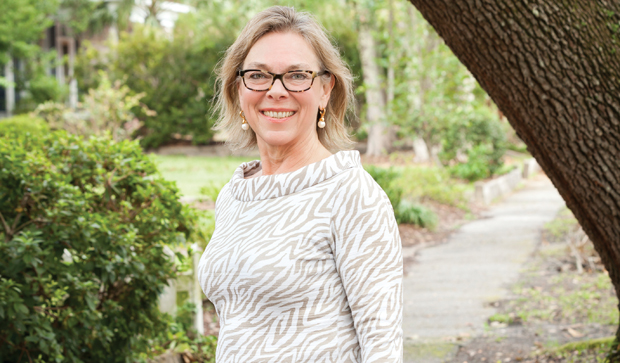 High-heels – minus a heel – in one hand and her portfolio in the other, Susan Sims-Pritts strode barefooted into her final interview of a newly created position with Brunswick County. She got the job.
Her unflappable nature has helped her through many career and life changes, but at the heart of each, there has been a joyous love of the creative arts and what they mean to the human spirit.
Sims-Pritts exposure to the arts began early in life. "I grew up in an old neighborhood on the edge of downtown Birmingham. All next to one another, we had Catholic families, Jewish families and African-American families. We played outside together, and we made everything we played with," said Sims-Pritts. They wrote plays, choreographed dances, created costumes and performed for the whole neighborhood. Her parents, both educators and coaches, encouraged arts and physical activity. "I've joked that I was reading the encyclopedia and Shakespeare by the time I started school," she said.
When it came time for college, Sims-Pritts wanted to major in theater, but her mother insisted she choose a major better suited for more of a practical career. She headed to the University of Georgia where she studied the arts along with courses in social work, which introduced her to the concept of arts as a healing tool. "I realized whether you're working with adults or children, you can integrate so many of the arts in therapeutic practices, and I loved that," said Sims-Pritts.
While at UG, she married a fellow student who was studying classical guitar. After becoming pregnant with daughter Rebecca in her junior year, both students transferred home to the University of Alabama where, coincidentally, professors Sims-Pritts knew from UG were developing a program of social work. She recalls, "I thought it was a sign."
Landing in Wilmington years later, she would head a large privately owned preschool and primary school. "We had a unique blend of public and private funding. Our children were from some of the wealthiest families and from Social Services funds," said Sims-Pritts. The program, which mainstreamed children with disabilities, became a model for the state. Sims-Pritts sat on the NC Childcare Board, testified before the legislature and advocated for full inclusion for kids with disabilities.
Her next stop was Southeastern Mental Health Center as director of their programs for children with disabilities in the three-county area. "I loved that job, but I burned out. We had six children die that year. I took a break," said Sims-Pritts.
When the opportunity came to purchase (with partners) a book and gift shop, she jumped at it and also added an art gallery. "We opened in the worst year for book stores in 30 years," said Sims-Pritts. "But, we had a huge groundswell of local support. We met with people from local counties to talk about concerns in their communities and what we could do." One offshoot of that was the development of a healing arts program at New Hanover Memorial Hospital and later at Lower Cape Fear Hospice.
"Closing the shop after only two years was hard," said Sim-Pritts. So when a local pastor asked her to work part-time as the church secretary, she took him up on it and took her love of the arts with her. They opened church space to any nonprofit in exchange for a donation. They had children's theater, conferences, workshops and Suzuki recitals. As a result, the church grew from 250 to 750 members.
During much of this time, Sims-Pritts sang with a Wilmington based group, touring the US and Europe, until an illness took her voice. "It took seven years for my voice to come back," she said.
Again needing to rest and regroup, Sims-Pritts took a part-time administrative job for Insider's Guide, which developed into a full-time position as general manager. She was there for 15 years before her exit. The connections allowed Sims-Pritts to volunteer for Full Belly Project where she learned, among other things, the ins and outs of international shipping. "That's when I started consulting with a lot of the small nonprofits in Wilmington," she said.
It's also when she took time to find a care center for her younger sister who has early onset dementia. "My sister was a brilliant artist and actor. Thanks to vigorous research and the many people I contacted, I found a perfect place for her," said Sims-Pritts.
At almost the same time, her soon to be husband, Dr. Clark Pritts, was diving in Cozumel, Mexico when severe chest pains ensued, leading to open heart surgery. She recalls, "That's when we looked at each other and said, "We should get married now," so it was a good thing I wasn't working full-time."
Three years later, when the ad for the Brunswick County Arts Council director was posted, Sims-Pritts knew it was the perfect job. The 37-year-old organization had always been run by volunteers. This new position was part-time and incorporated all the skill sets Sims-Pritts had learned over the years.
"It was my dream job. I was so excited I could hardly stand it," she said.
When a downpour on the way to her final interview resulted in her heel falling off, she wasn't going to let that stand in the way.
In the few months Sims-Pritts has been on the job, she has traveled the county, getting to know the needs and desires of many local artists, organizations and residents.
"Originally the Arts Council was formed by small groups of very dedicated artists, resulting in an artist dominant membership pool. The county has grown so much since 1981. Now, we have a lot of locals who aren't artists but want to participate in the council. Many retire and want to take up a hobby. There is also a younger demographic eager to learn the old folk arts their parents and grandparents knew, like carving, quilting and folk dancing," said Sims-Pritts. "The NC Arts Council has funded moderated focus groups in five districts where people from all walks of life are interviewed about the need for the arts in their district and the county. From there, a second round of focus groups are planned. We're able to get a profile, not of the county, but of each district. We're using that," she said.
Looking toward her second year as director, Sims-Pritts hopes to refine the council's focus and strategy to best serve the county. She wants to get even more people involved.
"We're developing an ambassador program, recruiting new board members from the business community and the arts community. We also want to develop a volunteer program," she said.
Noting that there are many examples of successful programs in the county, and some that are in the works, Sims-Pritts continued, "I think my job is igniting excitement; discovering people's interest and then connecting them to these wonderful programs." Although the Arts Council's funding is limited, they are able to assist people in seeking funding. "We can spark the ideas and the development. We strive to nurture this, because our county is in great need. The public schools do a fabulous job, but funding and schedules make it difficult without community assistance," she said.
"There is an image that there's nothing to do in the arts here in Brunswick County, but there is. Something is going on almost every night - literary clubs, visual arts, pottery classes, art shows, theater, dance classes. We have to change the perception," said Sims-Prtitts.
Perhaps change is coming. The Brunswick Senior Resources have adopted the arts as a way to maintain memory, balance and intellectual function with age. Sims-Pritts concluded by saying, "I know what a difference the arts make in our lives, from painting classes for depression, dancing for social experience, and more. The arts in and of themselves are not only enjoyable, but also functionally helpful in our lives. They build community, and we all need community. I love, it because I believe in it."