Our picks for the Port City's most outstanding oysters

By FANNY SLATER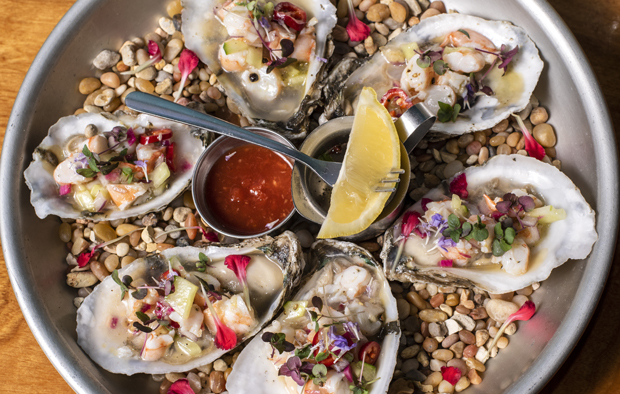 Wilmington's waters might be too chilly for a dip this time of year, but that doesn't mean you can't dive mouth-first into all the salty sea has to offer. Each season as the frosty air sweeps in, local restaurants take full advantage of the oyster bounty in their own unique ways—baking them in sinful cream sauces, splattering them with fresh squeezes of lemon, and even shucking them straight into shot glasses.

But who wore it best?

Let's face it, we're all winners here—but it never hurts to be guided towards the goodies. I took the liberty of cranking the coastal meter to high so I could present to you: our picks for the Port City's most outstanding oysters.

Bottoms up.


Boca Bay

910-256-1887, bocabayrestaurant.com

Though Boca Bay is habitually praised for its epic brunch buffet, this southern seafood spot is equally well-versed in oysters. Belly up to the bar for a selection of bivalves you won't believe. My gang can never resist the shooters—a daringly delicious mix of vodka, Bloody Mary blend, and tabasco topped with a raw oyster. For those who prefer their coastal items cooked, get 'em steamed for yourself or split 'em fried where the plump, lightly breaded bites receive an Asian makeover from sesame slaw and spicy mayo.


Bourbon Street

910-762-4050, bourbonstreetilm.com

If Bourbon Street's neon sign boasting "world famous charbroiled oysters" didn't catch your attention, the garlicky, smoky smell floating down Front Street just might. This unmistakably vibrant New Orleans-themed bar and restaurant captures all-things Cajun. You want their freshly-shucked, flame-fired oysters in classic fashion (with decadent garlic-butter and parmesan cheese) or with the signature Bourbon Street twist of crabmeat and crawfish. Not enough oyster options for you? Get them Lafayette-style with creamed spinach, bacon jam, butter sauce, and cheese, and let the good times roll.


Brasserie du Soleil

910-256-2226, brasseriedusoleil.com

Although filling up on the decadent, buttery escargot at this authentic European café is an expert choice, you'll want to save room for at least a dozen oysters. Let Brasserie's impeccably presented, locally-sourced raw platters whisk you away to the land of all-things-fresh. What goes better with briny oysters than citrusy lemon, spicy cocktail sauce, and zesty mignonette? A top-tier staff, exquisite wine list, and charming dining room that opens up to one of Wilmington's best outdoor patios. The saffron-infused Bouillabaisse is also money.


Cape Fear Seafood Company

capefearseafoodcompany.com

With the words "seafood company" in the name, you know this Wilmington staple is on our landing zone list for where to find the most fantastically fresh oysters. For a tangy treat, start with them Bloody Mary style—gracefully fried and served alongside a peppery tomato-horseradish purée, then add them to any one of the refreshing entrée salads like the mixed greens with parmesan and white balsamic. Don't worry about the cooking method masking the oyster's flavor. CFSC's light breading lets the seafood shine through.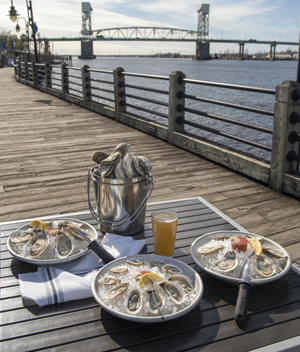 Catch

910-799-3847, catchwilmington.com

Chef Keith Rhodes is a guru when it comes to transforming already-standout seafood into a flavor bomb you'd never
expect—and his oysters are no exception. For a pungent punch of texture, get them Cajun Crusted with honey bacon dressing and Danish blue cheese slaw. Equally as popular and impossible to resist: the Dirty South on the half shell with pimento cheese and butter crunch. Lighten up with the Topsail-style platter featuring crisp Prosecco mignonette and Creole cocktail sauce.


Ceviche's

910-256-3131, wbceviche.com

From the eclectic, spirited seafood to the tropical cocktails (rum swizzle, please)—Ceviche's is a culinary Caribbean retreat located right at locals' fingertips. Tucked inside a quaint colorful building on Wrightsville Avenue, this Latin American café is celebrated for its tender, marinated meats and fresh-as-ever ceviche creations brimming with citrusy sauces and fiery chilies. But the hype isn't just for the Cubanos and corvina. Ceviche's Caribbean Fried Oysters with crunchy pickled cabbage and sassy curry aioli are always a crowd pleaser.


Dock Street Oyster Bar

910-762-2827, dockstreetoysterbar.net

Not to brag on this unassuming downtown seafood shack, but the awards speak for themselves. Local publications have named Dock Street "Wilmington's Best Oyster Bar" for practically the two decades they've been open. Owners Steve Maillard and Louise Forbes Simpson pride themselves on dishing out divinely fresh ocean fare that's served every-which-way but fried. Drop a lime in your lager and chow down on a chilled platter of freshly-shucked oysters. On the richer side, the sampler—three Oysters Rockefeller with bacon, spinach, and creamy hollandaise and three Imperial—will go down smooth.


EAST Oceanfront Dining

910-344-2513,

blockade-runner.com/dining-br/east-oceanfront-dining

A waterside resort with a rock star chef? You can't argue with that. Though the Blockade Runner is the building you see from the street, it's the exceptional, foodie-fueled restaurant inside that's on everyone's lips. Literally. The menu at Oceanfront Dining, led by the wildly talented Chef Jess Cabo, is a lineup of locally-sourced, globally-influenced seafood and vegetarian fare. The kitchen is as seasonal as they come, and any oyster who graces Cabo's cutting board is sure to be enhanced with her funky Cali-Asian flair.


Elijah's

910-343-1448, elijahs.com

Don't wait until the sun sets to settle onto Elijah's waterfront deck and delight in one of the city's most well-established eateries—though you can't argue with that sight. This seafood-heavy monument has been around for over thirty years, and we've got over thirty reasons why. To start, their signature oyster app where the meaty morsels get baked in decadent crab dip or perhaps their wintertime oyster stew. Need more convincing? How about the herbed goat cheese and applewood smoked bacon-stuffed oysters? I had you at crab dip, didn't I? Check out their ½ price oysters every Wednesday between 4-6pm!


Havana's

910-458-2822, havanasrestaurant.com

Sure, we know Havana's for their fearlessly fruity cocktails and picturesque deck that boasts a clear view of Carolina Beach's weekly fireworks—but can we talk about those oysters? From their version of Rockefeller featuring creamy spinach, bacon, and sharp parmesan cheese to the fried platter of briny babies from Virginia, Havana's oyster game is on point. But wait, there's more! Sunday brunch brings the Oyster Catcher Benedict with poached eggs, fried oysters, and a Tasso ham hollandaise that will leave you licking the plate.


Pinpoint

910-769-2972, pinpointrestaurant.com

Deeply rooted in Lowcountry cuisine, Pinpoint is clutch when it comes to coastal-inspired dishes that taste as good as they look. All seafood that leaves the kitchen radiates in its own light, but it's the oysters on the half-shell (half-price Monday nights along with wine) that have loyal patrons crawling back for more. You're always guaranteed a trio of three purposefully-picked
varieties—each offering its own salty, briny, or sweet personality. Scoop them onto Pinpoint's light-as-air flatbread crackers or slurp them solo dressed with icy lemon-cucumber granita and shallot-speckled mignonette.


Shark Bar & Kitchen

910-239-9036, shark-bar.com

This notoriously nautical eatery may have replaced longtime landmark and beloved beachside dive, Buddy's Oyster Bar—but
that doesn't mean they don't know how to shuck 'em just as skillfully as their predecessor. They start with a topnotch product (check out our feature on Shell'em Seafood Co. on page 56) and give it their own fresh flair. You can get them fried with hand-cut fries, slaw, and an herby remoulade—but purists prefer them raw with Shark Bar's fruity Anaheim chili mignonette and cocktail sauce. Nothing says happy hour like half-priced oysters, so pop in daily between 3-5 PM to receive your seafood smile.


Shuckin' Shack

910-458-7380, theshuckinshack.com

For a dining experience that screams "vacation town," you can't beat Shuckin' Shack. A true beach-lover's paradise, this laidback jolly joint became so popular it had to expand its downtown digs for a house that held even more seafood. Enjoy oysters of every kind here from freshly shucked and juicy to tender and steamed to chargrilled and loaded with jalapeno and cheddar or savory parmesan and garlic. If you're a sucker for smothering them in booze like me, I'll take a round of Bloody Bivalves (vodka-tomato juice shots garnished with sweet, raw oysters) on you.


True Blue Butcher & Table

910-679-4473, wearetrueblue.com

Steak and oysters go together like, well, steak and oysters—and True Blue Butcher has got you covered for both. A craft cocktail spot, elegant restaurant, and butcher shop all-in-one, True Blue provides diners with a unique, full-rounded experience for all the senses. Expect to find multiple oyster options on the half-shell—all superbly fresh be and hailing from different parts of the coast. Sip them down simply with a squeeze of lemon to experience them in their most authentic form, or dive headfirst into the sauce lineup of creamy horseradish, spicy cocktail, and oniony mignonette.


Waterman's Brewing Company

910-839-3103, watermansbrewing.com

It's no secret that Waterman's crushes the craft beer and pub grub game, but did you know they also turn out the best po-boy in town? For a seafood sandwich with a side of "I need a nap," step right up to the fried oyster po-boy. Loaded onto classic Louisiana-style fluffy French bread, head chef Drew Stanley's monstrous meal features a mountain of delicately crisp oysters, shredded lettuce, tomato, and tart pickle topped with a lusciously lemony remoulade. Pair it with one of Waterman's flawlessly formulated beers for a truly unforgettable Wrightsville Beach day.