Backyard Retreat
03 Mar 2018
Grow your indoors out to create an outdoor living space that will expand your comfy horizons
By EMILY GORMAN FANCY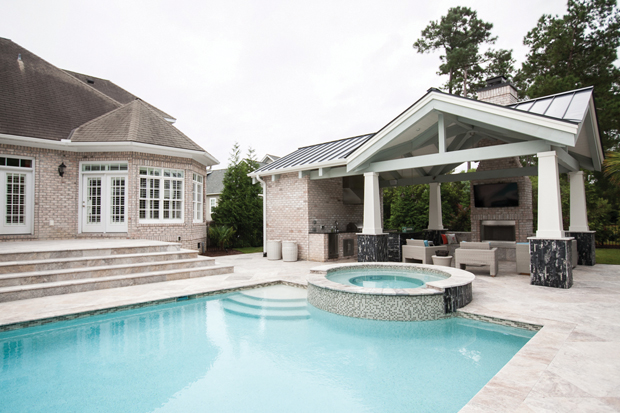 With the warmer temps of spring and summer on the horizon, we inch closer to longer days sitting on porches and decks, and entertaining friends and family outside is synonymous with the Cape Fear coast.
Outdoor living spaces can turn your backyard into your favorite getaway while extending the indoor living area and the ultimate value of your home. From outdoor furnishings to fire pits and poolscapes to retractable awnings, these local businesses can help you create your ideal retreat in your own backyard.
Innovative Awnings
833-337-4233
Innovative Awnings serves as the exclusive provider of Marygrove Retractable Awnings throughout North and South Carolina. Based in Cornelius, NC, Innovative Awnings just expanded into the Wilmington market this spring, having recently participated in the Wilmington Spring Home Show.
"We feel that with the amount of homes, growth, and sun exposure in Wilmington, the market will benefit from our products," says Andy Hoyt, company president.
Innovative Awnings provides retractable and motorized awnings for outdoor living spaces, such as porches and patios. Because their awnings can be easily protected from wind, rain, and other harsh weather, their products do not need to be replaced or maintained, Hoyt explains.
For a lower price point than building a new sun room or putting on a new roof, customers can convert their backyard into an outdoor living space with a retractable awning. Additionally, retractable awnings allow customers to control the amount of sun a space receives in different seasons, whether you want a sunny spot on a warm, spring day or a cooler space to entertain during the dog days of summer.
Innovative Awnings has streamlined their approach to sales, inventory, and delivery with the goal of providing customers with high quality products as quickly as possible. They offer four different sizes and nine fabric choices – all of which they carry in stock – minimizing the time it takes from initial order to final installation. Furthermore, their solution-dyed recyclable polyester fabrics have received numerous awards for sustainability. With a motorized remote control, you can completely control your awning from the comfort of your own home or even control it remotely if you are out of town.
"Nothing comes close to our product in terms of its features, quality, construction, and price, and we cannot wait to get our product out there," Hoyt says.
Lowcountry Landscaping
910-200-1489
In early 2015, a long-term lawn maintenance client of Lowcountry Landscaping approached business owner Scott Hinson about transforming the back of their property into a backyard retreat. At the time, their backyard was muddy and unusable with poor soil quality. They wanted to revitalize their backyard into a gathering space for relaxing as a family and entertaining friends and clients.
Hinson served as the project coordinator, systemizing with architect Cothran Harris and pool builder Shoreline Pools, as well as overseeing overall project plans. Additionally, Hinson provided all of the hardscapes, pool deck, and landscaping.
Over the duration of four and a half months, Lowcountry Landscaping and the project team completely transformed the client's outdoor property into an oasis that feels like a resort, right in their own backyard. They renovated the home's original small porch into an expanded, brick open-air pavilion, complete with outdoor seating (from Lowcountry Interiors), kitchen, fireplace, grill, bar, and flat screen TV. The pavilion is adjacent to the redesigned pool and hot tub with additional seating. In addition, a stained timber cabana offers a powder room, outdoor shower, and dressing room. A fire pit with seating and an outdoor dining area complete this transformation.
The poolscape is complemented by silver travertine tile, in a two-feet-by-two-feet jacquard pattern that extends to the seating behind the pool, fire pit, and outdoor eating space. Black marble connects the hot tub, fire pit, and bar, creating continuity. "We make the projects look like they were originally built with the house," Hinson says.
Lighting extends the use of the space well into the evening, while also providing added security. Hinson describes the nighttime lighting affect as creating a "magical" environment for enjoying a night swim or grilling dinner.
For the client's landscaping plan, Lowcountry Landscaping incorporated palm trees, winter green boxwoods, clumping bamboo, and giant green arborvitae to create a tropical environment. The client's new emerald green zoysia grass is "basically like a putting green," Hinson says.
Hinson advises clients who are interested in creating new outdoor living spaces to start early to pull everything together. "Design work and implementation take time," he adds.
Lowcountry Landscaping has been serving Wilmington, Wrightsville Beach, Figure Eight, and Bald Head Island since 2000. Hinson says he loves the artistry of what he does, as well as how the completed projects bring families and communities together. "Projects like this are what I'd call a legacy project," he says. "We try to create things that are timeless, with craftsmanship and materials that will stand the test of time."
Leisure World Casual Furniture
910-392-7748
When a client approaches Trey Folcher, owner of Leisure World Casual Furniture, about furniture options for an outdoor living space, his first question is, "How do you intend to use this space?" Sometimes clients focus on staging the space for when their college kids come home for breaks or extended family is in town, instead of thinking about how they will truly use the space on a daily basis. "If it's only the two of you eighty percent of the time, gear the space toward how you will use it the majority of the time," Folcher explains.
For example, Folcher recently worked with a client who was trying to decide between a sofa and a love seat for her outdoor space. Rather than crowding the area with a larger sofa, Folcher advised her to go for the love seat and add potted plants and eclectic pieces to make the area a destination spot outside of her home. "We sell ambiance, not just furniture," he explains.
With more than 33 years in the industry, Folcher has been doing business with numerous major outdoor furniture vendors for decades, and he passes on this advantage to customers. Leisure World offers a wide spectrum of styles to suit every taste, from down-home Southern to upscale, modern Miami looks. They carry every material, including aluminum, wicker, poly lumber, and teak.
Some of Leisure World's most popular pieces include a gray teak sectional that offers versatility for everyday family use or entertaining friends. Additionally, the Jupiter is a new collection combining wicker and teak for a modern look.
For customers creating outdoor living areas overlooking spectacular views, Folcher always recommends to not let the furniture overpower the view. Subtle, muted furniture tones create a relaxing environment in which to enjoy the surroundings. "I often say, you paid a lot more money for the view than you did this furniture," he says.
Coming from a military family, Folcher moved a lot as a kid, which familiarized him with the joys and challenges of decorating a new home. Now he has passed on this creative flair to his children, all of whom have worked for Leisure World over the years. "We love being helpful and creative," he says. "I still love the spark that happens when we and the homeowner put the pieces of the puzzle together."