Behind the Gates
02 May 2021
Landfall Realty delivers a unique insight into one of Wilmington's most sought after communities

By JUDY ROYAL » Photos by KELLY STARBUCK PHOTOGRAPHY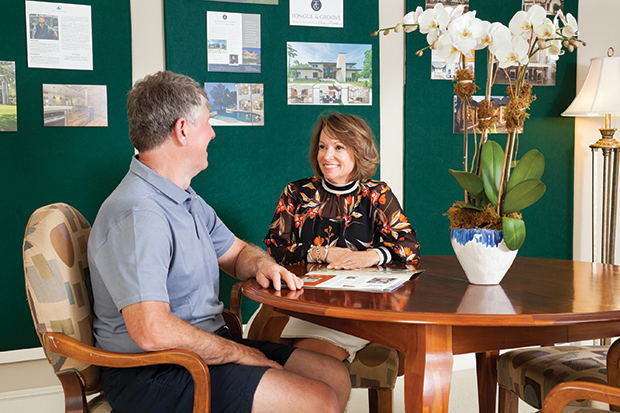 Landfall Realty has built its entire business around offering a finely tuned level of specialization in the Landfall community. While much has changed since its inception in 1992, the company's core competency has and always will remain the same: listing and sales of Landfall properties. In fact, the office is located right outside one of the community's gates.

Landfall Realty is unique in the sense that its entire sales team of five agents as well as five other administrative employees are the owners, a move made in 2008 following the company's roots as part of the Landfall developer team and then the homeowners' association. In addition, everyone on the sales team has lived or worked in the coveted community, which gives them inside knowledge from personal experience. Alison Bernhart, Becky Spivey, Karen Thompson, Kelli Lazzaro and Nikki Johnson pride themselves on knowing the ins and outs of all things Landfall, including the Country Club and Council of Associations.

"The unique thing about Landfall Realty is the culture we've built where employees are like family," Lazzaro said. "Being an agent-owned company, we strive for shared success."

This camaraderie translates into a driven sales team of agents who support each other through a shared mission of delivering what they refer to as "positively outrageous service."

"My favorite thing about my job is the opportunity to work with my colleagues, all of whom I've known and worked alongside prior to coming to Landfall Realty," Johnson said. "Everyone here is always motivating, and they inspire me daily to achieve my personal goals."

Agents promote the community locally and nationally as a place for residents in all stages of life, from young families to retired people. Home prices within Landfall can range from $350,000 to $5 million, so agents must act as experts for all sorts of budgets.

"One of the most surprising factors affecting Landfall since we opened is that the demographics of the families living in Landfall have come way down," Bernhart said. "Landfall now encompasses all ages. We have about 40 percent young families, about 30 percent retirees, and the remaining 30 percent are all us folks in the middle who are still working."

While the COVID-19 pandemic has been detrimental to many local businesses, Landfall Realty is seeing the opposite effect. The real estate industry is booming as more people are able to do their jobs remotely, therefore greatly expanding their options for a home base.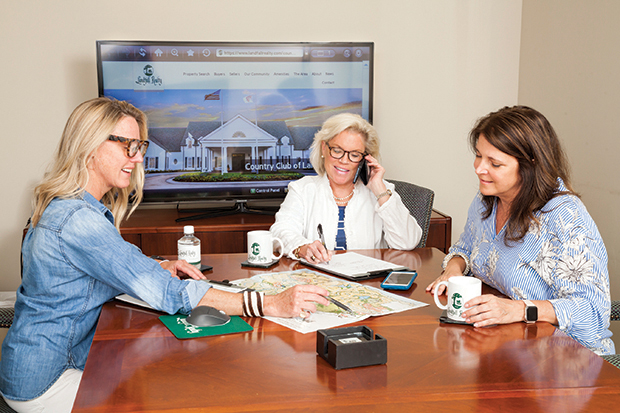 "The most glaring result of COVID-19 is that this pandemic has required people to work from home, and in doing so, it became clear that people can work from their home offices anywhere," Thompson said. "Since that is the case, people have been flocking to Wilmington, where the climate, beaches and Southern hospitality offer a superlative quality of life."

Selling homes, however, is only part of the equation. Because of Landfall Realty is a small organization, agents often become friends with their clients and help new Landfall residents connect with others in the community.

Fred and Barb Hickman knew very little about Wilmington in 2017 when they were trying to decide where to move. They made the trip from Pennsylvania to spend a week in the area and heard about Landfall Realty from the gate attendant at the community.

"We literally just drove up and walked into the office," Barb Hickman said. "They invited us to play golf and have lunch to get a feel for Landfall. We just immediately felt they were very welcoming and informative, and they made it easy, especially because we were from out of the area."

The Hickmans, who decided to build, completed their Landfall home in June 2019 and credit Landfall Realty with making the process a smooth one.

While Landfall Realty will always focus primarily on Landfall, the sales team now does business outside of the community and is seeking to expand its reach across New Hanover County. As a result, Landfall Realty plans to grow its sales team within the next six months. The company had an extremely successful 2020 and is looking forward to another robust year.

"Currently, Landfall Realty is listing and selling properties outside of Landfall," Spivey said. "In March, we hit an all-time low number of 26 active listings in the neighborhood. Since the inception of Landfall Realty, we have sold exclusively the Landfall community. Due to the very low inventory and with careful consideration, we made the decision to list and sell properties in Wilmington and the surrounding Landfall area; however, all of our agents will continue to be the Landfall specialists. We look forward to serving this beautiful area that we have all called home for many years."

Landfall Realty, 1720 Drysdale Drive, Wilmington, NC, 910-256-6111, landfallrealty.com