Best Breakfasts
05 Sep 2014
Wake up hungry? You're in luck. Port City chefs serve the best meal of the day in many delicious ways. From basic bacon and eggs to triple chili cheeseburgers, there's a breakfast or brunch to serve every taste in town. Here are some of our favorites.
By Liz Biro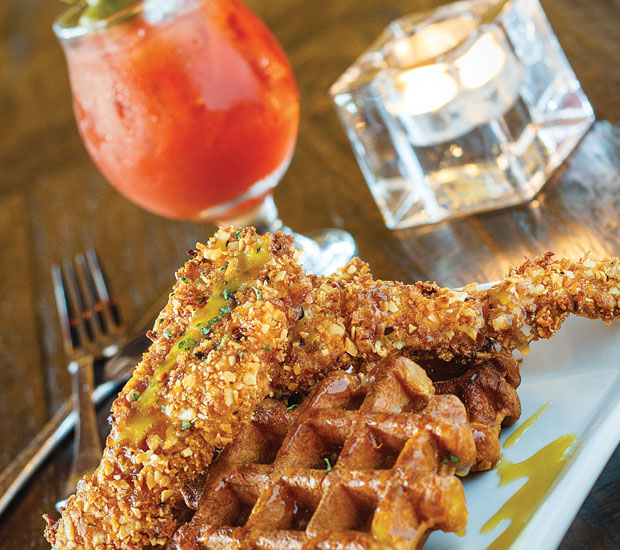 White Front Breakfast House
1518 Market St., Wilmington NC
910-762-5672
Welcome to the past. This little white rectangle of a diner with its signature green awning is as no-frills as old-school gets. Booths stripe the long, horizontal window on one side of the dining room, and a counter lines the other side. Frank-yet-friendly waitresses serve just what the slogan on the menu says: "Delicious comfort food at its best for less." Warm, fluffy biscuits are perfect with sausage gravy, but they're pretty darn good as sausage sandwiches, too. Smoked sausage, corned beef hash and a N.Y. strip are among choices with eggs cooked-to-order. Insider tip: Waitresses don't mind special orders; they'll put peanut butter on your French toast and lemonade in your iced tea. Did you know? Anthony Hopkins ate here. Sometimes celebrities filming in and around Wilmington pop in for bite. Don't miss: A bag of biscuits to go. Call ahead, or sip a coffee while you wait.
Dixie Grill
116 Market St., Wilmington NC
910-762-7280
thedixiegrillwilmington.wordpress.com
The open kitchen sings at breakfast. Sizzle! Ping! Pop! Ding! Order up! Cooks dance from griddle to grill. Customers wait at the door and on the sidewalk for turns with eggs, bacon, pancakes, shrimp and grits, a sausage burger all the way. Booths tend to stay full. Counter stools spin on one diner after another. Yet, cooks still take time to mix and bake fresh biscuits: big, golden rounds begging for butter and jam. What to drink: Beer, mimosas, Blood Marys. All are available at the full bar. Don't miss: A booth seat by the kitchen. Watching short-order cooks in action is fun! While you wait: Check out Jacob's Run, an underground tunnel that crosses beneath Dixie. Legend says Patriot soldiers and the Underground Railroad may have used this hidden pathway.
Sweet & Savory Café
1611 Pavilion Pl., Wilmington NC
910-256-0115
sweetnsavorycafe.com
This lively restaurant is close to Wrightsville Beach. Maybe that's why the menu lists so many easy grab-and-go breakfast sandwiches—16 of them in all. Flanagan's Surprise stacks sausage, sautéed onions, mushrooms, scrambled eggs and Swiss cheese on toasted, three-cheese semolina bread. Skinny Morning brings turkey sausage, scrambled egg whites, avocado, tomato and spinach together on multi-grain toast. Benedicts, omelets, and classic egg breakfasts round out the menu. The bakery, in full view of the dining room, sends out croissants, cobblers, apple tarts, cookies, fresh bread and more. What to drink: Consider some bubbly. The restaurant also has an impressive wine list. Did you know? Sweet & Savory changes its menu regularly. Keep a lookout for new dishes each quarter. Don't miss: The Pub at Sweet & Savory is right next door and features a weekend breakfast buffet.
Jimbo's
1529 S. College Road, Wilmington NC
910-799-2211
Since opening this diner in 1977, the Patsalos family has served from-scratch, home-style meals made by devoted cooks like Vicki and Barbara. The women have been in the kitchen almost since the beginning. Décor may change as time wears the floor, but the menu remains delightfully the same. Eggs any way you like, biscuits and gravy, and the Greek omelet are just a few favorites. Quick, happy waitresses maneuver trays full of steaming plates between chatty patrons filling nearly every seat. What to drink: Coffee in heavy ceramic vintage cups on saucers. Save room for: Homemade pie and cake. Who says you can't have dessert at breakfast? While you wait: Say hello to the Patsalos family. They're usually working the counter and cash register.
Bon Appetit
3704 Carolina Beach Rd., Wilmington NC
910-796-0520
bonappetitwilmington.com
Chef/owner Gene Costa's kitchen skills are well known. In fact, Bon Appetit supplied the food for actor Robert DeNiro's 50th birthday party. Despite having friends in high places, you can still find a $1.99 breakfast sandwich special here, where breakfast platters provide all-day fuel. Grilled garlic-infused chicken sausage, crispy turkey bacon, half an avocado, sautéed fresh spinach, caramelized onions, mozzarella and parmesan fatten the three-egg Frisco Bay Chicken Omelet. Or try a giant, Belgian waffle with pecans, bananas, chocolate chips, peanut butter and whipped cream. After that, two eggs with bacon, hash browns and toast might seem like a snack. Did you know? Bon Appetit is a full-service catering company that will bring its breakfast and other menu items to you. Insider tip: Double-check your GPS. Bon Appetit is in the northwestern section of Carolina Beach Rd., between College Road and Shipyard Boulevard. While you wait: Costa was a third-generation owner of a landmark Big Apple restaurant that New York City leaders recognized with a special proclamation. The document hangs in the Bon Appetit dining room.
Causeway Café
114 Causeway Dr., Wrightsville Beach NC
910-256-3730
causewaycafewb.com
Yes, there's a line on the weekends, but breakfast is worth the wait. Giant malted Belgian waffles, thick Texas toast French toast, and a blue crab omelet with hollandaise and mozzarella cheese keep hungry crowds returning. They also come for the friendly atmosphere. Causeway has been a local institution for more than two decades; tourists and locals alike love the place. As the Causeway website says of the restaurant, "Long-term customers consider it 'home.'" While you wait: Ask for coffee. Servers are happy to fill your cup while you wait for a table. Did you know? During World War II, Wilmington's waterfront was dominated with "Liberty" ship construction. The cargo vessels carried wartime gear to Europe. A ship's telegraph and binnacle are on display here. Don't miss: Fried, grilled, or barbecued pork chops, available alongside eggs, grits or hash browns and fresh tomatoes.
Our Crepes and More
3810 Oleander Dr., Wilmington NC
910-395-0077
ourcrepesandmore.com
Jacqueline Rey and her family turn out authentic French crepes at this fuss-free shop far from Paris. No matter the distance, the thin pancakes are très bon. Sweet crepe fillings range from nothing but honey to Nutella and fresh strawberries. The signature New Orleans crepe enrobes cinnamon apple pie filling, glazed walnuts and caramel sauce, all topped with vanilla ice cream. The Morning Crepe holds eggs, bacon, sausage, cheese, tomatoes and remoulade. Save room for: What else? Croissants. The flaky, buttery delights come filled with chocolate; raspberry; ham, bacon or sausage with cheese; or ham, Brie, strawberries and walnuts. While you wait: Watch the crepe maker at work. Cooks work in a semi-open kitchen. You'll marvel at how quick their hands work the paper-thin batter. Did you know? Vegan and dairy- and gluten-free crepes are available.
Jester's Café
607 Castle St., Wilmington NC
910-763-6555
jesterscafe.com
Breakfast and brunch are the dominant meals of the day at this cozy little cottage. The kitchen is famous for quiche, but diners may also choose lox and bagels; French toast casserole with berries and maple syrup; and a breakfast strata layered with eggs, sausage, cheese, and hash browns. Seven different breakfast sandwiches include the basic egg and cheese on a choice of bread, and tomato, avocado and provolone on a bagel. Try to score a porch seat, a delightful place to sip coffee and read the paper. Did you know? Jester's serves brunch all day on Saturday and Sunday. Insider tip: The vegetarian Black Bean Benedict features baked eggs atop housemade black bean patties instead of Canadian bacon. Avocado, diced tomatoes, and chipotle hollandaise finish the dish. When to go: Early on weekends. Jester's fills up quickly.
Nick's Diner
127 N. Front St., Wilmington NC
910-341-7655
Vegans and vegetarians, rejoice! The classic, diner-style bacon-and-eggs breakfast goes meatless here – and it tastes really good. Order the scrambled tofu, hash browns, and meatless bacon or sausage on a platter, or in a wrap or skillet with sautéed peppers, onions, mushrooms and tomatoes. Omelets suit vegetarians who eat eggs and cheese. And don't worry, meat lovers. This hip, artsy diner has plenty of options for you, too. The morning list includes many omelets, skillets, pancakes, French toast, and biscuits. Breakfast is served all day, and a full bar means you can sip a Screwdriver with your sunny-side-ups. Insider tip: Nick's Diner has a front and back patio. People watching is fun out front, while coffee can be enjoyed quietly out back. While you wait: Check out art covering exposed brick walls and tabletops. Much of it depicts comic heroes and cartoon characters that were painted by the diner's owner, Harry Pallas. Don't miss: The Ohio City Burger at brunch. The hand-pattied burger is topped with ham, bacon, sausage, and a fried egg.
The Basics
319 N. Front St., Wilmington NC
910-343-1050
thebasicswilmington.com
A little Southern, a little gourmet, and a little rock and roll season this off-the-beaten-path restaurant on downtown's north end. Lettuce, tomato, and homemade mayonnaise come on the fried chicken biscuit. Blueberry oatmeal pancakes get maple syrup and walnut butter. Sunday brunch specialties feature crab cakes Eggs Benedict and shrimp and grits with green tomato bacon gravy. Rock and roll show posters decorate exposed brick walls in two dining rooms, one with a full bar and the other with a view of the open kitchen. Insider tip: Listen closely to the soundtrack. The Basics owners spend a lot of time selecting cool tunes. If you hear something unfamiliar that you like, ask about the artist. Did you know? The Basics is in the Cotton Exchange, which in the early 1900s hosted one of the largest and busiest cotton export companies in the world. What to drink: A Blueberry Fizz, which blends vodka, champagne and blueberry/lavender simple syrup and is served over ice.
Hot Pink Cake Stand
5543 Carolina Beach Rd. Suite 140, Wilmington NC
910-799-9119
hotpinkcakestand.com
Cupcakes are the signature treats at this bakery's downtown location. Brunch takes center stage on Sunday at the shop's mid-town address at the Monkey Junction crossroads of College and Carolina Beach Roads. A creative menu debuts each week and features local foods. Hometown sausage might join eggs in a taco with cucumber pico. Apple, bacon and Brussels sprout hash comes with a sunny-side up egg. Toast is as stylish as the polished, urbanesque atmosphere. Butter is available, but there's also crushed avocado and real boudin. What to drink: The michelada, a Mexican chili- and lime-spiked beer cocktail served on the rocks. Save room for: A French Toast Cupcake when it's on the menu. Twice-baked, buttery, vanilla cake is topped with silky, maple Swiss meringue frosting and two slices of crisp bacon. Did you know? Hot Pink crafts custom cakes, including the cake that appeared in the wedding reception scene on the premiere episode of the ABC television show "Revenge."
Boca Bay
2025 Eastwood Rd., Wilmington NC
910-256-1887
bocabayrestaurant.com
Sunday brunch is a local institution. Doors open at 9 a.m., but savvy diners know to arrive early or nearer to the 2 p.m. end-time, otherwise the wait may be long (especially when summer visitors are in town). Hordes can't resist housemade pastries, made-to-order omelets, lox and bagels, biscuits and gravy, and Belgian waffles. All the classics are served buffet-style in a beachy-chic atmosphere. Big windows, slow-turning ceiling fans and a palm-lined patio take you away. Don't miss: Cheese blintzes, thin pancakes wrapped around a rich, cream cheese filling. Save room for: So many sweet things. If you like dessert for breakfast, Boca Bay brunch is the place to go for pastries. While you wait: Ask to see the Sunday-Thursday prixe fixe dinner menu. The salad/entrée/dessert special is just $24.95. Selections include crab cakes and hanger steak in shallot port wine sauce.
The Original Salt Works
6301 Oleander Dr., Wilmington NC
910-350-0018
The dining room is nothing fancy, and breakfast is the usual: bacon and eggs to order, grits, hash browns, pancakes, French toast. Still, this little spot has been in business for more than 40 years. Everyone stops here: cops, construction workers, grandmothers, candidates, kids. Perhaps the wood paneling reminds them of home. Combine reliable food (always cooked just right) and the everyone-is-family atmosphere, and Salt Works truly is home. Did you know? Producing salt from ocean water was a multi-million dollar business in the mid-1800s in New Hanover County. The process inspired the restaurant's name. Don't miss: The fried bologna sandwich. Salt Works is famous for this simple stack. Best bargain: Everything on the menu. Expect to get out for $10 or less.
Rx Restaurant
421 Castle St., Wilmington NC
910-399-3080
rxwilmington.com
Since arriving on the scene just two years ago, Rx has become a Wilmington hot-spot, and Sunday brunch is a big reason why. Chefs apply the restaurant's local foods, Southern-favorites philosophy to the likes of crispy pork belly and a poached egg atop stone-ground cheddar grits; corn, chevre, fresh herbs and caramelized onion inside a plump omelet; and apple cinnamon pancakes with fig butter. The menu changes each Sunday, but you can get an idea of what might be on the list at Rx's website, which catalogs each day's offerings. Did you know? Rx's sister restaurant, Pembroke's (The Forum shopping center, 1125 Military Cutoff Rd.) also serves Sunday brunch. What to drink: The Crab Apple with Bulleit bourbon, Rx honey syrup, ginger beer and a splash of bitters. Don't miss: The Southern staple: biscuits. Rx makes them from scratch and serves them in a small cast-iron kettle.
The Olive Café & Wine Bar
The Forum shopping center, 1125 Military Cutoff Rd., Wilmington NC
910-679-4772
olivecafenc.com
A slice of the pastry chef's four-layer pistachio cardamom cake with oh-so-creamy frosting is a decadent brunch, for sure. The pastry case is full of delicious things, some homey, some elegant. The trend carries to the Sunday brunch menu served with live jazz. You might find spinach, tomato and pancetta quiche; cheddar chive biscuits with bacon gravy; or a Croque Madame sandwich with ham, an egg and gruyere cheese on an English muffin, all under warm Mornay sauce. The café with Paris flair is famous for its huge selection of cheese and cured meats, which are lovely on a platter with fresh fruit or tucked inside a very grown-up grilled cheese. What to drink: The wine bar has huge list of prime labels. Bubbly is especially popular at brunch. While you wait: Step over to Taste the Olive, the attached gourmet emporium where you may sample numerous olive oils and balsamic vinegars. Insider tip: Ask about special events. The café and store host classes and special tastings, including a free wine tasting from 6 to 8 p.m. every Friday.