Family Affair
12 Jul 2014
A staple in the boating community, the Floyd family expands Atlantic Marine to a new showroom facility
By CECE NUNN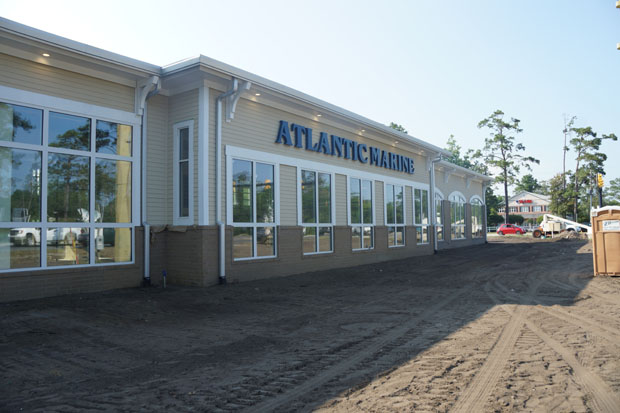 Jordan Davis spends a lot of time in and around boats, something he's done since he was a child growing up in Wilmington.
"When I was born, my parents had a boat that was purchased here," said Davis, referring to Atlantic Marine, where he works as the business manager. "I grew up always on boats that came from here and were serviced here."
These days, Davis has been helping with the launch of Atlantic Marine's new showroom at 6014 Wrightsville Avenue. Before the showroom, the business, owned by the Floyd family and started in 1976, was located for the most part on Keel Avenue in Wrightsville Beach. The company also has a large longer term dry storage building near Wilmington International Airport. But its new 9,300-square-foot sales facility, where new boats will be displayed and available for purchase, gives Atlantic Marine a major presence on the mainland.
"We kept seeing growth in our new boat sales, and that we were running out of space here in order to accommodate our customers," Davis said from his office on Keel Avenue. Davis and the rest of the company's sales team will move to offices at the new showroom. "It will put us in a place where we obtain some visibility. I think that a huge portion of our customer base drives by that location daily or multiple times a day."
Atlantic Marine is selling Grady-White and Chris Craft boats at the new dealership, with a grand opening celebration planned for July 19.
"Grady-White builds a boat that is extremely popular with the family boating lifestyle right now," Davis said, adding that Atlantic Marine has won customer service awards from Grady-White. "We want to sell a different lifestyle of boating, and Grady-White allows us to accommodate that with the product that they build. And the most popular product is called the Freedom Series."
The boats still come equipped with fishing features, such as rod holders and wells for bait, but they also have additional seating.
"The entire family goes boating rather than just Dad," Davis said.
Atlantic Marine's customers include locals as well as homeowners who live elsewhere most of the time.
"We have a tremendous amount of customers who live away from here, in Raleigh, Charlotte, Durham, Greensboro, and those customers depend on us even more because they're not here to tend to their boats or see them every day," Davis said.
The founders of the business started out by offering boat repairs. These days, Atlantic Marine is a Yamaha dealer.
"We can service most anything, but we are a Yamaha dealer so that's the heart of our marine service business," Davis said.
The business has 200 dry slips at its Wrightsville Beach location, with a waiting list for certain sizes, especially boats that are more than 20-feet long.
The need for more dry slips at Wrightsville Beach was one of the reasons Eugene Floyd and Mike Merritt started Atlantic Marine about 38 years ago.
"They had a mutual love for the boating business," said David Floyd, who runs Atlantic Marine with his brother, Chris Floyd, and his sister, Donna Floyd. "It was a passion."
Today, Atlantic Marine is owned solely by the Floyd family. A current trend in boating in general is to involve the whole family, Davis said.
"It's something they can do together, and I think those activities are becoming more and more difficult to find," he said. 910-256-9911, atlanticmarinesales.com