Hot off the fashion press and onto the streets of Wilmington, local boutiques are showcasing the fashion essentials for the season
PHOTOGRAPHER: Mira Adwell FASHION STYLIST/EDITOR: Kristin Wood STYLIST ASSISTANT: Bonny Allison MODEL: Rachael Hart HAIR AND MAKEUP: Amy Kennison LOCATION: Cameron Art Museum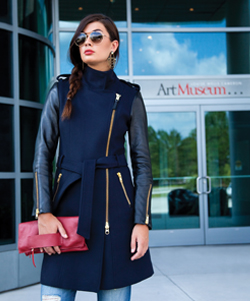 Cooler nights ultimately call for some serious warmth, and this ultra chic wool selection with its bright brass zipper and mock neck design will do just that. To add some fashion-forward contrast to its formal appeal, complement it with a pair of worn-in boyfriend jeans and a simple clutch and… voila! This gorgeous investment piece is worth its weight in gold.
Mother 'The Loosey' denim, $196; Mackage Dale wool coat, $730; Kopious Jewelry Klutch, $220, all at Oliver.
---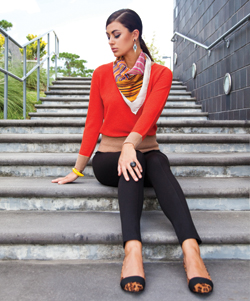 The vibrant and bold colors seen everywhere this season are adding a bit more sun to the shorter days ahead.
Kerisma 'Asa' top, $64; IT Collective black-legging pant, $78; yellow bangle, $24; black cocktail ring, $15; Chinese Laundry 'Sinclair Leopard' flat, $48; black/teal gemstone earrings, $24, all at Lula Balou. The Wonder Shop Glentey scarf, $15.
---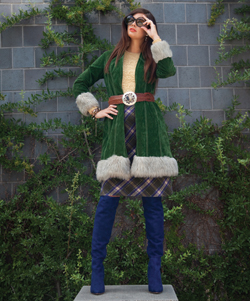 The Shearling coat, in all colors, shapes and sizes, is a true fashion must-have this fall. Paired with the textures, patterns, and styles of 60s vintage, it offers a vogue statement that elegantly ushers in autumn.
Green suede faux-fur coat, $95; Vertical Paris body suit, $32; vintage wool skirt, $36; Moroccan woven belt, $45; earrings, $19; glasses, $20, all from The Wonder Shop. Joie 'Olivia' boots, $575, from Monkees.
---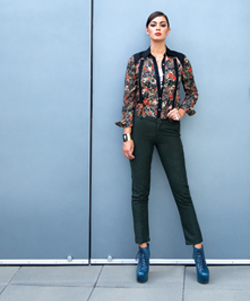 Looking for a smart way to bring some creative style into your everyday autumn look? Then these cropped tweed suspenders, when worn with a loose-fit, simple tee (or a form-fitting one to highlight your feminine figure) will do just the trick.
Vans, 'Sea Spray' top, $48; Knot Sisters 'Big Sur' pants, $94; EOU Missing Pieces Collection/Jeffrey Campbell 'Lita' boots, $40, all from Edge of Urge. Kopious Jewelry Crystal Duster ring, $90; Kopious Jewelry Solar Crystal necklace, $78; Kopious Jewelry Solar Arrowhead cuff, $55, all from edgeofurge.com.
---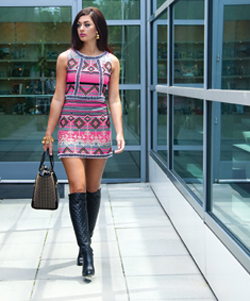 Straight off the runways and onto the street! Designers like Tom Ford and Dior make splashes of brilliant pink combined with a mod look HOT for the cooler days of fall.
'Milly' dress, $525; Ted Baker 'Marion' tote, $595; Stuart Weitzman 'Stitches' boots, $645; Jimmy Choo 'Beatrix' sunglasses, $364; Chanel bracelet, $2,250; Chanel earrings, $895, all from Monkees.
---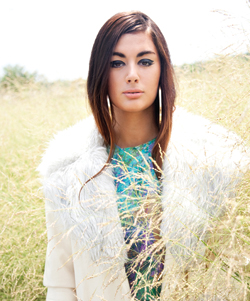 Who says you can't keep your summer hues stylish for fall? A cool color combination of teal, light blues, and greens, when paired with a great faux-fur collared coat, will keep your coastal closet current.
Vintage faux fur coat, $95; 'Scenery' maxi dress, $165; booties, $45, all from The Wonder Shop. 'Not-so-classic' hoop earrings, $5, from Edge of Urge.