A Forever Home on Futch Creek
11 Sep 2014
Inspired by French style and the Cape Fear coast, Scott Sullivan designed a classic waterfront home with views for miles
By David Howell
Photos by G. Frank Hart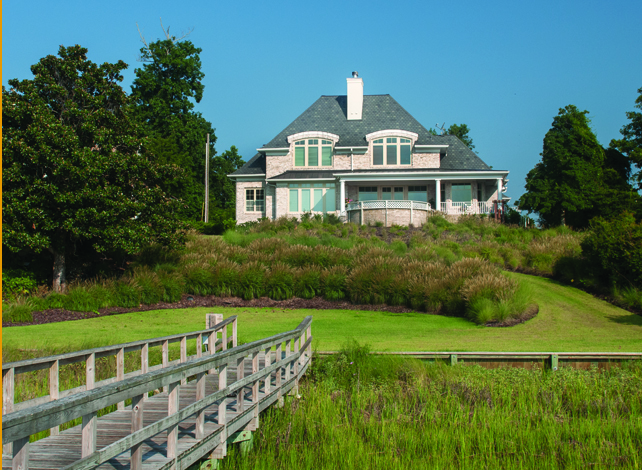 If you ask folks who grew up here in Wilmington, they will tell you that in the 1950s, no one wanted to live on the water full time. They all wanted to have their primary residence closer to downtown and go to their beaches cottages to swim, play, fish, and relax on the weekends. There weren't nearly as many houses on Wrightsville and other area beaches as there are today, and they certainly weren't as immaculate.
What this means is that Wilmington home design is kind of compartmentalized and unique. If you drive around town and explore different neighborhoods, you start to find these little pockets of time. The older historic homes in this area date back to 19th Century, but there are clearly identifiable neighborhoods where houses align with a specific decade in both architecture and design. Ranch-style homes, cottages, split-levels, large brick homes… they're spread far and wide and grouped mostly together. These neighborhoods are also fairly time-sensitive, so to speak, but there are a few waterfront areas where you can catch a glance of Wilmington home design from the 1950s until today. These streets are few and they are in the midst of a beautiful transition… a sort of fossil record for desirable dwellings on the water.
One such street is Bald Eagle Lane, where local residential designer Scott Sullivan, of Sullivan Design Co., adds one of his many contributions to Wilmington and Wrightsville Beach's coastal history with a French-style home that lies just north of the city, bordering the shores of Futch Creek and the Intracoastal Waterway.
I had the opportunity to visit one of Scott's designs on Bald Eagle Lane, where water, sky, and the expanse that is the coastal Cape Fear region offer up their most unique views. Neither the property nor the house overreach the original intentions of the homeowners or Scott's vision. That is, the natural landscape and the water are the focal points, and it's clear from the design and orientation of the house at the end of the street that beauty was at the pinnacle of the homeowner's wish list. The house is meant to complement to land and sea and does so—spectacularly.
"I draw inspiration from classic residential architecture," says Sullivan. "There is beauty in a well-proportioned home and my goal is to invoke that feeling in my designs."
Like several of the houses still standing on along Bald Eagle, Sullivan's design was once a small 1960s ranch-style home that the homeowners removed so Scott could build what would be their dream home, their retirement home, their forever home. For these types of projects, everything has to be perfect.
"Originally," Sullivan continues, "the homeowners wanted an upscale coastal vernacular with the cedar shakes, the white trim with classic shutters and so on." That is, the new style of beach home that harkens back to old movies or watercolors—a potentially simple home design with high angles standing lazily on wooden posts, its windows open year round so that perfect blend of salty ocean breeze and cool evening air sifts through—but not as recent on the timeline as Sullivan was thinking. Like other great designers, he knew his clients beyond their wish list, understood their personalities, and made another suggestion.
"During our first meeting," Sullivan said, "I told them about a French-inspired home I designed off Airlie road that they should see as an example of my work. They visited the home and changed their direction."
The home was to have a formal street facade, and as he had suggested, it was to be French-inspired. "The water elevation needed to be perceived as an extension of the interior living space," he explains. And this meant the entire living space. The downstairs living room, the dining room and kitchen, the master bedroom and upstairs office have large windows that each offer an uninterrupted view.
From each of the massive windows, you can look out to where Futch Creek connects to the Intracoastal Waterway and passes north of Figure Eight Island into the Atlantic. These same views also offer a long and inspiring view of undeveloped spoil islands and Lee Island with its white dunes and tall grasses. All of these natural wonders come together to form Rich Inlet, making the environment behind the property a true ecotone—two communities meeting and integrating to form a unique environment.
Regarding the views, Sullivan adds, "I simply played off of that in the design by creating clean and simple site lines and framing them with those large windows and doors. The rear porch has a lower terrace with the added bonus of a fire pit. Also, by dropping the terrace, no handrails were required on the upper porch, which allowed for even more unobstructed views."
The outside porches allow one to fully embrace and appreciate this space. Sullivan designed a large covered porch facing the water, along with a grilling porch that was very important to the homeowners.
"The interior and the exterior was to be functional and beautiful. There was a requirement for a guest suite, which was located over the garage, and a second guest suite on the first floor. They wanted a home they could spend the rest of their lives in, a place to rest between their travels, entertain friends and family, and to truly be comfortable."
In the 4,300-square-foot home, Sullivan utilized a coffered ceiling in the living room in order to give the living a structured yet classical look. He also used trey ceilings in the dining and master suite to inspire a sense of elegance and space. A large paneled, arched opening frames the kitchen from the living room, which gives the entirety of the first floor living space a breadth of air that is both inviting and spacious, but not entirely open.
An admitted multi-tasker, one of the homeowners wanted her office and studio to be off the beaten path from the rest of the home for privacy and quiet, but within reach of all her daily needs. "The studio is a workspace with built-in cabinets and laundry equipment hidden behind a pair of doors, for simplicity and ease of access, but they are not a distraction," Sullivan says.
The homeowners had several large antique pieces they wanted set into alcoves, so Sullivan employed the use of arched dormers that created interesting ceilings on the upper floor, and the perfect space for the antique furnishings. "They truly have a space that was built specifically to their needs."
When asked how his architectural design played to and incorporated property location and the rarity of streets that are gradually coming of age, Sullivan says the uniqueness of the street and the area drove the design from start to finish. The house is unlike others on Bald Eagle. It incorporates the history of a French-style home while possessing the elegance of modernity you see in brand new neighborhoods today. It stands out as something new and different among its neighboring homes, some of which were built in the 80s or 90s, but it also compliments the entire area as a home of classical design origins with an acute sense of today's architectural innovations.