Epic Food Co.
11 Sep 2014
1113-F Military Cutoff Road, 910-679-4216. epicfoodco.com
By BRIDGET CALLAHAN » Photos by JAMES STEFIUK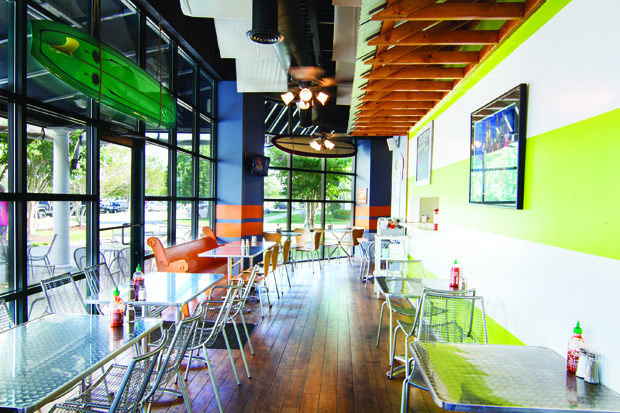 Nestled in a corner of The Forum shopping center, Epic Food Co. is positioned almost metaphorically between Wrightsville Beach and the upscale mall area of Mayfaire. From their clean and simple patio, you can smell the ocean wind from the left, and from the right, the smell of warm melted cheese from the mall. In a town that is struggling to decide its identity in the face of booming tourist growth, Epic represents native Wilmington — a locally owned business that has adapted to fit its market while staying true to the healthy, beach-colored vision of its surfer-creator.
James Bain grew up with the beach. He spent his childhood in Wilmington cooking at restaurants and saving up for surf trips. His love of cooking, however, was founded in Charleston, where he attended culinary school and was inspired by the restaurant scene. Coming back home in 1995, his first venture here was the fondly remembered Harvest Moon restaurant. Harvest Moon was upscale and Southern — definitely fine dining — but with an emphasis on locally sourced, seasonal ingredients. After ten good years, Bain found himself wanting a little less stress and a little more time to spend with the family he was starting with his wife Christie, so he closed Harvest Moon, but never left the food business. Instead, he moved into other avenues like consulting and retailing his own line of seasonal finishing salts.
"What I was seeing in those consulting jobs was that every other order would come back with requests — sauce on the side, gluten-free, no onions, allergic to this, allergic to that. I thought, "Why can't you have a place where you can have it just the way you want it?" Bain says. While his sentiment might echo the tagline of a certain fast food chain, it's there that the similarities end.
Epic Food Co. is what you might call the ideal fast food — quick, sure, and easy. But there are no mysterious vats of bubbling oil or microwave heat lamps here. Instead, Bain's kitchen relies on the freshness of its ingredients. Bain believes that a kitchen should be an open book and that detailed, skillful prep-work can transform the simplest vegetables. The atmosphere of Epic certainly reflects this; the tables are simple, brushed steel, each with their own big bottle of sriracha. Big windows and happy colors make the space feel casual and clean.
"People say 'healthy,' and they think of something really weird, something that tastes funny, or something with no taste at all. My philosophy has always been about bright flavors and honest ingredients. That's the key to what we are. As a chef, bright flavors mean to me citrus, lemons and limes, good quality vinegars, fresh herbs... good fats, like olive oil, coconut oil, sesame oil. Our ingredients are not really manipulated much, just like at our fine dining place. It's the same prep techniques, just streamlined for a quicker service restaurant," Bain says, with a true chef's sincerity in his voice.
The menu reflects Bain's sincerity and his commitment to simple ingredients prepared well. Customers can choose one of numerous pre-designed noodle bowls, rice bowls, wraps, or flatbreads. These include such tempting choices as the Zing-E Flatbread with roasted peppers, cilantro, grilled scallions, spinach, ginger, and your choice of protein, or the Gluten-free Noodle Bowl with bean sprouts, tomatoes, rice noodles, and pickled radishes and cucumbers. You can also build your own creation. With a whole menu of options such as beets, edamame, smoky black beans, and green apple pickles, you could conceivably make up something new every time you visit. Dinner options include a daily salmon special and a half chicken offered several ways, with sides like quinoa salad, roasted sweet potatoes with oat crumble, and Brussels sprouts served with beets and goat cheese.
To some, half the words in the above paragraph might sound like a foreign language. But bringing new people into the healthy eating fold is half the fun for Bain.
"I love anything, as long as it's good, from a cheeseburger to seafood. I love it all. But day-in and day-out, I love to eat the food here. What's really cool is we have college kids who come here to work in the kitchen, and they're on the fast food diet. We feed the staff for free, and after a couple of weeks, they tell me "I can't eat fast food anymore."' Bain says.
The public has been responding. While their clientele started off being more of the younger, active crowd, they have recently seen a surge in the older, retiree crowd. Old and young alike, the trend of better eating is taking over. Epic recently expanded its dining room to keep pace with the burgeoning lunch crowd, adding an extra register and opening earlier, offering more breakfast items as well as smoothies and espresso.
If this kind of success continues, Bain has dreams of possibly opening other locations. But for now, he's happy that he's found a way to fit his love of food with a schedule that gives him more flexibility and more time to spend with his three boys. He spends his free time surfing with the kids, taking them to soccer games, and organizing the Carolina Cup, the East Coast's largest stand-up paddleboard race, which takes place at Wrightsville Beach each year. No wonder he's into eating well. There's no slowing down in Bain's world.
"It's real food. A lot of work goes into it. You've got to put the time into it," he says, his eyes sparkling. As with food, so with life. For Bain, the two are inseparable.