Beyond the Box
05 Jan 2021
Local artist Dick Roberts enhances the world of the arts on a local and global level

By KIM HENRY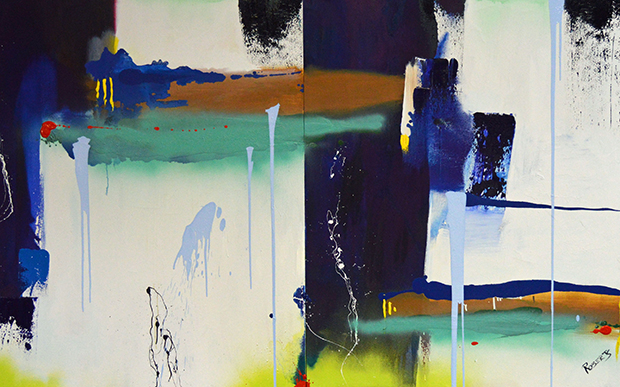 Some artists walk a pretty solo path. They work in their studio, sell their creations, and their impact upon their local community is not particularly noticeable. For others, their creativity spills over and in one way or another, affects those around them. This is certainly true of Wilmington local Dick Roberts, whose life long relationship with abstract art led him to be a co-founder of Wilmington's most beloved art studio and to pioneering a residency program for both local and international artists.

It began in the beautiful mountains of Brevard, NC where Roberts grew up. Attributing the landscape to being one of his earliest inspirations, Roberts smiles as he recalls his first connection with art, "When I was about 12 years old, my parents bought me a paint by numbers set. I just took it outside and painted the mountains behind our house, and they told me I'd ruined the present!" Fast track a few decades and Roberts' style couldn't be more opposite to painting by numbers, as his bold, abstract compositions reveal. More of a vivid exploration of color relationships, shapes and textures, Roberts says that his work is as much about the process of painting as it is about the final product. And he's definitely not following any numbers.

After studying Marine Biology at the University of Miami and Creative Writing at UNC Charlotte, Roberts finally did a BFA in Ceramics and Painting at Western Carolina University. Managing to combine all of his passions, Roberts landed a job as the Curator of Exhibits and Design at the Fort Fisher Aquarium in 1982, which is how he arrived in Wilmington. Wanting to check out Wilmington's art scene, Roberts joined a life drawing class on Castle Street where he met the artists he would eventually open ACME Art Studios with a decade later.

Occupying the same corner of ACME for the last 26 years, Roberts has been integral to the prolific creative life of the studio. ACME is a complex of working studios housing up to 22 artists and hosting regular exhibits covering a multitude of genres including; sculpting, graphic art, photography, paper making and installation art. "We all needed somewhere to work that was safe and affordable, so we bought this old warehouse together as a for-profit rather than a non-profit to ensure that we would not be beholden to any single donator or company. Our creative freedom is essential," explains Roberts.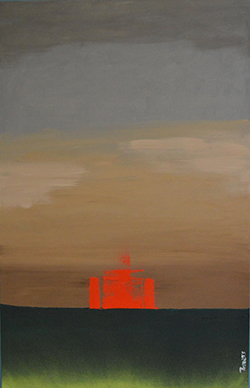 The walls of the studio are currently lined with his latest exhibit, which is both a virtual and 'by appointment only' event. In collaboration with local gallery, Art in Bloom, "Tributaries of Abstraction" will run through to the end of January 2021. Armed with his brushes, a sheet rock trowel, spray paint and a vast array of oil paints, "the paintings are a reflection of the process of painting them. Every process is unique. The magic of painting can never be totally explained. I find joy in discovering the emerging world of a new painting," explains Roberts.

In addition to countless other exhibits and artistic accomplishments, Roberts is also the co-founder of the now annual event, No Boundaries International Art Colony. Inspired by attending artists' residencies at a monastery nestled in the mountains of Macedonia, No Boundaries was established on Bald Head Island in 1998. Creating a cross-cultural dialogue and exchange of ideas between local and international artists, the rich natural setting for the colony is at the heart of the program. "There was magic in the link between the island and the colony," smiles Roberts, "Our guest artists were stunned by the wild and secluded natural setting, and even local artists felt like they had arrived at a primordial forest by the sea."

The fruits of the colony are exhibited at ACME Studios, among many other gallery and museum spaces across the state. In recent years No Boundaries has also collaborated with Dreams, a local non-profit serving youth in-need with a wide range of art programs, reaching out to the next generation of artists and providing them with an unforgettable artistic experience.

While Roberts' abstract creations have a very personal feel to their process, this innovative artist has clearly reached way beyond his creative bubble to enhance the world of arts on both a local and global level. His unique artistic expression is perhaps a reflection of his own way of feeding the art community, increasing access to other artists and experiences, and advocating for freedom within their own work.