Biggers is Getting Better
04 Sep 2023
A local favorite, and partner to some 80 local farmers and artisans, Biggers Market's expansion is welcomed news
By Vera Wilson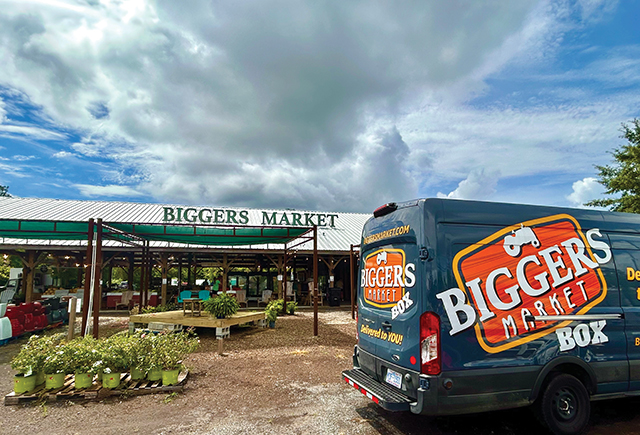 Once upon a time, there were two college students who graduated during a recession. Instead of trying to find "real" jobs in a brutal economy, they decided to start a retail produce business since both had worked at a produce market during college.
"With our experience, we thought we knew what we were doing," says cofounder and current co-owner Sven Wallin, "but it took a long time to figure out."
But figure it out, they did. Since the summer of 2010, Biggers Market has become a permanent fixture in Wilmington with two locations—the open-air shop on Market Street and the other on Carolina Beach Road.
When their lease couldn't be renewed at the original location on Market Street, they took the opportunity to move to a larger space a few blocks away.
The move also inspired a name change from the generic Port City Produce to Biggers Market. Biggers is a family name on Wallin's mother's side—the family started their own produce business in the 1940s by hauling citrus fruit up from Florida and selling it on the roadside. It grew into a successful wholesale business that was eventually sold to a large food service corporation. Although Wallin wasn't around to be a part of their business, it seemed fitting to revive the name.
Besides the usual plethora of fresh fruits, vegetables and other local favorites like locally produced honey, meats, breads, dairy and jarred products like pickles, the additional capacity allowed them to offer specialty handcrafted goods like Adirondack furniture made in Amish Country Pennsylvania and their garden pottery with a specialized glaze.
In addition to growing physically, the owners wanted to create a welcoming vibe and sense of community.
"The goal was to make it a little bit of a more unique shopping experience rather than just hitting the grocery store and being done," explains Wallin.
To that end, Biggers started having live music during weekends during the summer months. Located on the outskirts of a neighborhood, the music is on the low-key side, like a single guitar player or small bluegrass band, and the music ends at a respectful 8:00 pm. It's the kind of concert where you're encouraged to bring your kids.
"We want to be respectful of the neighbors," says Wallin.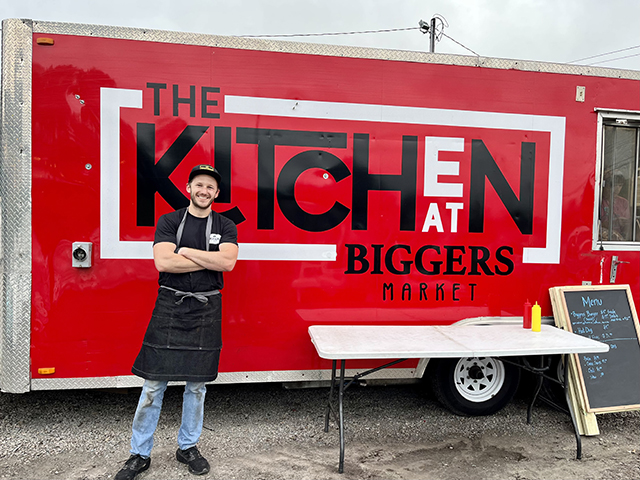 The live music sets the stage for Biggers Backyard Bar where they sell a wide variety of libations. Locally brewed beers are always on tap, as well as plenty of craft beers extraordinaire (anyone up for an ice-cold can of Jammy Pants from Oregon's Notion Brewing?), wine by the glass, hard cider and kombuchas, and mimosas. Non-alcoholic drinks are available, too.
A Biggers food truck serves up goodies like smash burgers, hot dogs, and black bean burgers from time to time. Plans are in the works for a new larger kitchen alongside the existing market which means food options will expand for Biggers' customers.
"The kitchen was something we've wanted to do for a while, but it was never really realistic until now. It won't be a dine-in restaurant, but it will be a commercial kitchen where we make fully prepared meals, using our own produce, for people to take home," says Wallin.
Although summer is Biggers' busiest season, they don't ease up during the other three.
In fall, the watermelons and Silver Queen corn give way to pumpkins and mums. Greens of all sorts are picked locally and on their way to a Thanksgiving table near you.
Winter ushers in Christmas trees and locally made ornaments to adorn them. Santa might even be on site to help you pick out the perfect tree. Just like Wallin's ancestors did, Biggers brings citrus up from Florida, bringing some zest to the chilly winter months.
In spring, the market has the look and feel of a garden center with tons of flowers, ferns, and hanging baskets to choose from. Early-season produce like strawberries from the first harvest or delicate spring onions start to fill the market's bins.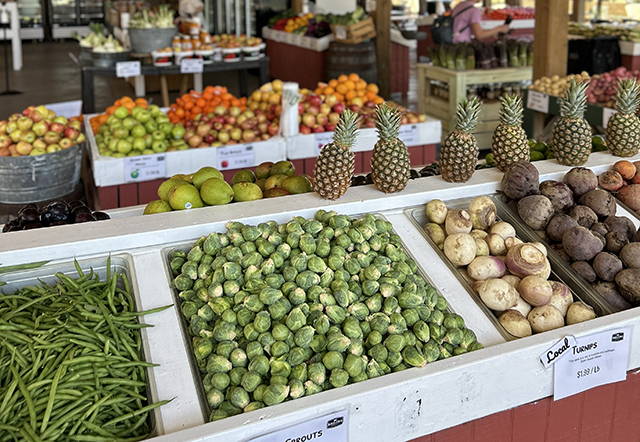 Not only does Biggers provide delicious and beautiful products to their customers, but markets like Biggers are also a boost to the local economy. They partner with about 80 local farmers and artisans who welcome another location to sell their products — a farmer recently told Wallin the order Biggers placed for his tomatoes was the largest he'd ever had.
Just like their produce, the future looks bright for Biggers.
Their delivery service, rolled out this past April, brings busy customers a box of goodies to their home or business. Each week, customers can choose from an extensive list of products, making meal prep a breeze. Currently serving the Wilmington area, there are plans to expand to neighboring communities.
They're also contemplating another physical location, maybe in the Leland or Hampstead area.