FALLing in Love with Wilmington 
04 Sep 2023
Top family-friendly Autumn adventures, according to WilmingtonMom
Story and photos by Amanda Hofmann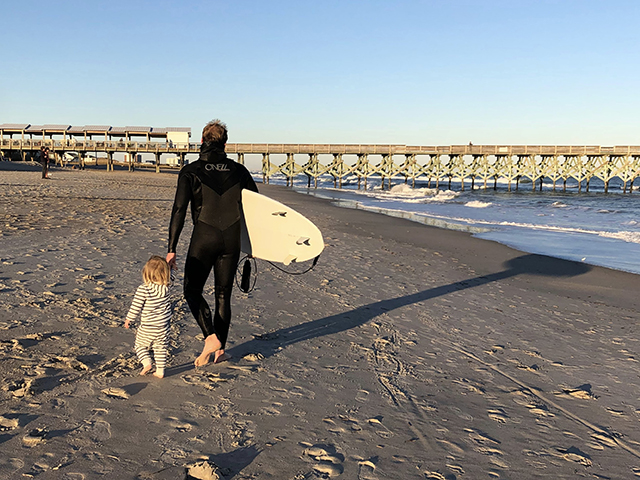 As a mom of two young girls living in Wilmington, I am constantly on the hunt for new activities and adventures to share with others. This coastal town has been my home for a significant portion of my life. Having spent over a decade witnessing its seasons change, I can say Wilmington has become an integral part of my identity.
My journey as a Wilmingtonian began a little over 13 years ago when I moved to attend UNC Wilmington from Mt. Pleasant, NC. Drawn to the coastal lifestyle and a "big" small town feel, I knew right away that this was the place I wanted to put down roots and raise my family. My connection with this city deepened when I met and married my husband and a few years later, in 2020, welcomed our first daughter. In that same year, while working remotely as an international meeting planner, I embarked on a remarkable venture that not only changed my life but also transformed the way countless families connect and explore our area.
Enter WilmingtonMom, a social media platform that was born out of a desire to create a close-knit community for local moms. What started as a simple idea to connect and share local adventures quickly blossomed into a thriving online community. Today, through social media, a growing website, Moms Night Out events, playdate meet-ups and sharing new adventures, the platform keeps expanding.
From the very inception of WilmingtonMom, I found great joy in connecting with fellow parents, offering support, and witnessing friendships be made within our growing community.
With that, we enter one of the best times of the year. As the vibrant colors and busy summer rush fades away, Wilmington reveals a hidden treasure—the captivating beauty of fall. We are welcomed with somewhat cooler temps, back-to-school routines and fewer crowds. As we enter this new season, I've curated a handpicked list of my favorite autumn activities that your family is sure to enjoy.
Go to the beach.
Perhaps the greatest time of year is what we all like to call "locals' summer." Most tourists have returned home, yet the weather and ocean water are still warm and inviting. Our family looks most forward to the slower pace and relaxing autumn season where we worry less about finding parking or slathering on sunscreen and more about how long we want to stay on the beach. It's quiet and calm.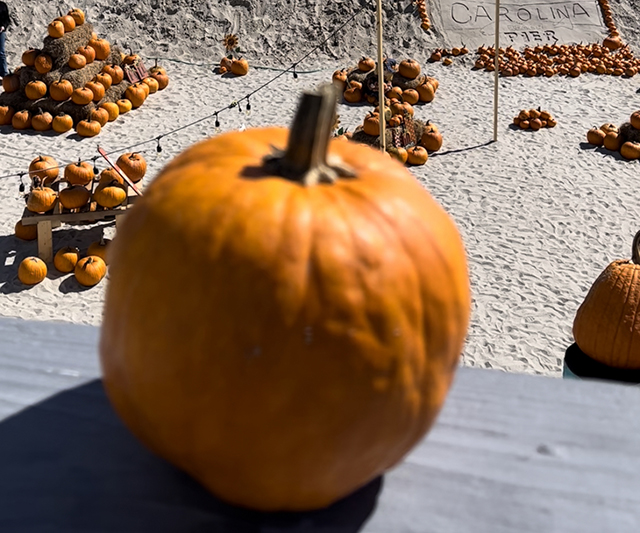 Visit a local farm.
There are two local farms that we always enjoy visiting: Old McFaye's Farm in Castle Hayne and Agape Farm of Watha in Watha. Both family farms are open to the public and allow families to get up close and personal with a variety of farm animals including horses, cows, goats, chickens and bunnies. Old McFaye's offers a hayride and rides on their pony. Both offer Open Farm Days, so check out their social media sites for all the details.
Pick your pumpkins.
We are fortunate to have a few pumpkin farms that offer the traditional feels of the season within an hour's drive from Wilmington. Hop on a hayride out to the pumpkin patch at Mike's Farm or Humphrey Farm Pumpkin Patch for the full experience.
Many local businesses and churches also have pumpkin pop-ups around town. Biggers Market in Ogden offers an incredible pumpkin selection, live music and seasonal brews. They also have several staged areas for photos.
Another unique place to pick out a pumpkin is at the Carolina Beach Pier. Grab a burger or beverage and enjoy finding a pumpkin by the sea.
Enjoy fall farm festivals.
If finding your way through a corn maze, eating a corn dog and letting your kids run wild while listening to live music sounds appealing, I recommend visiting Galloway Farm (Hallsboro, NC) or Hubb's Farm (Clinton, NC) for a fun-filled day.
Galloway Farm, home of Maze Craze, is about 45 minutes from Wilmington and is the perfect spot. This family farm has a 13-acre and 3-acre corn maze, live animals and is packed with educational and interactive games.
Hubb's Farm, home of Hubb's Corn Maze, is about one hour from Wilmington and offers hayrides, sunflower fields, pumpkins, a large corn maze, live animals and a variety of kid's activities including a giant jump pad, barrel train, zip line, slides and games.
Attend an annual event.
Each year local vendors line the streets of Historic Downtown at the annual Wilmington Riverfest. This festival showcases craft vendors, a large variety of food, live entertainment, a kid's area and fireworks.
"Goosebumps in the Grove," hosted at Poplar Grove Plantation, is a family-friendly event including food trucks, artisan vendors, trick or treating, carnival games with prizes and even a haunted mansion. Walk along the back of the property to see the farm animals and enjoy the cooler weather.
I hope that you and your family create lasting memories no matter where you choose to explore. Follow along for more adventures at WilmingtonMom on both Facebook and Instagram or visit wilmingtonmom.com.