Boundless Energy
03 Aug 2013
International artists from all over come to visit the No Boundaries art colony on Bald Head Island
By GWENYFAR ROHLER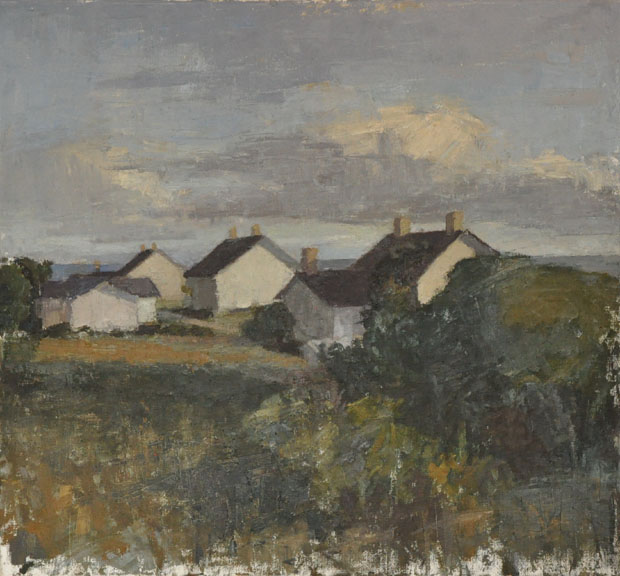 If you spend five minutes with Michelle Connolly you will know two things: she's not from around here and she has a project she wants you to be part of. The accent might be the give away about her origins ― signature British but peppered with Aussie slang. It is incredibly endearing coupled with a grinning, heart shaped face. But don't be misled by her sweet and pretty demeanor, Connolly is all business. She always has a show, a project, new work, or a collaboration and she wants YOU to be part of it. "The connections I make with people, that's so important. I keep people in mind ― like if you know people are working on a certain project and somebody else is working on something similar ― I bring them to each other."

It's that bridge building collaborative spirit that landed her latest gig as the new President of the No Boundaries International Art Colony. After fifteen years of guiding No Boundaries, the founders were ready to take a step back and see it grow under someone else's care. "In December of last year Pam Toll and Gayle Tustin said they didn't know if they had the energy to carry it on," Connolly noted. After fifteen years, it was time to pass the baton. Connolly exudes boundless energy and is virtually impossible to refuse, making her the logical choice. Of course she immediately turned around and began asking other people to join the effort. Her first choice was film producer and art collector Beth Crookham. Crookham was instrumental in bringing Rwandan artist Nkurunziza Innocent to UNCW's Boseman Gallery. "When I saw that ― I thought 'This woman is dynamic,'" Connolly said. As a film producer Crookham excels at bringing together people and resources to create solutions and success. Together the two women have recruited a grant writer and a treasurer, but they haven't slowed down a bit.

While we were talking on a sunny Thursday morning on Front Street, several friends stopped to greet us and Crookham was busy getting the word out about another need that No Boundaries has: storage. "We have art work dating back fifteen years that needs to be in climate controlled storage," she hinted to a mutual friend in the real estate world.

Crookham has been busy photographing and cataloging the stored art work in an effort to make it more sellable. All non-profits need money, but a two week long art colony that brings artists from all over the world to house and feed them, especially needs cash. Crookham points out that for art collectors No Boundaries work can be a way to pick up some great bargains. "When you buy a piece of No Boundaries art you are actually making a donation to a 501 c(3) ― and up to 75% is potentially tax deductible."

All this is preparatory to this year's No Boundaries Art Colony at Bald Head Island. Three international artists are coming besides Connolly herself ― in spite of her UK birth and Australian passport, she considers herself to be a local artist as a resident of our fair city. Juma Adi of Indonesia, who is currently working in Sydney and will be coming to NC from a stay in Moscow, will be joined by Nkurunziza Innocent from Rawanda, and Christian Rothmann of Berlin. The international exchange is a key component of No Boundaries, it was in fact the genesis. Founders Pam Toll, Gayle Tustin and Dick Roberts had all grown dramatically from their experiences in artists colonies abroad, and wanted to bring similar experiences and opportunities to our area. If the numbers are any indication, 52 international visiting artists from 26 countries later, their experiment can be labeled a success.

"I think locally there has been a misplaced belief that the same people come every year," muses Crookham. "But, I can say having cataloged the art work ― I can guarantee you ― that is not the case." Moving forward the goal is for four of the 16 slots to be filled by returning artists annually to provide continuity.

"The commitment ― saying that you are coming for two weeks ― that's a lot," Connolly points out. "In my mind I have a young family," Connolly indicates her two elementary school aged sons. "But for an artist, it's important to know they can go away and focus on their work." Connolly is herself a very talented artist with such a wide range of style, that her work has been compared to Chagall and Francis Bacon. Her subjects range from emus to famous performers to a series of portraits painted of Barbra, a local character with distinct features and an even more pronounced personality. Connolly spent the better part of a summer with her easel set up on the corner of 12th and Princess painting Barbara in different modes. "I was attracted to her face and that no one seems to know her, you know? I wanted to know more to show that." It was a collaboration between the mystery woman and the artist, in the beautiful Carolina sunshine. But for Connolly, it was just a new series of work that she wanted to share with Barbara and everyone else.

No Boundaries 2013 will be held November 1-13. For more information visit www.nbiac.org.